This article first appeared in The Edge Malaysia Weekly, on June 17, 2019 - June 23, 2019.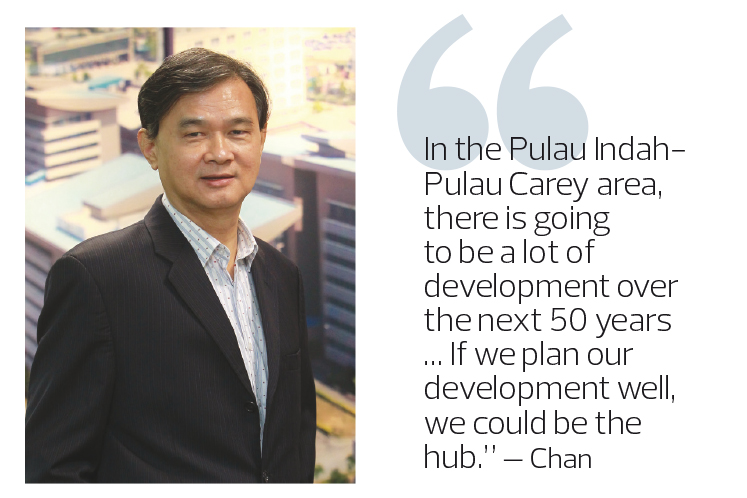 Photo by Shahrin Yahya/The Edge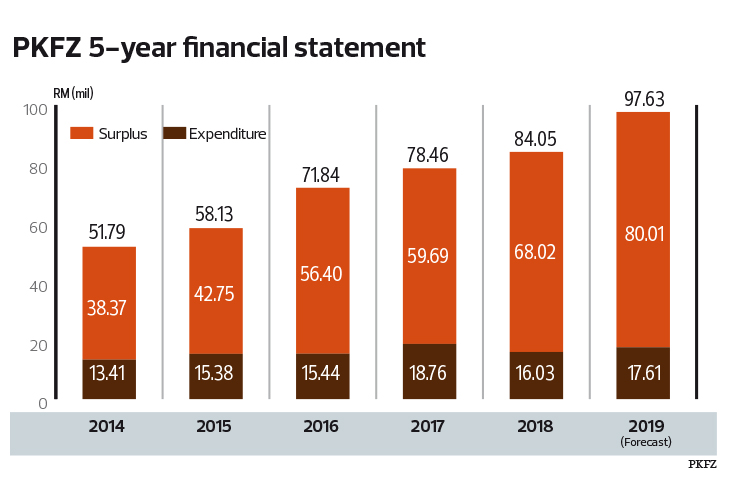 PORT Klang Free Zone Sdn Bhd (PKFZ) chairman Chan Leng Wai seems to have had an eventful start in his first year.
To recap, the 1,000-acre PKFZ in Pulau Indah boasts an industrial zone comprising prepared industrial sites or open land, light industrial units for factories and warehouses and office space. PKFZ's strategic intent was to be a free zone that catered for both industrial and commercial businesses. However, the company only took over the management of the free zone in July 2007 from Jebel Ali Free Zone International. Nevertheless, its costs had ballooned from an estimated RM1.8 billion in 2002 to RM12.6 billion in 2009.
Now, although seemingly lacking in activity, PKFZ is actually doing well, says Chan. "It looks dead because it is largely used for warehousing," he tells The Edge in an exclusive interview.
He admits to having had some trepidation before joining PKFZ. "When I was appointed (in July last year), the only thing I knew about PKFZ was a huge financial scandal. I mean, it was the biggest financial scandal before 1MDB (1Malaysia Development Bhd). However, when I came here, they took me on a tour, showed me the facilities, and I was pleasantly surprised."
Chan adds that after his appointment, he met up with Transport Minister Anthony Loke Siew Fook and was given his key performance indicators.
"Two very straightforward KPIs were given: turn PKFZ around and help raise money to pay off its debts. The first part is well on its way; I dare not say it has turned around but I do think it is well on its way. As for the second part, we are working on a proposal with PKA (the Port Klang Authority), raising some funds, but I can't share the details now as the proposal has not been approved yet."
In 2017, PKFZ paid its parent PKA net cash of RM60 million and, last year, the payment was RM68 million. This year, however, PKA is slated to receive as much as RM80 plus million, if all goes well. "A 35% jump from 2017," Chan says.
According to him, this is just the start and things are likely to pick up. "I dare not give you any projections but I think it looks good, [especially] with the commercial zone coming up … If you come back at the end of the year, you will see more."
 
Better finances in the pipeline
Some of the more recently negotiated tenancies (about 30% of the 650-acre industrial zone) have moved away from the promotional prices and have been locked in at market rates, which are two times higher. The problem with promotional rates is that the open land is leased out for long periods of up to 30 years with an increase of only 5% to 10% in quantum every two to three years.
Interestingly, the new tenancies were secured after an open tender and negotiations ended in the first and second quarters of the year, which means that the impact on PKFZ's bottom line will only be seen in 2020.
While the industrial zone has done well, chalking up 100% utilisation rate, PKFZ has been the sole tenant in the commercial zone for a long time. But that is about to change.
One of the three empty office blocks was fully taken up after two years of negotiations with the deal just concluded.
Although the tenancy was locked in at promotional rates, with 160,000 sq ft leased out, it is bound to boost PKFZ's bottom line.
Other than the new tenancies, the company has also managed its costs well, from RM19 million in 2017 to RM16 million last year, which should be retained this year, Chan says.
He adds that his plans include developing a maritime, logistics and warehousing academy. Chan has begun talking to several parties on the initiative and is looking to sign a memorandum of understanding (MoU) by the end of the year. "We will provide the building as a joint-venture partner."
Other plans include an edutainment centre linked to the maritime sector. "Like if you visit the Tech Dome in Komtar, Penang, or PetroSains in KLCC, we may set up a maritime-related cluster," he explains.
Also in the pipeline is a lifestyle mall, which is meant to capitalise on the duty-free status, premium outlets and the like once traffic picks up, and which will also lead to the revival of the hotel and convention centre.
 
Restructuring debt
Chan's second KPI involves PKA taking out a RM3.8 billion loan from the Ministry of Finance (MoF) to develop the business.
PKA had applied for the loan in 2013 and was slated to repay it over a 19-year tenure, commencing last year. However, a year before the repayment commenced, PKA restructured the loan payments to RM222 million a year, pegged at an interest rate of 4% per annum and 2% for any outstanding payments.
While Chan is tight-lipped on the details, talk of PKFZ looking to raise funds has been making its rounds. With the many developments sprouting up, nudging land prices northwards, PKFZ could raise a tidy sum.
Earlier this year, it was announced that IKEA Supply (M) Sdn Bhd will be investing RM900 million in its distribution centre in Pulau Indah, set to be ready in 2020. Apart from IKEA, Selangor Bio Bay is also being built on 1,352 acres of seafront land, which will take 25 years to complete and cost RM5.5 billion. Selangor Halal Hub, meanwhile, is also attracting investors and is gaining traction.
Westports Holdings Bhd is looking to spend around RM15 billion on doubling its container-handling capacity to about 30 million 20ft equivalent units a year by 2040 while rival Northport is looking at developing Carey Island into a multibillion-ringgit project over the next few years.
"In fact, in the Pulau Indah-Pulau Carey area, there is going to be a lot of development over the next 50 years … If we plan our development well, we could be the hub," Chan says, adding that he is hopeful that the government's plan to sell via tender a 318-acre free zone tract in Pulau Indah owned by 1MDB for RM415 million will benefit PKFZ.
"We (PKFZ) are asking whether we can be the free zone manager. We don't know who will win the tender but we have put a word out to the ministry and it said it will support our request but it will depend on the new tenant … We have the experience and the track record to show that we know how to manage it properly."