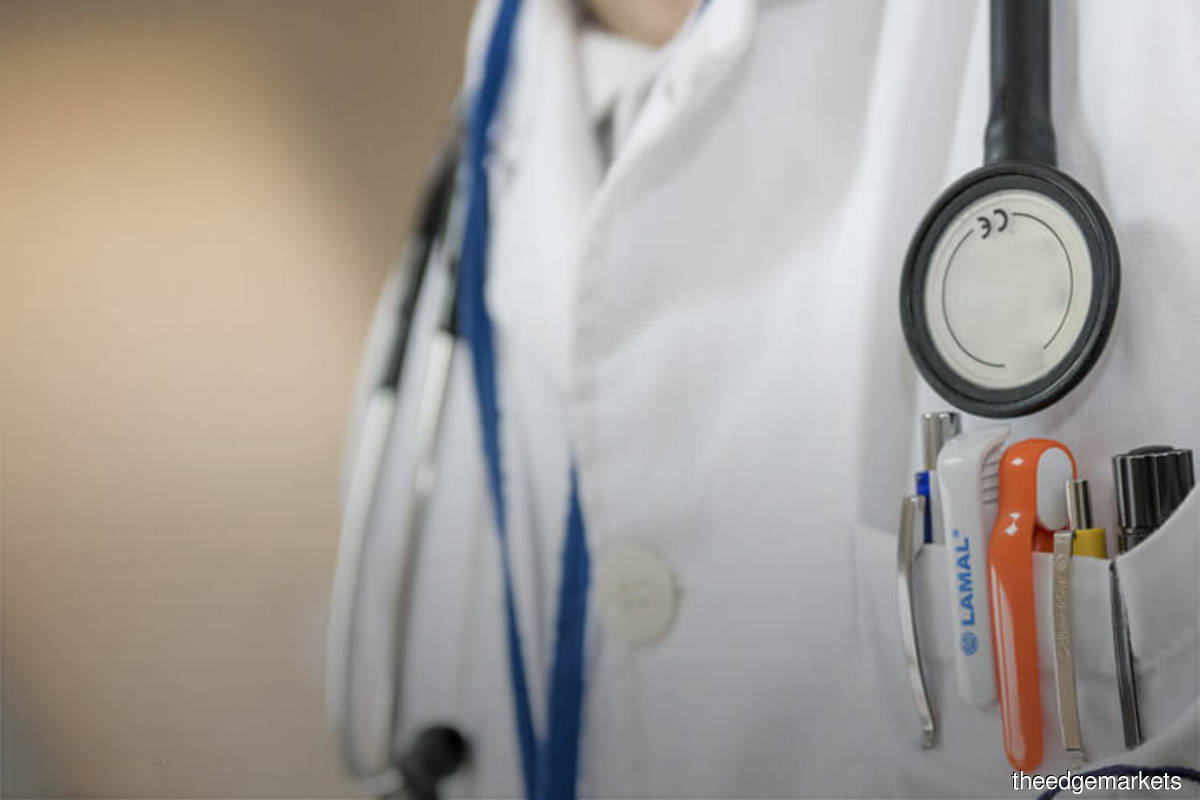 KUALA LUMPUR (July 24): A group of contract doctors who have planned to stage a walkout on Monday as part of their ongoing protest to get better deals from the government, including permanent placements, said the government had failed to fulfil their demands and so the group will continue with the scheduled protest at various public hospitals nationwide.  
Three representatives of the group — the Hartal Doktor Kontrak — told a press conference today that the two-year contract offer made by Prime Minister Tan Sri Muhyiddin Yassin yesterday for contract doctors upon the completion of their compulsory service period does not address the actual problems they face.
The representatives are Dr Umar Baraka, Dr Khairul Fahmi Razali and Dr Mohamed Yunus Hassan.
"The [offer] is actually a sweetener. By giving us a contract for another two years of service does not resolve the main problem, which is for us to be given a permanent position, including specialist positions.
"We understand that the government may not be able to give a permanent post to all 23,000 contract doctors overnight, but we have laid out our suggestion to help the government consider how to approach this. Likewise with the position of specialists, only between 1,000 and 1,600 [contract doctors] are taken in [to be trained] as specialists every year, but that does not ensure we will be absorbed as permanent staff," said Dr Umar.
Hence, the deal announced by Muhyiddin yesterday does not address the problems they face, said Dr Khairul.
However, they pledged that the protesting contract doctors would ensure that their actions do not endanger any patients, that their shifts would be covered by permanent doctors.
"It is to drive home the message that there is a need to seriously look into the plight of contract doctors, or the country will have to face a problem with the healthcare system in the near future, as it is already seeing now with the Covid-19 pandemic," they said.
"We as contract doctors are being thrusted to work in Covid-19 critical areas, while risking our safety and health despite being on contract. The problems faced by contract doctors are real and what the government announced yesterday is not truly addressing the situation," Dr Mohamed stressed.
Walkout to begin at 11am
Dr Umar said the protest will be held at major public hospitals nationwide.
"We will come to work as usual, then we will stage the walkout at 11am. However, if the doctors are scheduled for a surgery or in surgery, they will not be walking out," Dr Umar said, adding some of the public hospitals involved in the Klang valley are Hospital Kuala Lumpur, Sungai Buloh Hospital, Shah Alam Hospital and Hospital Tuanku Ampuan Rahimah.
"Some of the contract doctors are facing burnout from handling Covid-19 and said they are concerned that the healthcare system would break down if this is not addressed by the government. Some authorities are turning a blind eye to this, but the problem is real, especially at the Klang Valley's hospitals," he added.
Notwithstanding the protest plan, the patient's safety will be of the utmost importance, they stressed.
"Doctors at district hospitals or at vaccination centres will also be protesting in their own way by uploading messages on social media," said Dr Umar.
On their next plan if the government continues to ignore their demands, or if they will set a timeline for the government to fulfil their demands, the group said they will reveal more after Monday's protests.
"We have submitted our memorandum to the government through Deputy Youth and Sports Minister Wan Ahmad Fayhsal Wan Ahmad Kamal and the government should know the contract doctors' demands," he added.
Yesterday, Muhyiddin announced that medical, dental and pharmacy officers with contract appointments will be offered a two-year contract of service upon completion of their compulsory service period. The move is to ensure continuity of service and also as preparation for the young doctors to pursue specialist training, he said.
"The government fully understands the demands of this group of contract health workers and is also aware that their contribution and role as frontliners are crucial in providing the best health services to the people, especially during this Covid-19 pandemic," he was quoted as saying.
The Cabinet, he said, has also agreed to extend the contract of service to a maximum of four years for medical and dental officers, who are accepted to pursue specialist training during their first two-year contract.
Read also:
Govt agrees to offer two-year contract as part of solutions to contract doctors' issue