This article first appeared in City & Country, The Edge Malaysia Weekly, on November 11, 2019 - November 17, 2019.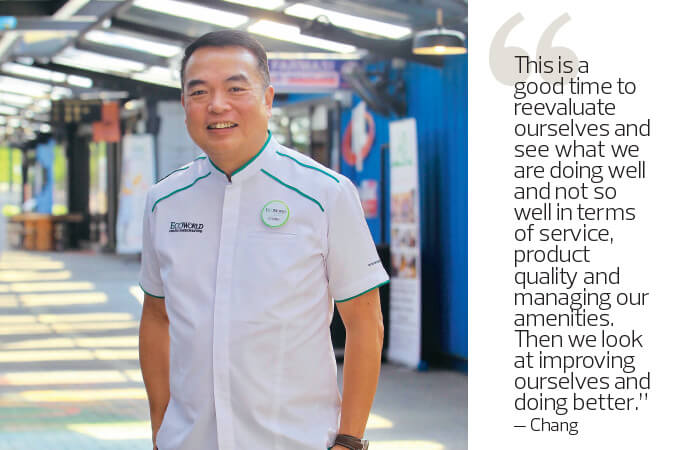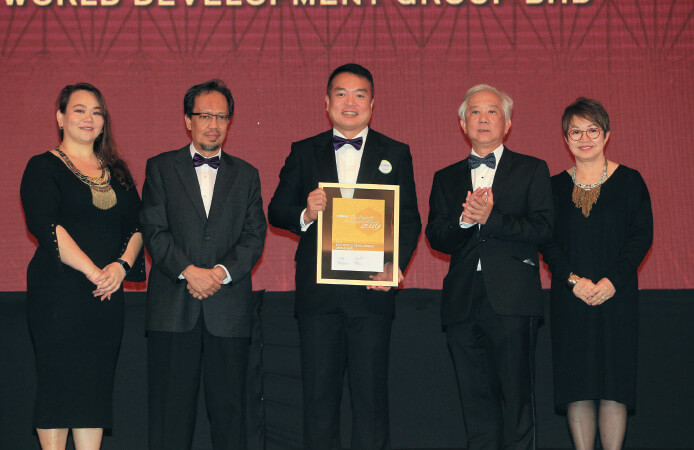 Chang with (from left) City & Country editor Rosalynn Poh, The Edge Malaysia editor-in-chief Azam Aris, The Edge Media Group publisher and group CEO Datuk Ho Kay Tat and EdgeProp.my managing director and editor-in-chief Au Foong Yee. Mohd Shahrin Yahya / The Edge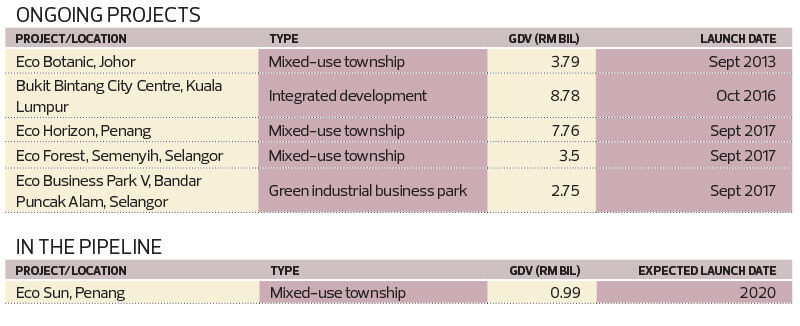 No. 9 | Eco World Development Group Bhd
 
2019
2018
Overall
9
6
Quantitative
8
8
Qualitative
6
4
The commercial area of Eco Ardence in Setia Alam by Eco World Development Group Bhd (EcoWorld Malaysia), known as Ardence Labs, is made of repurposed shipping containers and faces a beautiful lakeside garden.
It was rather quiet on a sunny Friday morning. EcoWorld Malaysia president and CEO Datuk Chang Khim Wah tells City & Country the area comes alive in the evenings, especially during the weekends.
During the interview at the Eco Ardence sales gallery, beside Ardence Labs, Chang expresses his delight at the company's ranking in The Edge Malaysia Top Property Developers Awards 2019.
"We are just a six-year-old company and to be recognised four times by The Edge in the last six years is truly a great honour to us. We are very excited about the award and the recognition. It makes us very humble and want to work harder to continue to be among the top ranked."
Set up in 2013, the developer has secured about 8,126.4 acres of land bank with a total gross development value (GDV) of RM87.5 billion. To date, it has handed over 10,000 units of residential and commercial and Chang says the occupancy rate is very good — above 90% for older developments and 50% to 60% for newer ones.
As for the profile of buyers, he says that there are more homeowners and 60% are Gen Y and Gen Z. "This is a very exciting profile for us. We hope that as they grow and hopefully prosper while living with us, they will upgrade and buy when they have enlarged their families and need more space."
On the company's business strategies, he talks about the continuous effort in making its projects more liveable, crediting Team EcoWorld for the success that they see today. He shares more about the company's plans, strategies and challenges with City & Country recently.
City & Country: How has the year been for the company?
Datuk Chang Khim Wah: This year has been a great year for us. We signed a joint-venture agreement with China state-owned enterprise Power Construction Corporation of China to develop a 117-acre industrial development at our Eco Business Park V in Ijok.
The idea is that we will build the factories and manage the project in Malaysia, and then we will go to China and market [the project] together to their partners, associations and affiliations.
On EcoWorld Malaysia itself, despite the softness of the market, last quarter we recorded our highest profit in six years. It was a really strong quarter for us. We registered almost RM2 billion in sales from January to October.
We are handing over two of our best projects. The first is Eco Ardence where we are handing over Phase 1 with 600 over units. The other is Eco Grandeur where we are handing over more than 1,800 units.
We continue to improve the accessibility in all of our projects. For example, we have just opened a RM12 million link to the Senai-Desaru Expressway at Eco Tropics in Pasir Gudang, reducing residents' travelling time from 25 minutes to five to eight minutes.
In January, we launched an EcoWorld-initiated home ownership programme, in conjunction with the Home Ownership Campaign (HOC) by the government. We took some of HOC's perimeters and put it together with our own package. We have been very successful.
Please share with us more about the multi-generation living programme EcoWorld Malaysia is doing now.
There are two parts to this programme. In January, we launched [email protected] where we look beyond the hardware such as boulevards and landscaping and make the place more liveable. That is why we introduced integrated health and wellness care into our EcoWorld DNA.
We are not doctors and we don't make hospitals. But we can make great spaces and invite partners who are very good in these industries to participate with us and provide services to our residents.
The wellness integrated healthcare also looks into providing nursery care for children who are not old enough to attend school and something like a daycare for senior citizens. We are inviting and working with partners to look into these.
The other thing that we have done is that we have created Life Space where we get the community to come to do things like dancing, drawing and playing musical instruments for all ages — not just for senior citizens but for children and Gen Y and Z as well.
Another part is EcoWorld For Generations, which was launched last month. We want to make the built environment accessible to people at all stages of life.
We are catering to individual needs. No matter what generation you are at, what preferences you have, we want to find outlets for you in every aspect of your life in any project we have.
Are these the secret ingredients that are making EcoWorld Malaysia's developments successful and sought-after?
There are no secret ingredients. To be very honest, the thing that makes all these so successful for EcoWorld Malaysia is Team EcoWorld.
You can put in a lot of programmes but if the developer's team, which is Team EcoWorld for us, does not have the commitment and sincerity to see through it all, it will not happen.
So, we have what we call EcoWorld Class. It is a programme where we train our staff to give the best product and service quality to our customers at all times.
EcoWorld Class is the glue and fire that makes sure all the things that we put into our township click, work and produce these results.
So, it is not a secret. It is just pure hard work from the team, commitment, sincerity and diligence to provide EcoWorld Class.
What are the challenges faced by the company in the current soft market? How do you overcome them?
These days, you see news about overhang units, problems with end financing and others. I think it is unavoidable. It is a phase the property market is going through now.
During the bad times, there is a certain way to do business and during the good times, there is another way. We have to do business in all cycles.
In this particular cycle, very interestingly, we have decided to concentrate on our own land … what we have. We still have about 4,467 acres of undeveloped land. We have launched almost every project that we have had, except for two, and we have 18 ongoing projects. We have handed over 10,000 units.
This is a good time to reevaluate ourselves and see what we are doing well and not so well in terms of service, product quality and managing our amenities. Then we look at improving ourselves and doing better.
We want to look at things that we can do better and really make those areas do well. For example, during this downtime, we need innovation.
So, we ran an innovation challenge internally where we have all our staff pitch their ideas. Through the challenge, we came up with a lot of new ideas and revolutionary designs that are very doable such as Gen Y homes, mixing and matching floor plans and customising finishes.
We are going to implement these ideas this year and next year.
Can you share with us some of the ideas that you mentioned that you will be implementing this year and next year?
We are now getting ready our show units to launch our Gen Y/Gen Z homes called ErgoHomes. Ergo stands for ergonomics. The development is located in Eco Forest, Semenyih and it is designed purely for Gen Y living.
Gen Y thinking is that they don't need a lot of things that traditional people need. They only want certain things. So, we designed a home to their liking. We are looking to launch this in December.
Priced from RM500,000, ErgoHomes are positioned in clusters of four units in an L-shaped formation, unlike traditional terraced houses, and the built-up starts from 1,833 sq ft. One of the special features is the Passion Area, a space that can be transformed into whatever you need such as a home office or study room.
Each unit comes with its own 15ft by 15ft private garden that can be used for gardening, barbecues or a dipping pool. The A-frame façade allows plenty of space for windows for natural lighting and ventilation. Designated parking bays for residents and visitors will be located close to the unit.
Currently in Eco Grandeur, Bandar Puncak Alam, we are doing mix and match. There is a standard floor plan but purchasers can have different configuration with the bedrooms, kitchen, living and dining area, all within the same row of houses, suited to their preference.
Today, it is all about customisation. Even though you sell to the masses, it is still about customisation and personal requirements.
Please tell us more about EcoWorld Malaysia's upcoming projects.
We have not bought any new land to launch new projects. We still have 4,467 acres of undeveloped land and we are looking to launch new developments with innovative designs. We are also tapping on the 10,000 people that we have handed over the properties to and making sure their liveability is as high as anywhere else in the world.
With the innovative new designs that we are putting in the existing parcels, we hope we can also enhance the value of the existing sold or to-be-sold properties.
The 4,467 acres of undeveloped land, which have a GDV of RM69 billion, are divided into our existing projects in Penang, the Klang Valley and Iskandar Malaysia, Johor. Most of our projects still have land available, except for Eco Sky, Jalan Kuching and Eco Terraces, George Town, which we have finished.
The good thing about EcoWorld Malaysia is that for all our projects that we have started, all the heavy lifting has been done. We have already built the boulevards and parks, and the commercial areas are prospering in our townships. Also, we have started handing over the earlier phases and people are living in our townships already.
Now, we need to see where are the liveability gaps to improve and to keep on enhancing what we already have.
What are the plans for the next 12 months?
In terms of our company, we have put a two-year sales projection of RM6 billion and we are seriously looking to meet our targets. We see a growth in our profit from last quarter and we will continue to see the upward projection for that as well.
Our investment in our sister company EcoWorld International has also prospered. They are also delivering strong profits this year and next year as well.
For the next 12 months, we will continue to look at all these — improving our bottom line and simply just meeting our targets.
We must be careful and prudent with landbanking. We will try not to aggressively expand unnecessarily and just continue to make what we have.
We are still very optimistic about the property market despite its sluggishness and softness. We believe with the demographics of Malaysia, this is a very sustainable business and the developers will still do well if they focus on making it more liveable.