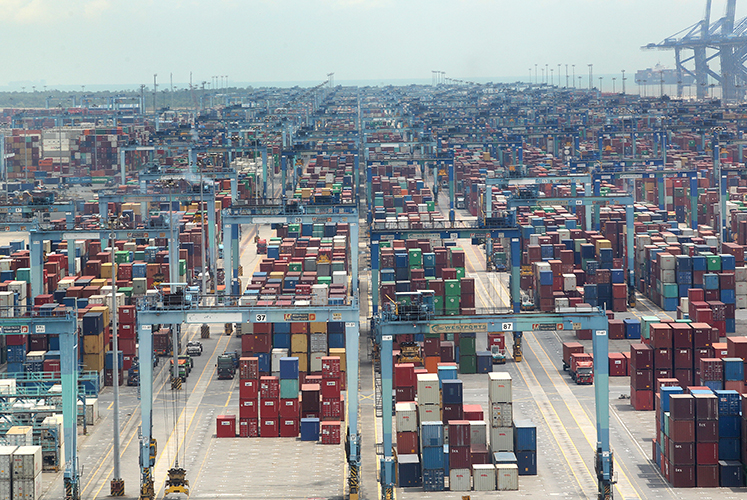 KUALA LUMPUR (April 20): While containers are being transported from Malaysia's ports, intermediary warehouses outside of ports are near full capacity.
Speaking to theedgemarkets.com, Federation of Malaysian Freight Forwarders (FMFF) president Alvin Chua said freight forwarders are only delivering to those who have the approval from the Ministry of International Trade and Industry (MITI) to receive goods.
In Port Klang alone, Alvin noted that on-port storage has gone down to about 50% to 60% of storage capacity, from 70% previously.
That said, there are 50,000 twenty-foot equivalent units (TEUs) still stuck at the port, with the bulk containing materials for the construction and automotive industries.
Chua continued to note that it was unlikely that all of the goods in these containers would be delivered until after the movement control order (MCO) is slated to end on April 28, 2020.
This is as it would take five days for such businesses to get approval from MITI to operate and bring these materials in.
"Having the approval letter from MITI to transport the goods does not necessarily mean that you can start manufacturing in full again. This is as the approval is for certain manufacturing activities and not all industries are covered," said Chua, who also noted that intermediary warehouses outside of ports are near capacity.
According to MITI's expanded list of essential services under the third phase of the MCO, the only activities permitted under the auto industry are the export of complete-built-up (CBU) vehicles, parts and components as well as after-sale services such as repair and maintenance.
For the construction industry, only a select number of activities (pending approval) may be undertaken. For example, tunnelling, maintenance and sloping works are allowed.
Chua also noted that logistics and transport players (including freight forwarders) are required to apply for approval to operate by MITI. Of the 1,300 members under FMFF, some 5% or 65 of its members have received approval from the ministry.
He noted that the Ministry of Transport has been working with MITI to speed up the approval process — which typically takes five days — for the entire transport and logistics sector.
That being said, more needs to be done to ensure that there is better communication between the different government agencies when it comes to the necessary documentation. In particular, the police should be given constant updates over which approval certificates are needed.
#dudukrumahdiamdiam. We will deliver the news to you at theedgemarkets.com.