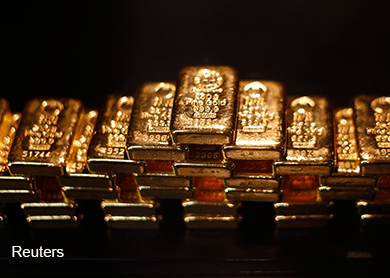 KUALA LUMPUR: Gold prices have been trending downwards since its peak of US$1,923 per ounce in 2011 — it has fallen about 40% since — but Malaysian consumers are still not enjoying the low prices locally as the commodity is traded in US dollars.
"Unfortunately, because of the depreciation in our ringgit, the low 'market' prices do not translate into the low 'local' prices. We are still selling at relatively high retail prices compared to the late 1990s or early 2000," said Federation of Goldsmiths and Jewellers Associations of Malaysia president Ermin Siow.
"Also, all traders are absorbing the goods and services tax (GST) of 6%. The 6% is embedded in the retail price now. So we don't really see the low gold price that we should be enjoying," said Siow, who is also the executive director of Poh Kong Holdings Bhd.
Ten years ago, gold was trading at about US$400 per ounce. It has been trading at between US$1,150 and US$1,250 in the past one year. The ringgit, which has been depreciating since last August, dropped to a nine-year low against the greenback on Monday, hitting the 3.77 mark.
Additionally, Siow said sales of federation retailer members have seen a huge drop since the GST was implemented in April — which is not helping to lower retail prices of gold either.
"Based on our association's survey, ever since the GST kicked in, retailers are suff ering a drop in sales of about 20%-50% [per month], which is quite bad actually," Siow said.
While April's sales may not be reflective of the true situation as April is traditionally a low month for retailers, Siow said they did not see a hike in sales in May either.
And May is supposed to be a seasonally peak month, due to special occasions such as Mother's Day.
Siow is hoping that sales will pick up in the coming months, buoyed by festive celebrations like Hari Raya Aidilfi tri, the popular Chinese wedding months of August and September, and Christmas.
In the mean time, retailers are not stocking up on inventories just yet even though gold prices are coming down because it is not normal practice, said Siow.
Siow was speaking to the press at a pre-event briefing for the Gold Precious Metals Price Outlook Conference and Financial Markets Price Outlook Conference 2015 — which will be held next Monday. The annual event is organised by Bursa Malaysia Derivatives Bhd (BMD).
On gold futures contracts, which BMD launched in 2013, some 312,668 contracts with a total value of RM4.2 billion were traded in May 2015.
This article first appeared in The Edge Financial Daily, on June 10, 2015.