This article first appeared in Capital, The Edge Malaysia Weekly, on June 14, 2021 - June 20, 2021.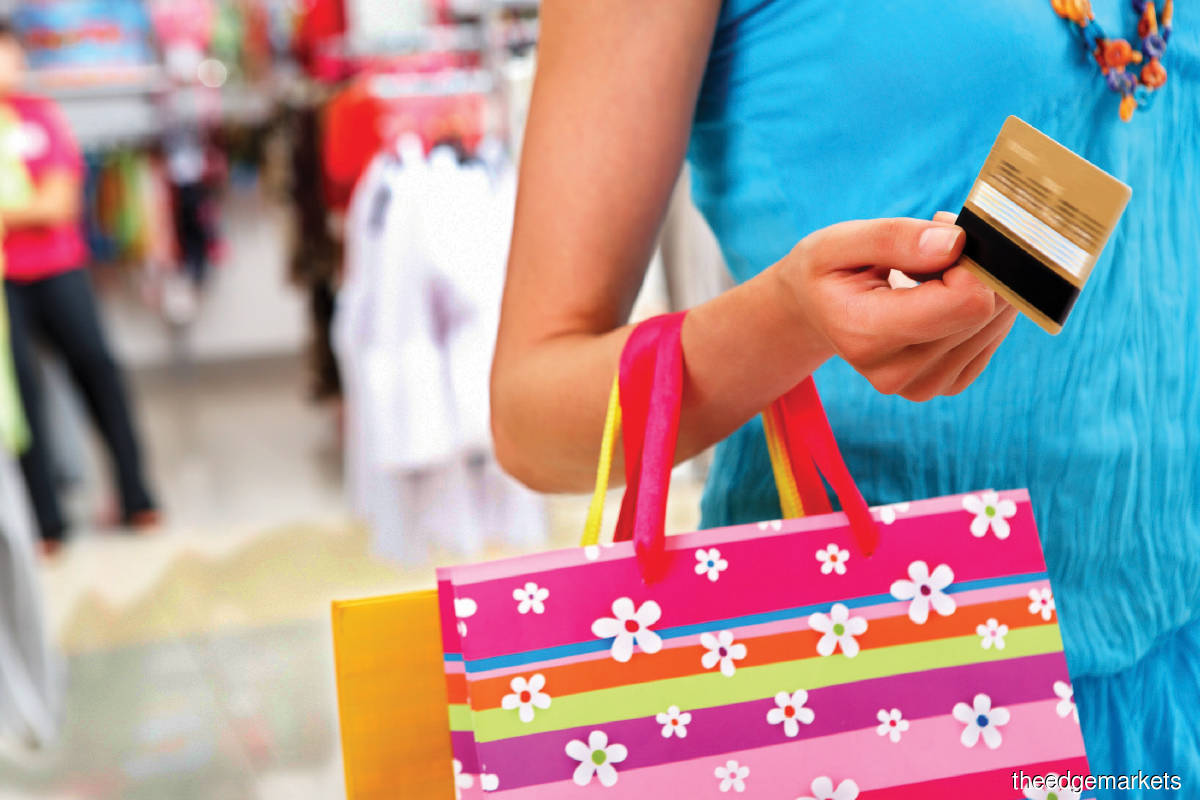 THE Full Movement Control Order (FMCO) in Malaysia has inevitably dampened sentiments in the consumer sector, which in the latest financial quarter turned in a mixed bag of results.
With vaccinations picking up pace — and slowly nudging an economic recovery — will consumer stocks soon be back in favour?
As things stand, the Consumer Products and Services Index has gained 1.76% year to date, against a 2.72% drop in the benchmark FBM KLCI.
Inter-Pacific Securities head of research Victor Wan observes that consumer spending will be lower overall during the current lockdown period as consumer priority will be on necessities.
"Even companies like Nestle (M) Bhd and Dutch Lady Milk Industries Bhd will feel the impact from the two-week lockdown. It depends on how soon the MCO is lifted.
"Spending was better during the Hari Raya period, but it has come down since the lockdown was enforced," he tells The Edge.
Given domestic uncertainties, he advises investors to focus on stocks that have exposure in the overseas markets, such as Guan Chong Bhd and Kawan Food Bhd. "Kawan Food is still a 'buy' at this stage because it still gets strong support from US sales," he notes.
However, he is "neutral" on Guan Chong, the world's fourth-largest cocoa grinder, as it is probably experiencing delivery problems because of a shortage of shipping containers.
HLIB Research analyst Syifaa' Mahsuri Ismail is far more bullish. She projects that the retail segment will recover strongly in the second half of the year, driven by the following: progress in the vaccination rate and the reaching of herd immunity; loosening of restrictions with the containment of Covid-19; and pent-up demand from consumers after the lockdown ends.
"Shopping traffic started to recover after MCO 2.0 ended on March 5, 2021, and we expect the same pattern to emerge post-FMCO/MCO 3.0. Overall, our recovery thesis remains intact buoyed by the successful containment of the pandemic that should lift overall confidence and provide clearer visibility on the recovery picture.
"Encouragingly, average daily jabs administered have risen. Also, vaccine registration on MySejahtera has surpassed half of the vaccinable population (51.2% as at June 1)."
F&B stocks to see margin compression
Syifaa', however, expects patchy recovery across consumer stocks under her coverage.
"Our view is tilted towards the retail segment as we expect F&B and staples to see margin compression with regard to the increase in the prices of commodities globally."
She adds that growth in multi-level marketing companies like Amway (Malaysia) Holdings Bhd and Hai-O Enterprise Bhd will be underpinned by increasing demand in health supplement and homecare products in the wake of the Covid-19 pandemic.
"I think the change in lifestyle for many will see this trend persisting even after recovery from the pandemic."
Convenience store operators will also enjoy the spillover effect from an expected recovery in footfall at transport stations that have been hit hard during the various movement restrictions, she projects.
"As for MyNews Holdings Bhd, we opine that the new venture in CU stores will be positive moving forward with the increasing popularity of the Korean theme among Malaysians, coupled with its higher proportion of ready-to-eat options that yield higher margins."
Compared with the F&B and retail segments, an analyst who declined to be named believes the poultry segment may see lower growth due to the absence of major festivities by the end of the year. Given the challenges of managing the pandemic, he does not expect much upside in consumer stocks for now.
"Furthermore, unfavourable ringgit and high costs of raw materials due to unprecedented demand (as developed nations recover faster from the pandemic) are putting pressure on earnings. Earnings visibility should be clearer by year-end."
As for sin stocks, he favours Carlsberg Brewery Malaysia Bhd as it has Singapore operations, which can tap the country's faster recovery.
For investors with an eye on poultry players, another analyst prefers those that have exposure in downstream businesses, such as CCK Consolidated Bhd (CCK stores) and Leong Hup International Bhd (The Baker's Cottage).
She sees limited upside for the consumer sector — fashion in particular — as some players including Padini Holdings Bhd, Bonia Corp Bhd and Parkson Holdings Bhd are highly dependent on bricks-and-mortar sales.
"In addition, I believe their e-commerce contribution might be lower and more capex is required for it. Also, higher operating costs might dampen business growth as they have to bear the rental cost and wages despite slower sales."
Her picks for the consumer sector are CCK, Kawan Food, Power Root Bhd and QL Resources Bhd.
Here are some of the consumer stocks that are worth a look:
Kawan Food Bhd
The frozen food manufacturer's net profit more than doubled to RM27.7 million in 2020 from RM12 million a year ago, driven by higher sales revenue. For 1Q2021, its net profit came in at RM8.2 million, 23.9% higher than RM6.62 million in the same quarter a year ago.
Kawan Food has a presence in 37 countries globally, utilising a range of distribution channels such as distributorships, direct sales to key account customers, e-commerce, and sales to retailers and wholesalers.
It produces a range of food products including paratha, spring roll, pastry, frozen vegetables, chapati, finger food, bakery and desserts that are sold under five brands. Its two manufacturing plants are in Pulau Indah, Selangor, and Nantong, China.
Last year, 56.3% of sales came from the international market while the domestic market contributed 43.7%. Export revenue increased 13.3% to RM128.4 million in 2020, but growth in domestic sales was more than double at 31.7% to RM111.3 million.
Year to date, Kawan Food's share price has slipped 4.3%, closing at RM1.97 last Thursday.
Mr DIY Group (M) Bhd
Mr DIY registered a 113.5% jump in net profit to RM124.79 million for 1Q2021, thanks to higher average monthly sales per store and a higher number of stores at 788 in 1Q2021 against 628 in 1Q2020.
In 2020, it raked in a net profit of RM337 million compared with RM318 million in 2019.
The group has a goal of opening at least 100 Mr DIY, 25 Mr Toy and 50 Mr Dollar stores nationwide this year. In 2020, it achieved its target of opening a net total of 141 new stores.
As at end-December 2020, it had a 34.6% share of the home improvement retail market in Malaysia.
Listed in October 2020, the stock has gained 23.1% since early this year to close at RM3.82 last Thursday. Syifaa' has a target price of RM4.79 for Mr DIY based on 50 times price-earnings ratio of FY2022 earnings per share.
"We opine the premium is justified to account for the recent inclusion into the FBM KLCI that will enhance marketability and trading liquidity of Mr DIY's shares."
Under the recent lockdown, she understands that all Mr DIY's stores are allowed to open, with an exception of Mr Toy, which currently stands at 40 stores (about 5% of the group's total stores).
"Despite Covid-19 headwinds, we are impressed by the group's resilience in maintaining growth trajectory with a steady pace of store additions.
"Additionally, with a heightened focus on the Fourth Industrial Revolution (IR 4.0), we also applaud the group's recent launch of a robotic warehouse in Seri Kembangan that is able to fulfil online purchases faster, resulting in a 200% increase in operational efficiency. Though still in its nascent stage, we reckon this would provide a new avenue for growth as online shopping has become the new norm, spearheaded by the pandemic," she notes, adding that its online platform would be able to offer consumers the best of both pricing and convenience.
Focus Point Holdings Bhd
Syifaa' sees optical sales as an essential rather than a discretionary purchase, thus reinforcing Focus Point's relatively MCO-resilient business model.
On the company's F&B segment, she says: "Increasing F&B corporate sales and commencement of its second central kitchen should see profitability of the F&B division accelerate. We reckon the possibility of securing new F&B corporate clients is likely given the popularity of its current product offerings."
Its 1Q net earnings surged 76.8% to RM3.2 million from RM1.81 million a year ago, owing to better performance from the optical and related products business.
Last year, Focus Point made a net profit of RM10.64 million against RM9.89 million in 2019. Four new outlets were opened during the year while seven underperforming outlets were consolidated.
The F&B business contributed 12% to its total revenue last year, with nine Komugi outlets currently. Its second central kitchen was set up in February this year to meet the increase in demand from F&B corporate sales.
The group points out that e-commerce for the optical business continued to be robust, evidenced by a 45% growth in 2020 compared with 2019, underpinned by attractive promotions and effective digital marketing strategies to reach the targeted consumer segment.
Since early this year, Focus Point's share price has gained 23.4%. Syifaa' has a "buy" call on the counter, with a target price of RM1.10. Its shares closed at 78 sen last Thursday.