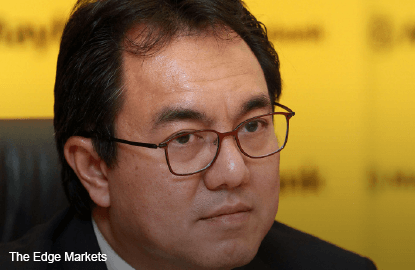 KUALA LUMPUR: The Malaysian consumer loan market is still growing, albeit at a slower pace from a year earlier, amid current market uncertainties and a weaker ringgit, said Malayan Banking Bhd (Maybank), the country's largest banking group by assets.
Maybank group president and chief executive officer Datuk Abdul Farid Alias said so far this year, total loan growth for the whole Malaysian banking industry stood at 9%, compared with last year's 10.5%.
"The 9% growth means that there is still economic activity in the market right now. The banking sector is still well capitalised with a total capital ratio of 15.2%, higher than back in 2010. From a banking and liquidity perspective, we are okay," Abdul Farid said, after launching the [email protected] campus-branch concept at Monash University Malaysia yesterday.
On the weakening ringgit, he said: "In an open economy, you can choose to let your interest rates or currency go [or not]. These are the economic tools that we can use to manage external shocks.
"Last week, we saw the devaluation of the yuan by about 3%, and it spooked the market a little. In times like these, people are very sensitive and a signal can make people become either greedy or very fearful, which is why we are seeing a lot of volatility in the market.
"The ringgit is not the only currency affected by volatility. The Russian ruble is down by 40% and the Brazilian real is down 35%, both since September last year. We are down by about 21%, roughly the same as the Australian dollar," he added.
Abdul Farid noted that the focus should be on Malaysia's real economy, given that the real fundamentals are still very strong.
"We will see volatility as a norm of the past once external shocks eventually stabilise," he said.
Abdul Farid's comment came as the ringgit weakened to 4.0990 against the US dollar yesterday, and depreciated to 2.9118 against the Singapore dollar at the time of writing.
On potential mergers and acquisitions, he said Maybank is monitoring the market, but is not in talks with any party at the moment.
"There are markets that we are quite interested in, but we are waiting for the right opportunity," Abdul Farid said.
[email protected] is part of [email protected], a campus lounge concept by the banking group to expose the younger generation to financial services.
"For Maybank, the youth segment of between 18 and 24 years of age is a strategic segment that will drive our future growth. Malaysia is a young country, with more than 29% of the population within the ages of 18 to 25. It just makes business sense to invest in this segment early," Abdul Farid said in his speech at the launch.
Maybank aims to open up to 12 [email protected] lounges in the next two years, with five targeted to be opened by end-2015 at selected public and private universities in the country.
[email protected] allows students to open a bank account by using an iPad, with a RM10 initial deposit. Customers can also sign up for debit cards, Maybank2u or One Solution services, including applications for selected insurance products and Skim Prihatin Pendidikan 1Malaysia loans.
Maybank shares fell 10 sen or 1.2% to settle at RM8.19 yesterday, with a market capitalisation of RM78.41 billion. Its counter has declined 10.2% this year, tracking the FBM KLCI's 10.3% drop.
This article first appeared in digitaledge Daily, on August 18, 2015.