This article first appeared in Personal Wealth, The Edge Malaysia Weekly, on March 23, 2020 - March 29, 2020.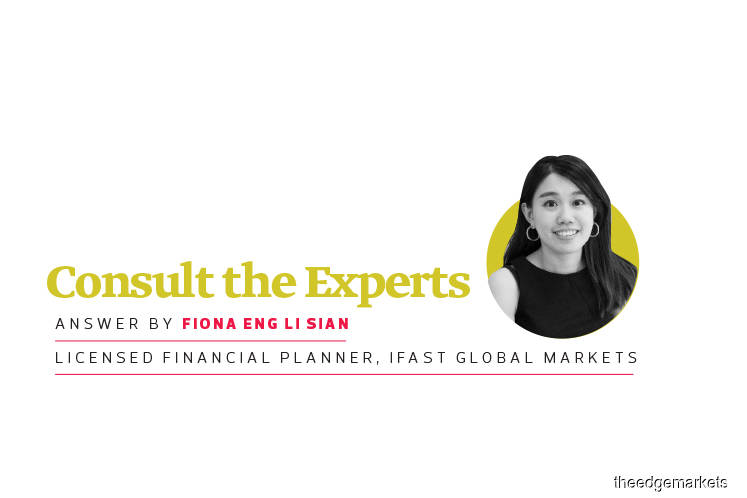 Question: I am a 28-year-old professional with a corporate job and a monthly salary of about RM5,000. As part of the recent fiscal stimulus package, the government announced that employees would be able reduce their Employees Provident Fund (EPF) contributions to 7% from 11% previously, from April to the end of the year. I am considering lowering my contributions and using the money to invest.
That is because last month, EPF declared a dividend of 5.45% for Simpanan Konvensional and 5% for Simpanan Shariah, the lowest since 2008. Its CEO expects more volatility ahead and commented that "domestic markets did not support the income-generating capabilities of EPF as 70% of the fund's assets are in Malaysia, with a major part of our assets in domestic equities", according to reports.
In view of this, would it make more sense for me to use the money to invest in foreign assets, seeing as the domestic markets are unlikely to get better this year?
> Wong
Answer: Benjamin Graham, the great investment analyst and mentor of Warren Buffett, said: "The best way to measure your investing success is not by whether you are beating the market, but by whether you have put in place a financial plan and a behavioural discipline that are likely to get you where you want to go."
Table 1 shows the additional amount available to you to invest in other funds if you opt to reduce your EPF contribution rate to 7% from April to December. However, before you decide where and how to invest this RM1,800, I would encourage you to take the following questions into consideration. 
Do you have your short-term, medium-term and long-term financial goals identified and the road map to each goal drawn out? Have you identified your risk profile, required rate of return and investment duration for each goal? Which financial goal will this sum of money fit into? And last but not least, what are the attitudes, behaviours and habits you need to cultivate to achieve these goals? 
Let's assume this RM1,800 is set aside for your retirement and you will retire 37 years from now at age 65. Table 2 shows how much this RM1,800 will be valued under the following scenarios:
a) EPF continues to generate an average return of 5.45% (according to the dividend rate declared for Simpanan Konvensional in 2019) for the next 37 years.
b) Investment portfolio has an average return of 8% annually over the next 37 years. 
If you find the additional amount accumulated under scenario B meaningful, then you should reduce your EPF contribution rate for the next nine months and invest the RM1,800. But from my experience helping clients plan their retirement fund, the additional amount obtained in scenario B will hardly be significant to them with regards to the absolute amount they will need for retirement. Furthermore, with that extra cash in their bank accounts every month, it is highly likely that they will have spent it by the time they identify a suitable investment method for this amount of money.
This is my advice to clients who have asked me the same question: invest eligible amounts from their Account 1 in EPF-approved unit trust funds through the self-service i-Invest platform provided by the i-Akaun portal. This method allows my clients to have foreign exposure in their retirement portfolios and also deters them from spending the extra cash. Furthermore, with the help of its independent auditor, EPF adds a layer of security by evaluating these unit trust funds and fund management companies annually.
To structure a diversified investment portfolio outside of Malaysia, there are different markets, industries, asset classes, instruments and investment strategies (if investment instruments are actively managed) that offer different risk versus reward trade-offs. 
If you retire at age 65, you have a 37-year investment horizon. Conventional wisdom tells us that a longer investment horizon allows us to take higher investment risk. So, a core portfolio heavily weighted in Asian equities, with exposure to developed markets and bonds, will generally suit your needs. If you are unsure, it is best to seek the advice of a professional to construct, monitor and review your investment portfolio.
To grow your retirement nest egg, you need to know how much you require for retirement and embark on a monthly savings plan to close the gap, in addition to investing a portion of your EPF Account 1 in foreign assets to potentially earn a higher rate of return. This method uses the dollar cost averaging concept to manage market volatility, which will benefit investors in the long term.
---
Have a personal finance query? Send it to: Consult the Experts, Personal Wealth, Level 3, Menara KLK, No 1, Jalan PJU7/6, Mutiara Damansara, 47810 Petaling Jaya, Selangor; Fax: (03) 7721 8018; email: [email protected], Attn: Consult the Experts. Please include your full name, address, contact number and pseudonym, if any.