This article first appeared in The Edge Financial Daily, on March 13, 2020.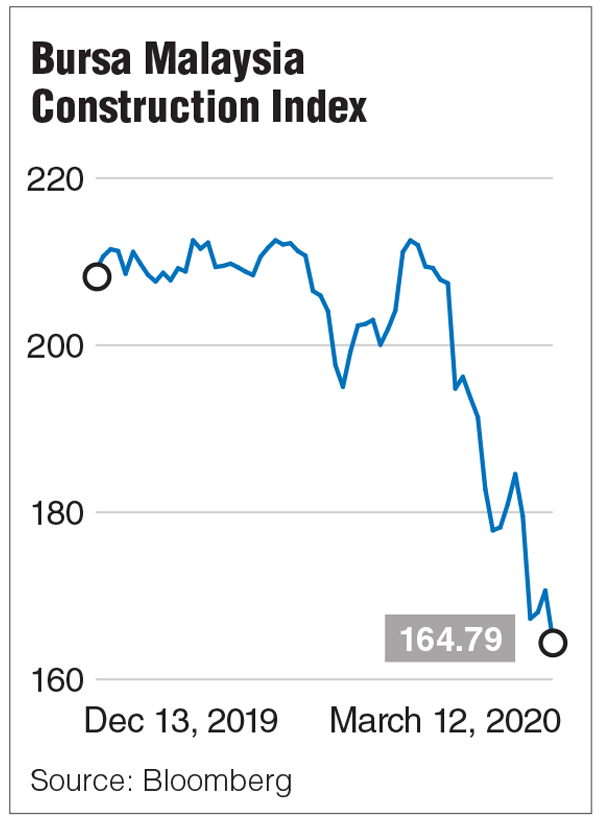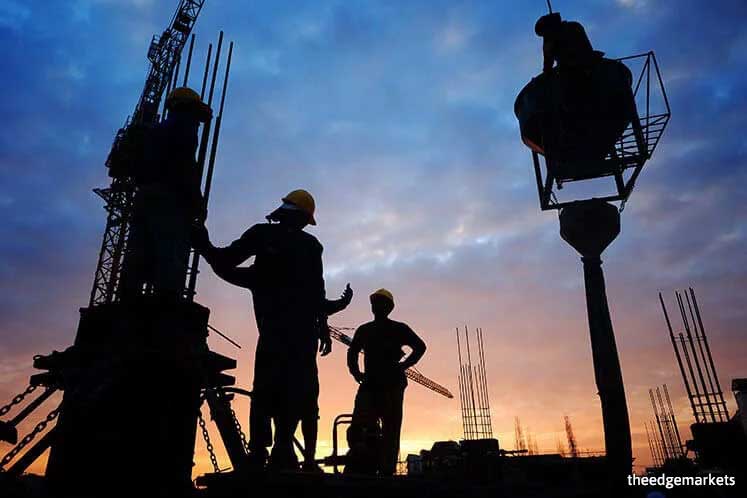 KUALA LUMPUR: Construction stocks will not be regaining their shine anytime soon, say analysts, as more delays in public sector construction projects are expected given the recent change in government.
The one-day 25% drop in oil prices on Monday, which sent world equity markets tumbling, did not help matters, made worse by the Covid-19 outbreak which has since been declared a pandemic.
Construction analysts The Edge Financial Daily spoke to said they are not optimistic about the construction sector. This is despite Works Minister Datuk Seri Fadillah Yusof saying yesterday that the construction of the Pan Borneo Highway will continue.
Year to date, the Bursa Malaysia Construction Index is down 21% from 209.20 points to close at a 14-month low of 164.79 yesterday.
"I'm not very optimistic as things remain uncertain due to the recent oil price correction as this would mean that there will be a rethink from the government on big spending," said Nomura head of equity research Tushar Mohata.
Although the mega infrastructure projects are usually funded through off-balance sheet financing, which means there will not be immediate fiscal impact, Tushar noted that such projects will raise fiscal deficit in the long term.
"Even if certain projects were on the verge of getting the green light … with the oil price correction this week, there might be another round of rethink on that," he added.
"Nothing is 100% certain at this point," he said, pointing to projects such as the Penang Transport Master Plan, Mass Rapid Transit Line 3 (MRT3) and the Kuala Lumpur-Singapore high-speed rail.
Nevertheless, Tushar believes that the East Coast Rail Link (ECRL) project will continue to progress as planned given that it has already achieved decent progress.
At this juncture, Nomura prefers stocks with a more resilient balance sheet such as Sunway Construction Group Bhd, or Gamuda Bhd that has overseas exposure to buffer some of the volatility in the domestic market, given the uncertainties.
Affin Hwang Investment Bank construction analyst Loong Chee Wei is also of the view that both the ECRL and Bandar Malaysia projects that have been revised will continue as planned.
"All those projects will continue; the question now is how soon it can resume," he said.
"I believe that there could be delays as any change of government or ministers will present this risk," he said, adding that these projects would likely be reviewed again and certain projects will be given priority.
In April last year, the previous Pakatan Harapan government cut the cost of the ECRL project by 33% to RM44 billion, with the line 40km shorter.
In reviving the Bandar Malaysia project, it also revised the payment terms to a shorter three years, from seven years previously under the old agreement signed on Dec 31, 2015. The dividend from land sales was also revised to 50:50 to IWH CREC Sdn Bhd and TRX City Sdn Bhd, compared with 60:40 previously based on the shareholding.
Affin Hwang has an "underweight" call on the sector as it is still uncertain how soon the new government will start the construction of the projects.
"There could be a fiscal constraint because of the slump in oil prices and tighter budget … possibly a review of Budget 2020 and the development expenditure budget. It is all very uncertain at this point," said Loong.
Malacca Securities Sdn Bhd senior analyst Kenneth Leong concurred, saying he does not see the new Perikatan Nasional government speeding up mega infrastructure projects due to the tight government coffers.
This follows the RM20 billion economic stimulus package announced on Feb 27 and the dramatic drop in crude oil prices that are below the Budget 2020 assumption of US$62 per barrel, which may see a widening of the budget deficit, he said.
As at the time of writing, Brent crude oil continues to plunge lower to US$33.49 per barrel — its lowest since February 2016.
Leong also noted that there is not much room for immediate funding to accelerate mega infrastructure projects in the country. "The Pan Borneo Highway project is a different case as the [project] is already ongoing."
Leong said projects that are progressing as planned are the Light Rail Transit Line 3 (LRT 3), MRT2, West Coast Expressway and the Pan Borneo Highway.