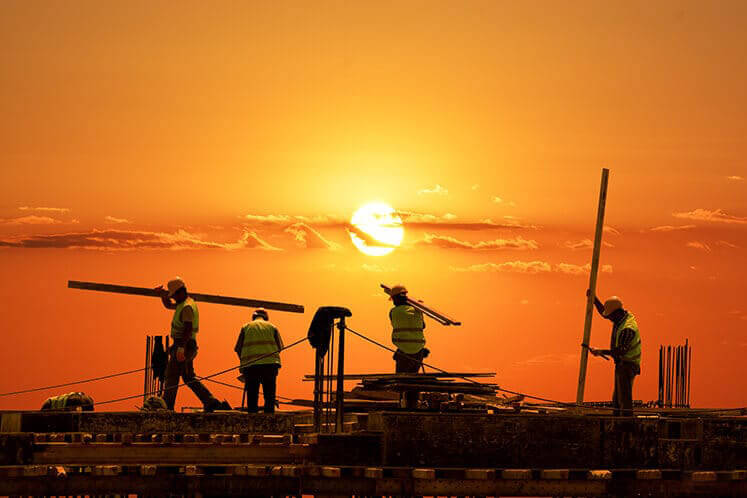 KUALA LUMPUR (March 13): Construction stocks fell sharply this morning as investor sentiment turned negative on the local bourse amid views that there would be less infrastructure spending this year, compounded further by the global equity rout. 
As of 11:34am, shares in Jaks Resources Bhd were down 14.94% or 13 sen at 87 sen on a trading volume of 48.88 million shares.
 
Shares in Ekovest Bhd also fell, declining 10.20% or five sen at 44 sen a piece. The Lim Kang Hoo linked counter saw 33.06 million shares traded.
 
Gamuda Bhd was not immune to the bearish sentiment either, as the counter fell 11.52% or 38 sen to RM2.92 on a trading volume of 8.52 million shares.
 
Econpile Holdings Bhd also posted declines, falling 16.67% or 8.5 sen to 42.5 sen, while Vizione Holdings Bhd fell 34.69% or 17 sen to 32 sen.
 
George Kent (M) Bhd fell 18.49% or 13.5 sen to 59.5 sen.
At the time of writing, Bursa Malaysia's construction index was down 10.27% or 16.93 points at 147.86 points.
 
In a note this morning, AffinHwang Capital Research viewed that there could be lower infrastructure spending by the government as there would be less development expenditure.
 
The lower development expenditure is due to the government not wanting to increase its deficit, particularly as Brent crude oil, which accounts for some 30% of government revenue, has seen a significant fall in prices.
 
Therefore, this would have an impact on construction companies that are looking to bid for such contracts.