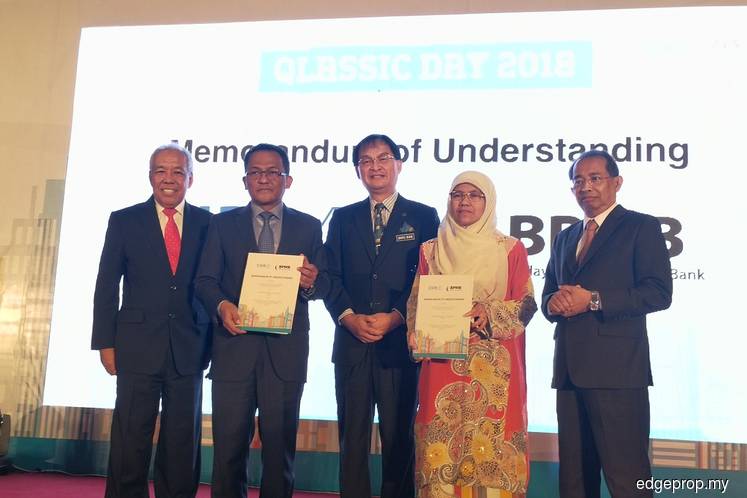 KUALA LUMPUR (Aug 16): The construction quality of public housing is often neglected owing to the sheer demand for such homes which leave residents with no choice but to take what they are offered, said Construction Industry Development Board (CIDB) chairman Tan Sri Ahmad Tajuddin Ali.
In his speech at the Quality Assessment System in Construction (QLASSIC) Day 2018 today, he said out of 237 projects that achieved QLASSIC scores of above 70% last year, only about 4% are public housing projects.
"The drive [for public housing developers] to build quality homes is not there. Why were there only 4% of participation from the public sector?" he asked.
"So, I urge the public sector, especially those who are delivering medium-cost homes to adopt [QLASSIC] to ensure the quality of their projects.
"Sometimes people are concerned that it will cost a lot if they apply QLASSIC. But I can say that the cost of no quality is even bigger, apart from the reputation of the builder," he added.
Works Minister Baru Bian, who officiated the event, told reporters that participation of the public sector in QLASSIC should be increased from the 4% recorded last year.
"The QLASSIC issue is very important as the world is going into the Industrial Revolution 4.0, which is a technology-driven principal. I think this system will come in handy and I will try to get QLASSIC into the policies under my ministry, which means we will introduce this system in our housing and infrastructure project," he said.
He added that this will reassure the public that the homes built by the public sector are of good quality.
CIDB chief executive Datuk Ahmad 'Asri Abdul Hamid said that there is a proposal by the Works Ministry to apply a pilot QLASSIC system for roadworks to assess the building quality of the Pan Borneo Highway.
"There are different standards for housing and infrastructure projects. For houses, we use the CIS (Construction Industry Standard) 7 while road works are assessesed using the CIS 19, which is just completed and we are planning to do a pilot.
"The Works Minister mentioned a proposal of applying the CIS 19 pilot project on the Pan Borneo Highway," he told reporters at a media conference after the event.
The potentially higher cost is a concern for industry players that results in a low adoption rate of the QLASSIC system in the country although the number of applications has been on the rise since 2007, said UiTM faculty of architecture planning and surveying associate professor Dr Fadzil Hassan.
However, a study by the university revealed that the cost increase in projects applying QLASSIC is estimated to be a minimal rate of less than 3%, he said.
"But there were only less than 2% to 3% of total projects which participated in QLASSIC last year," he said.
Fadzil was one of the speakers at the event with his talk entitled "Learning from Best Practice QLASSIC Implementation in Construction Projects".
Based on statistics from CIDB, there were 341 projects assessed with QLASSIC in 2017, compared with 311 projects in 2016 and 60 in 2007.
To promote the adoption of QLASSIC, CIDB has inked a memorandum of understanding (MoU) with Bank Pembangunan Malaysia Bhd (BPMB).
Under the MoU, the future infrastructure projects financed by BPMB will undergo QLASSIC assessment while CIDB will provide training for staff of the bank.
Also present at the signing ceremony were BPMB chairman Tan Sri Wan Abdul Aziz Wan Abdullah and chief financial officer and acting operating officer Afidah Mohd Ghazali.