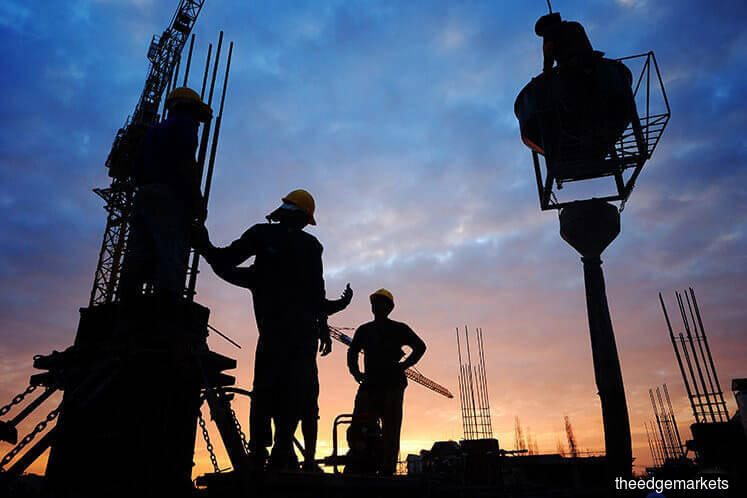 KUALA LUMPUR (Jan 28): Hong Leong Investment Bank Research (HLIB Research) has maintained its "neutral" call on the construction sector following the changes in the federal government and scrapping of mega rail projects after 14th general election (GE14), saying the near-term outlook remains challenging for the sector.
In a note today, HLIB Research analyst Yip Kah Ming said the news of cancellation of the US$20 billion (RM81 billion) East Coast Rail Link (ECRL) project is a "negative surprise" to the construction sector due to the expectation ECRL will be downsized, like light rail transit line 3 (LRT3) and mass rapid transit line 2 (MRT2) previously.
"We expect there will be downward pressure on construction stocks in the near term following this news as pessimistic sentiment on the sector has been partially alleviated year-to-date [YTD] (KLCON index: +13.2%)," he added.
"About RM18-24 billion of contracts will be removed as 30-40% of ECRL jobs will be taken up by local contractors based on our estimates," said Yip, adding that the listed companies negatively affected by the cancellation of ECRL include HSS Engineers Bhd and Lafarge Malaysia Bhd, which have received ECRL work packages previously.
Gabungan AQRS Bhd, which was seen as the top contender for ECRL work packages, may also be negatively affected, said Yip.
Economic Affairs Minister Datuk Seri Mohamed Azmin Ali said on Jan 26 that the cabinet had decided to cancel the ECRL project, as the cost to develop the ECRL is too big and the government does not have the financial capacity to do it.
The interest on the project alone, he revealed, cost about half a billion ringgit a year. "We cannot afford to bear this, so this project needs to be terminated without affecting our good relationship with China," he was quoted as saying.
Going forward, Yip expects the domestic construction industry landscape to remain challenging and does not expect a significant improvement in the near term.
"The 39% decline in contract awards in 2018 supports our view," he added.
Yip expects smallish basic infrastructure projects such as road upgrading, hospital, water, sewerage and rural area development projects will be the top priority for government infrastructure spending now, but believes such projects are insufficient to re-spark any enthusiasm towards the sector.
Overall, HLIB Research has maintained the earnings forecast on its coverage as earnings contribution from the ECRL project has been removed after it was suspended last year.
"Nonetheless, high orderbook levels (average cover ratio of 4.5 times) following the robust job flows in the past two years coupled with rock bottom valuation (0.7 times price book ratio [P/B]) should cushion further downside amid subdued prospects," it noted.