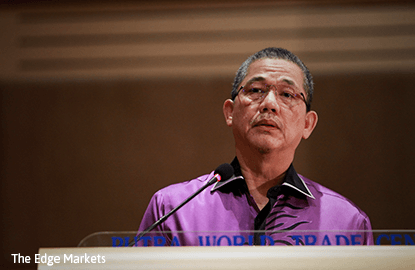 This article first appeared in The Edge Financial Daily, on April 12, 2016.
KUALA LUMPUR: The works ministry expects Malaysia's construction industry to grow up to 10% in terms of value of projects undertaken, driven by public infrastructure projects.
"We are expecting [a] growth of between 8% and 10% for 2016, driven by infrastructure projects such as the MRT (Mass Rapid Transit), LRT (Light Rail Transit), Pan Borneo Highway in East Malaysia and housing projects," said Works Minister Datuk Seri Fadillah Yusof.
He said these projects ensure consistent growth in the local construction industry, which will contribute to the country's economy and the people through employment opportunities.
Master Builders Association Malaysia president Matthew Tee noted that the Malaysian construction industry had seen robust growth over the past few years.
"The sector recorded double-digit growth from 2012 to 2014. For 2015, the figure has not been finalised, but [a] growth of 8.2% is expected. For this sector, growth so far has been spearheaded more by government projects," he said.
Tee added that the lower contribution from private projects was in line with the slowdown in the local property market, following tighter regulations by Bank Negara Malaysia.
"Demand for housing is still there, but it is very hard for buyers to secure financing. Loan rejection rates are very high. If the central bank can loosen the lending policies, then the property sector can rebound," he said.
Fadillah and Tee were speaking at the press conference held in conjunction with the commencement of the Malaysian Construction Summit 2016 (MCS 2016), themed "Increasing Productivity through Innovation", yesterday.
In his opening speech, Tee said the local construction industry had to work on improving its productivity in order to remain competitive in the global market.
He noted Malaysia's 20th-place ranking in the Global Competitiveness Report 2015-2016, but added that the report also highlighted Myanmar, Indonesia, Thailand, Bulgaria and India, which had been closing their respective gaps with Malaysia since the 2000s.
"There is a possibility that these countries will surpass Malaysia's performance in the near future. Malaysians have to wake up and work harder in order not to be left behind by other developing countries.
"In order to do so, Malaysia needs to identify leading indicators of real growth opportunities, particularly where there are gaps between our current performance and the global benchmark," he said.
Tee said more investment should be made in the workforce, as well as research and development, in order to boost productivity of the construction industry.
Fadillah echoed his call, saying that Malaysia can no longer compete on the basis of lower costs alone as the country transforms into a developed nation. The minister stressed that labour-intensive industries such as construction will eventually have to reduce its dependency on cheap labour and look into other alternatives.