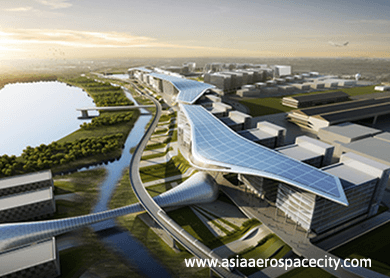 PETALING JAYA (June 15): Construction on the first phase of the aerospace hub Asia Aerospace City (AAC) will begin in the first quarter of 2016, in which its Subang Nexus is expected to complete in early 2018.  
In a statement, MARA Aerospace & Technologies Sdn Bhd (M-AeroTech) said the AAC, an aerospace business hub that offers a complete business ecosystem for industry players in South East Asia, is currently developing its world-class infrastructure at its Subang nexus.
M-AeroTech is a wholly-owned Majlis Amanah Rakyat (MARA) subsidiary that oversees the revenue generation of AAC through its six strategic business units.
The development will be executed in three phases and by the end of the third phase, the AAC will house office space, training centres, a convention centre, a business hotel and retails spaces.
"Representing connectivity across the various capacities that are here through out Malaysia and Asia, AAC's infrastructure will offer a high quality environment that will nurture education, entrepreneurship and business activities," M-AeroTech said.
The statement said Atkins, one of the world's leading architectural firms, was awarded the contract to serve as the master designer for the development. Atkins is also the firm behind the 125-storey Anara Tower in Dubai.
Using the Leadership in Energy and Environmental Design (LEED) Green's Building Rating System as a guide, Atkins is creating a sustainable and innovative design for AAC, the statement read.
AAC said the entire development will span 3.5 million square feet of space and will also be home to the second campus of University Kuala Lumpur's Malaysian Institute of Aviation Technology (MIAT).
"This will provide businesses access to a skilled talent pool, which will inspire collaboration between various establishments within a rich environment," it further read.
M-AeroTech chief operating officer Said Zulfikri Osman said the AAC was designed to not only cater to business needs, but also offer a rich environment for businesses to grow, offering relevant facilities and flexibility for its occupier.
"AAC's Business Consulting Centre (BCC) will offer support for your business set-up and assist in operationalising your business in this hub too," he said.
The BCC, which is one of the six business units in AAC, has already been working with a variety of local companies that are looking to venture into the aerospace industry.
Aviation-related services provider Skyvax Sdn Bhd and Strand Aerospace Malaysia Sdn Bhd (SAM), which provides top quality engineering services, are among some of the industry players that have agreed to house their operations in the aerospace hub.
Skyvax, which has also partnered with Czech Aviation Training Centre (CATC), have committed to construct a purpose-built training centre that spans 100,000 square feet, which will house state-of-the-art facilities such as Level D Full Flight Simulators, Flight Training Devices and Computer Based Training facilities.
It was reported in July last year that the Aerospace Malaysia Innovation Centre (AMIC) had inked a memorandum of understanding with M-AeroTech to lead the industry-led aerospace research and technology activity in Asia Aerospace City (AAC).
The AMIC had said that through this cooperation, M-AeroTech will develop an eco-system to attract investment and collaboration with various aerospace original equipment manufacturers (OEMs) leveraging on current government initiatives.