This article first appeared in Digital Edge, The Edge Malaysia Weekly, on May 3, 2021 - May 09, 2021.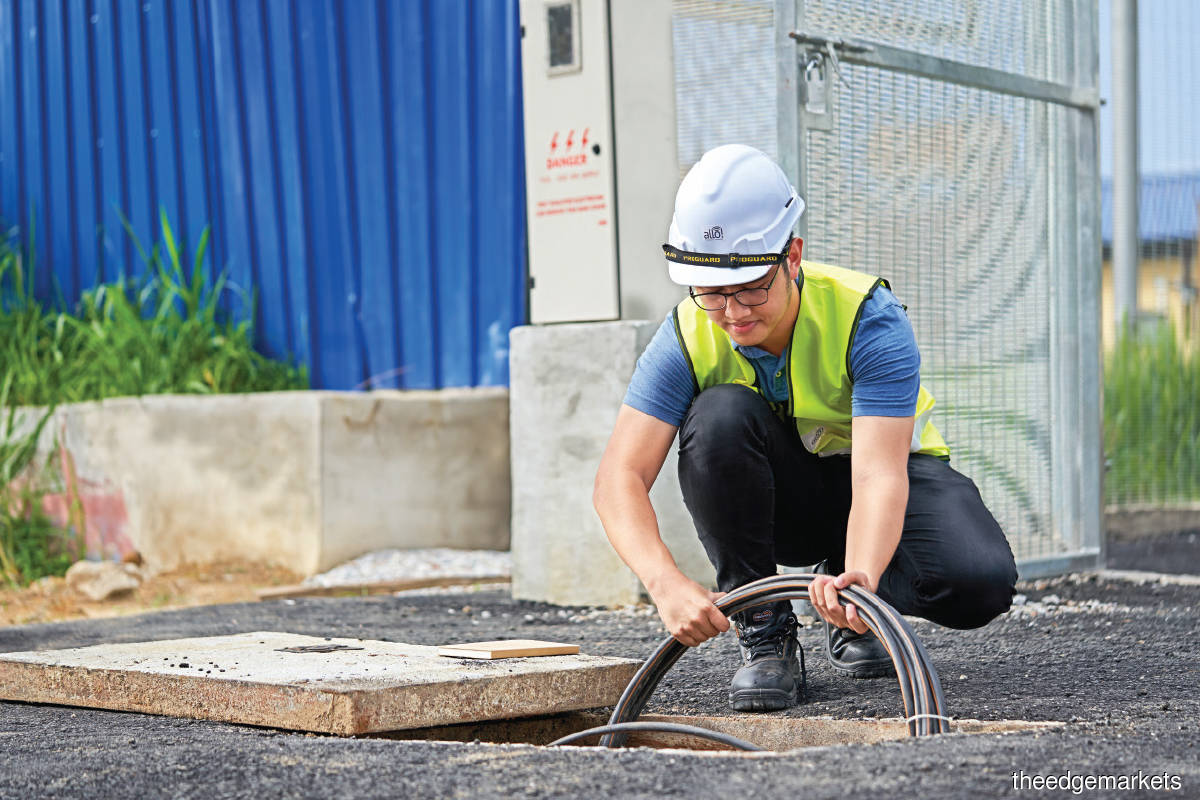 In the early 2000s, information and communications technology (ICT) company Setia Haruman Technology Sdn Bhd (currently known as Allo Technology Sdn Bhd) was set up to provide connectivity services in Cyberjaya. The company offered the first broadband service in Cyberjaya and subsequently deployed the Cyberjaya Metro Fibre Network (CMFN), Malaysia's first fully fibre open access network.
The CMFN provided the foundational infrastructure to support local and international telecommunications companies (telcos) in providing their services locally. In 2018, the company was acquired by Tenaga Nasional Bhd to expand its reach nationwide.
Rodzi Ahmad, CEO of Allo Technology, says the company's mission and business strategy is to set up its open access fibre network in underserved suburban and rural areas. He says it has no interest in penetrating major cities in Malaysia as local telcos have saturated the market in these places.
"We don't want to compete with other players just so we can earn a lot of money. We want to complement them. We have identified 150,000 homes in suburban areas that we can provide with connectivity, from down south in Johor all the way north to Kedah and Perlis," he says.
As a 100%-owned subsidiary of Tenaga, Allo Technology has the advantage of being able to leverage its parent company's assets and infrastructure to broaden its network, making it easier to reach remote areas, says Rodzi. This also reduces its cost of laying cables as Allo Technology can use Tenaga's electrical grids and poles as a foundation.
"Think about how Tenaga's power is connected to your house. The cable is affixed from one Tenaga pole to the next and eventually, it is connected to your house. So, what we do is use these same poles to affix fibre cables one metre below the power lines to connect to houses.
"This means that we don't have to do any digging or cross roads. We just need to follow the power lines set up by Tenaga. We don't have to invest much in infrastructure, except for the internet fibre cables, so it makes our lives easier and the cost to roll out cheaper."
Rodzi adds that from the suburban areas, the cables can be extended to reach the rural areas, but Allo Technology needs to evaluate whether this is commercially viable.
"In suburban areas, we may see a population of 3,000 to 4,000 in a 2km radius. In rural areas, we may get 200 houses in a 2km radius, so it's something we need to consider. Even though it is cheaper for us to bring in the internet fibre cables there, we need to focus on what will work best."
Allo Technology has not expanded its infrastructure to the East Coast yet, says Rodzi, but plans to do so in the near future. The company has a presence in Melaka, Perak, Kedah, mainland Penang, Johor and Negeri Sembilan, where it has specifically targeted suburban communities.
Rodzi says the company made the decision to focus on providing open access fibre connectivity to encourage more telcos to ride its infrastructure to provide their products and services to these areas. The goal is to see those in underserved and suburban areas enjoy the same internet services and speed as their urban counterparts.
"As a customer within our network area, you can choose to use the services of any of our partners. We have partnered with Digi, Celcom, Astro and Maxis, and more players will soon be added to the mix, such as Unifi.
"And if you don't like the service you have chosen, you can always terminate it and switch to another player. The advantage of open access is that it is possible to change service providers until you find the right one."
Facilitating MyDIGITAL's connectivity plans
When Allo Technology conducted studies and analyses on the demand for, and possible take-up rate of, high-speed fibre internet connectivity in suburban areas, it found that the need was as dire as that in urban areas. Rodzi explains that this is because people in these areas need the internet for e-commerce, streaming services and online classes, among other things.
While the company focuses on connecting fibre to homes, it also services commercial buildings and shoplots within a specific area as businesses in suburban areas also rely on the internet to earn a living, he says.
"It's a fact that Malaysia needs better internet coverage and connectivity, and that's why MyDIGITAL focuses a lot on connectivity, especially with the implementation of Jalinan Digital Negara (Jendela). This will also encourage online businesses to carry on in this 'new normal'," says Rodzi.
With the increasing demand for connectivity in suburban areas, Jendela will be able to address the demand issue. Rodzi says he hopes that Allo Technology will be able to facilitate this initiative and fill the gaps by providing fibre to as many places as possible.
"We're open to working with telcos and service providers to leverage our infrastructure to turn their capital expenditure into operating expenditure. We are also open to working with industry players to market their services and tell customers that connectivity is available when we enter a new area.
"What we want to see is, di mana ada elektrik, di situ ada internet (where there is electricity, there is internet connectivity)."
Allo Technology's infrastructure will also be able to support 5G connectivity when it is rolled out. Rodzi says 5G pilot projects are set to be rolled out soon and if they fall within an area covered by Allo Technology, he hopes that the company will be granted the opportunity to support and enable the initiative.
5G will also be a good foundation for building smart cities, which is something the company has done in Cyberjaya. In fact, Rodzi says most state governments are looking at deploying smart city solutions to manage their townships. This will not only help them save costs — enabling them to run the towns more efficiently — but also help reduce carbon emissions.
"The definition of a smart city is very wide, from dimming street lights when there are no cars on the road to reducing traffic congestion by coordinating the traffic lights to the traffic situation," says Rodzi.
"A smart city's foundation lies in communication. All the Internet of Things sensors need to communicate and all assets that are to be monitored have to be consolidated into one hub to be controlled remotely."
The only challenge the company has, says Rodzi, is addressing infrastructure breakdowns and malfunctions that may disrupt network connectivity. This most commonly happens when there is a thunderstorm and trees (or branches) fall on electrical cables, cutting off the power supply.
"Our service level agreement with the regulators is that we get things up and running within four hours. We have people on standby at different sites to fix problems as soon as possible," says Rodzi.
Allo Technology took home the award for the Best Brand in Telco Broadband Infrastructure Services at the SME & Entrepreneurs Business Award 2020 (SEBA 2020). Rodzi says this win is significant as it is a recognition of the company's work as well as validation that it is on the right track.
"The business we are in is significant and thus it's important for us to grow. We don't want to be an average player, but a leader."