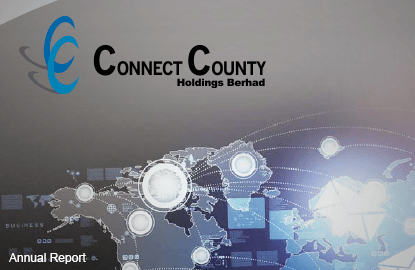 KUALA LUMPUR (March 21): ConnectCounty Holdings Bhd saw some 11.86 million shares or 4.1% of the company's shareholding crossed off market today.
According to Bloomberg data, the transaction was done in a single block, at RM3.03 million or 25.5 sen per share. Parties involved in the transaction were not known at press time.
The price was 10.86% higher than its closing price on the open market today, which climbed 2 sen or 9.5% to settle at 23 sen, giving it a market capitalisation of RM66.57 million. It saw 20.95 million shares traded as of market close, compared with its 200-day average trading volume of 2.69 million.
ConnectCounty, through its subsidiaries, designs and makes both customised and standardised cables and related products for broadband satellite communication, digital audio equipment, computer, and disk drives.
The company slipped into the red in its financial year ended Dec 31, 2016 (FY16), with a net loss of RM11,000, compared to a net profit of RM2.69 million a year ago, largely due to professional fees incurred in relation to its proposed acquisition of a 51% stake in Kejuruteraan Asastera Sdn Bhd, and foreign exchange losses.
Other key contributors were bad debts written off and the accumulated operating costs generated from two subsidiaries that did not generate revenue during the period as they were undergoing trial, sample and conditional runs.
Revenue, however, gained 26% to RM81.71 million from RM64.88 million, on higher sales achieved from its key customers.
Year to date, the counter has risen near 77%.