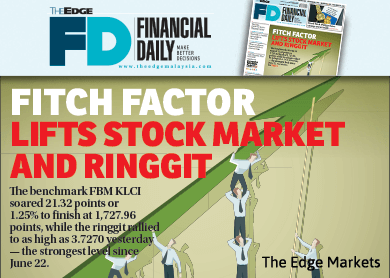 KUALA LUMPUR: There was an almost audible sigh of collective relief from Malaysians as Fitch Ratings reaffirmed Malaysia's credit rating at A- and revised its outlook to "stable" from "negative" on Tuesday night, which caused Malaysian stocks to rally the most since December and lifted the ringgit.
However, many analysts remained concerned over the government's increasing contingency liability as well as the further dampening of consumer sentiment after the latest round of pump price hikes yesterday, which saw RON 95 go up 10 sen to RM2.15 and RON 97 to RM2.55, up 20 sen.
Still, Fitch's move, which came as a surprise to many after the international rating agency's previous downgrade warnings, was hailed by various quarters, particularly policymakers. The market also reacted favourably — the FBM KLCI gained 21.32 points or 1.25% to finish at 1,727.96 points; it had earlier touched as high as 1,737.67. 
Areka Capital Sdn Bhd chief executive officer Danny Wong said the market was oversold for the past few months, and so with the biggest short-term hurdle being removed, the FBM KLCI would rebound to above the 1,700-point level.
"However, this is not really bullish. This is just recovery from oversold. I would say this is a rebound," he told The Edge Financial Daily.
AllianceDBS economist Manokaran Mottain said fear of a possible downgrade by Fitch has haunted local financial markets recently, and though that has now been removed after Fitch's announcement, "it is not something to cheer about because they have cautioned the government against its debts".
He also noted that high household debt, which stood at 87% of gross domestic product (GDP), remains a concern.
In its statement issued before midnight on Tuesday, Fitch said the federal government's debt and explicit guarantees had continued to increase. Total explicit guarantees, as at end-2014, rose to 16% of GDP from 15.4% a year ago.
Fitch said it "continues to believe that the Malaysian sovereign is incurring additional contingent liabilities beyond explicit guarantees because of quasi-fiscal operations of state-owned entity 1Malaysia Development Bhd (1MDB)."
In a note to clients yesterday, Kenanga Research said Fitch's statement indicated that it thought a government bailout of 1MDB is highly probable and that the underlying concern over mounting contingency liability and off-balance-sheet commitments under the Ministry of Finance Inc still remains a threat to the federal government's balance sheet.
The research firm also expressed concern over Malaysia's vulnerability to capital outflow.
"Malaysia remains vulnerable to capital outflows as foreigners own about 47% of Malaysia Government Securities (MGS) and Bank Negara Malaysia (BNM) reserves have been run down by about 20% or US$26.7 billion from end-August 2014 to US$105.3 billion as at mid-June 2015," it noted.
"Though Malaysia is still running a current account surplus [we forecast 2.7% of GDP in 2015], it is still a large energy exporter and its liquefied natural gas (LNG) prices move with around a five-month lag to crude prices, and prices are already starting to adjust downwards," it added.
Nevertheless, it expects fiscal consolidation to remain on track in spite of a sharp fall in oil and gas income, which accounts for about 30% of total fiscal revenue. 
"Goods and services tax revenues also appear likely to outperform the government's earlier projections," Kenanga said.
Meanwhile, AllianceDBS' Manokaran said consumers are going to feel even more of a pinch now that petrol pump prices have been revised upward this month, which he attributed to the volatility of the ringgit and not global crude oil prices. 
"This will drive up prices of goods. They need some kind of safety net now ... maybe the government may bring back the targeted subsidy, which they intended to implement earlier," he said.
This article first appeared in The Edge Financial Daily, on July 02, 2015.