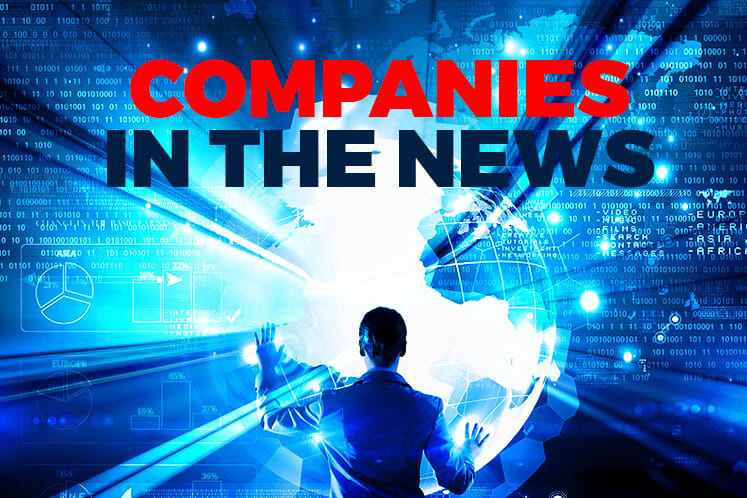 KUALA LUMPUR (Dec 4): Based on corporate announcements and news flows today, stocks in focus on Wednesday (Dec 5) may include: Computer Forms (Malaysia) Bhd, Malakoff Corp Bhd, Parkson Holdings Bhd, Hibiscus Petroleum Bhd, TRC Synergy Bhd, Sasbadi Holdings, Ikhmas Jaya Group Bhd, Suria Capital Bhd, Utusan Melayu Bhd and Tadmax Resources Bhd.
Though Tan Sri Robert Tan Hua Choon has raised his offer for shares in Computer Forms (Malaysia) Bhd (CFM) he does not own, independent adviser Public Investment Bank Bhd (PIVB) said the offer is still "not fair and not reasonable".
On Monday, Tan raised his offer to RM1.35 per share from RM1.25 earlier.
PIVB said the revised offer price represents a discount of 69 sen or 33.82% to what it deems to be the fair value based on the real net asset value (RNAV) valuation methodology of RM 2.04 a share.
Malakoff Corp Bhd's business partner in an Algerian sea water desalination plant — state-owned Algerian Energy Co (AEC) — wants the group to give up its stake in the plant operator following the termination of a water purchase agreement.
Malakoff's 70%-owned Tlemcen Desalination Investment Co SAS (TDIC) currently holds a 51% stake in the joint stock company Almiyah Attilemcania SPA, under which the plant is parked. The remainder 49% is held by AEC, the government company that handled the power and water privatisation exercise in Algeria.
Malakoff said AEC notified TDIC and the offtakers of its decision to transfer TDIC's shares in the joint stock company to AEC on Nov 30.
Parkson Holdings Bhd's Singapore listed subsidiary Parkson Retail Asia Ltd has been placed on the Singapore Stock Exchange's watch list due to its low trading price.
The group's shares have been trading at S$0.20 since May 2016, the minimum price on the exchange's Minimum Trading Price (MTP) Entry Criterion. It now has 36 months to find a way to exit the list in order to avoid delisting. It can exit by undertaking consolidation, operation restructuring or transfer to Catalist.
Hibiscus Petroleum Bhd said it is working towards achieving net production of between 10,000 and 12,000 barrels (bbl) of oil per day for both its Anasuria cluster and North Sabah Production Sharing Contract by the end of FY20.
The group is currently producing up to 9,000 bbls per day for both.
TRC Synergy Bhd has bagged a RM498.7 million contract — its largest year-to-date — from Putrajaya Holdings Sdn Bhd to develop an integrated development at Plot 8MD3 in Precinct 8, Putrajaya.
With the addition of this contract, TRC Synergy said its order book will increase to RM3 billion.
Sasbadi Holdings Bhd has bagged a Ministry of Education (MoE) contract to print Form 3 Science text books for thee years. The deal is worth an estimated RM892,680.
Piling specialist Ikhmas Jaya Group Bhd is being sued by building materials trader Ipmuda Bhd for RM2.97 million over failure to pay for goods supplied.
Ikhmas Jaya said Ipmuda is claiming a principle sum of RM2.35 million and interest of RM627,153.
Suria Capital Holdings Bhd has proposed a bonus issue of up to 58.28 million new shares on the basis of one bonus share for every five existing shares held on the entitlement date to be determined later.
Utusan Melayu (Malaysia) Bhd is disposing of its five-storey corner shop-office at The Right Angle in Section 14, Petaling Jaya, for RM7 million.
It has entered into a sale and purchase agreement with Eden Resources Sdn Bhd. The sale of the land is expected to result in a net gain of about RM3.95 million for the group.
Tadmax Resources Bhd managing director-cum-chief executive officer Datuk Seri Anuar Adam has been paring down his stake in the group.
Between Nov 30 and Dec 3, Anuar, who is also the largest shareholder, disposed of some 44.5 million shares in the group, reducing his stake to 17.11% from 26.43% previously.