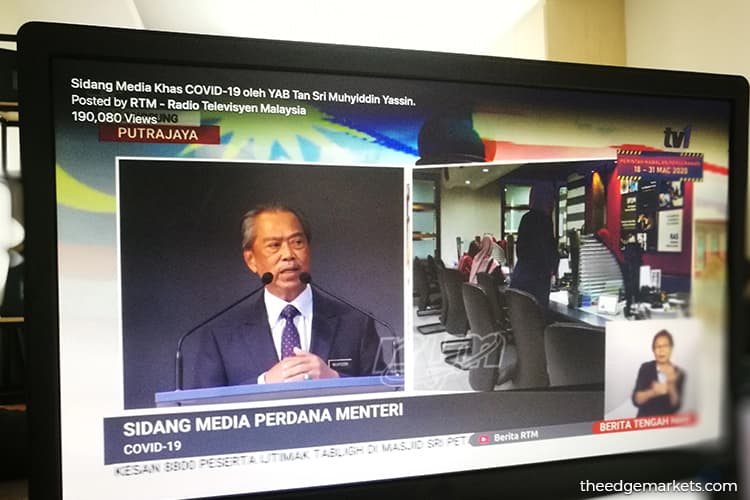 KUALA LUMPUR (March 23): The prime minister today announced several initiatives to help alleviate the people's burden in facing the Covid-19 pandemic.
Tan Sri Muhyiddin Yassin said these initiatives were part of a more comprehensive Economic Stimulus Package and People's Aid to be announced on March 30.
They include allowing members of the Employees Provident Fund (EPF) to withdraw a maximum of RM500 from Account 2 on a monthly basis for a period of 12 months beginning April.
This is expected to benefit some 12 million EPF members below the age of 55 and involve an estimated RM40 billion.
An additional allocation of RM500 million will also be extended to the Ministry of Health (MOH) for the purchases of medical equipment, including ventilators, lab apparatus, personal protective equipment (PPE) and intensive care unit (ICU) equipment.
"On top of this, the government has set aside RM100 million for MOH for the purpose of hiring 2,000 new staff especially nurses on a contract basis," Muhyiddin said after chairing the second Economic Action Council meeting in Putrajaya.
"The federal government has also agreed to channel some RM130 million to other states to help the state governments combat the Covid-19 pandemic. This can be used to assist small traders and hawkers who are badly affected by the outbreak, Covid-19 patients and their families, as well as state government staff tasked to overcome this crisis," he added.
Muhyiddin gave his assurance that every state will receive an equal allocation regardless of the ruling coalitions, saying that preserving the security, health and lives of the people is the responsibility of all, notwithstanding political differences.
He said the government has also decided to extend the National Higher Education Fund Corporation (PTPTN) loan deferment to six months effective immediately instead of three months as announced previously.
"The deferment will last until Sept 30, involving nearly 1.5 million PTPTN loan borrowers and an estimated loan collection of RM750 million," he added.
Apart from these initiatives, Muhyiddin said the government continues to study additional measures to help the public in facing the worsening pandemic.
He said the Ministry of Finance is formulating such measures comprehensively, aimed at every layer of the society, including small traders, taxi drivers, fishermen, farmers, factory workers and employees in the private and public sectors.
"The measures, which I will announce later, will take into account efforts to strengthen the country's financial position in the medium term. I hope these measures will ensure that the public's livelihoods are more secured and the country's economy remains strong.
"In this critical period, it is imperative that we stand united and remain driven in finding the solutions for every problem we are facing," Muhyiddin said.
#dudukrumahdiamdiam and get the news at theedgemarkets.com.