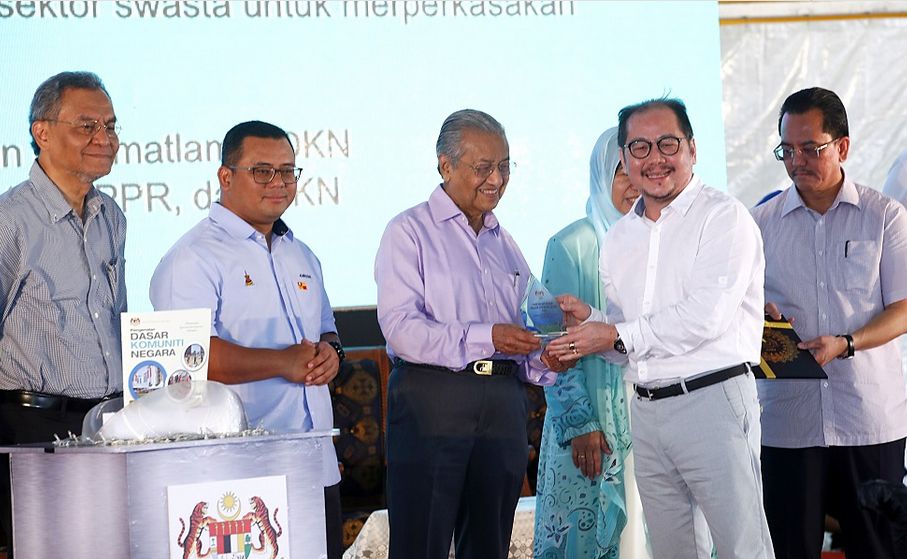 KUALA LUMPUR (Feb 17): Residents of several People's Housing Projects (PPR) in the country will soon benefit from various Corporate Social Responsibility (CSR) initiatives by private sector companies, under the government's National Community Policy or Dasar Komuniti Negara (DKN).
To start the ball rolling, eight property developers and one property management firm namely Country Garden Pacificview Sdn Bhd, Gamuda Land, Mah Sing Group Bhd, MKH Bhd, OSK Property, Sunsuria Bhd, Sunway Group, UEM Sunrise Bhd and Henry Butcher Malaysia (Mont'Kiara) Sdn Bhd have committed themselves to help the B40 group and PPR residents.
Thanks to them, selected PPRs will enjoy new facilities such as community library and even a children daycare centre while others will see their residents being offered food aid, job internship opportunities, free tuition classes and badminton courses.
Hoping to contribute to the success of the DKN initiated by the Housing and Local Government Ministry (KPKT), each of them has or will adopt selected PPRs across the country and implement CSR activities aimed at enhancing the lives of PPR residents.
The collaboration between the public and private sector for the CSR programme under DKN was facilitated by EdgeProp.my. The property portal has also created a dedicated website to raise awareness and educate the public about the policy and needs of PPR residents. The website www.EdgeProp.my/DKN provides a summary of DKN's objectives, why it is needed and how the public and companies can help.
The DKN, which was launched today by Prime Minister Tun Dr Mahathir Mohamad, today aims to empower the B40 group and PPR communities and improve their living environment. In conjunction with the launch, Subang Jaya Municipal Council organised a Community Carnival here Edgeprop.my and the nine participating companies showcased their proposed CSR commitments to their respective PPRs. Representatives of the companies also received certificates of appreciation at the launch event.
Country Garden Pacificview will be adopting two projects in Johor namely PPR Tampoi and the first phase of PPR Sungai Melana and aims to enhance the livelihood and community engagement of the residents. It plans to uplift the standard of living at the PPR projects by carrying out road building and gotong-royong activities at both sites. There are also plans to repair the playground and sports facilities at PPR Sungai Melana while at PPR Tampoi, it wants to set up a children's daycare center.
Meanwhile, Gamuda Land has started its CSR effort at PPR Lembah Subang in Petaling Jaya with mural painting and facilities upgrade activity, which aims to turn one of the communal spaces into a learning centre for the children.
UEM Sunrise has set up a community library dubbed BookHub at the PPR that they adopted, which is the newly completed PPR Uda Utama in Johor. Housing a communal space in the PPR, the library, which offers about 500 books, is completed and handed over to the residents on Feb 15.
Mah Sing through the Mah Sing Foundation has been carrying out a food aid programme at PPR Enggang in Selangor and education programme at Sekolah Kebangsaan Kampung Batu, where most of the students are living in PPR Batu Muda and PPR Pekan Batu in Kuala Lumpur.
The foundation is also working with non-governmental organisations and relevant authorities to create community gardens within selected PPRs to offer spots of relaxation for residents and where they can try their hand at growing vegetables.
Meanwhile, MKH is rolling out a Badminton Outreach Programme for PPR Lembah Subang 2 that is designed to promote healthy lifestyle among the PPR community through badminton. With the aim of ensuring long-term sustainability, the programme promotes sports leadership and social responsibility through training adults into community coaches, who will further lead training for youths within the community.
Another developer Sunsuria will offer internship opportunities in jobs areas such as landscaping, general and clerical work, building maintenance and asset management, to residents of PPR projects located near the developer's projects or offices.
As for OSK Property, it is going to support the maintenance of PPR homes and promote the sense of neighbourliness among the residents at PPR Jalan Thamby in Penang. The developer will be working with the residents to carry out repainting activity at the vandalised areas in the flat and rolling out community bonding activities such as gotong royong and education programme.
Sunway Group will assist residents at PPR Pudu Ulu and PPR Muhibah, Jalan Puchong through a food programme, which is expected to be rolled out in April. The integrated group has been providing food aid to the residents via the Sunway Food Programme over the past few years.
To tackle the issue of cleanliness in PPR projects, an aspect of building maintenance, Henry Butcher Malaysia (Mont'Kiara) will implement a 12-month cleanliness programme which consists of gotong-royong, cleanliness awareness talks, recycling trash-to-cash programme, among other activities, at PPR Sungai Putat, Batu Berendam in Melaka starting next month. The firm also plans to distribute an information kit to PPR residents to educate them about strata living.