This article first appeared in The Edge Malaysia Weekly, on May 31, 2021 - June 06, 2021.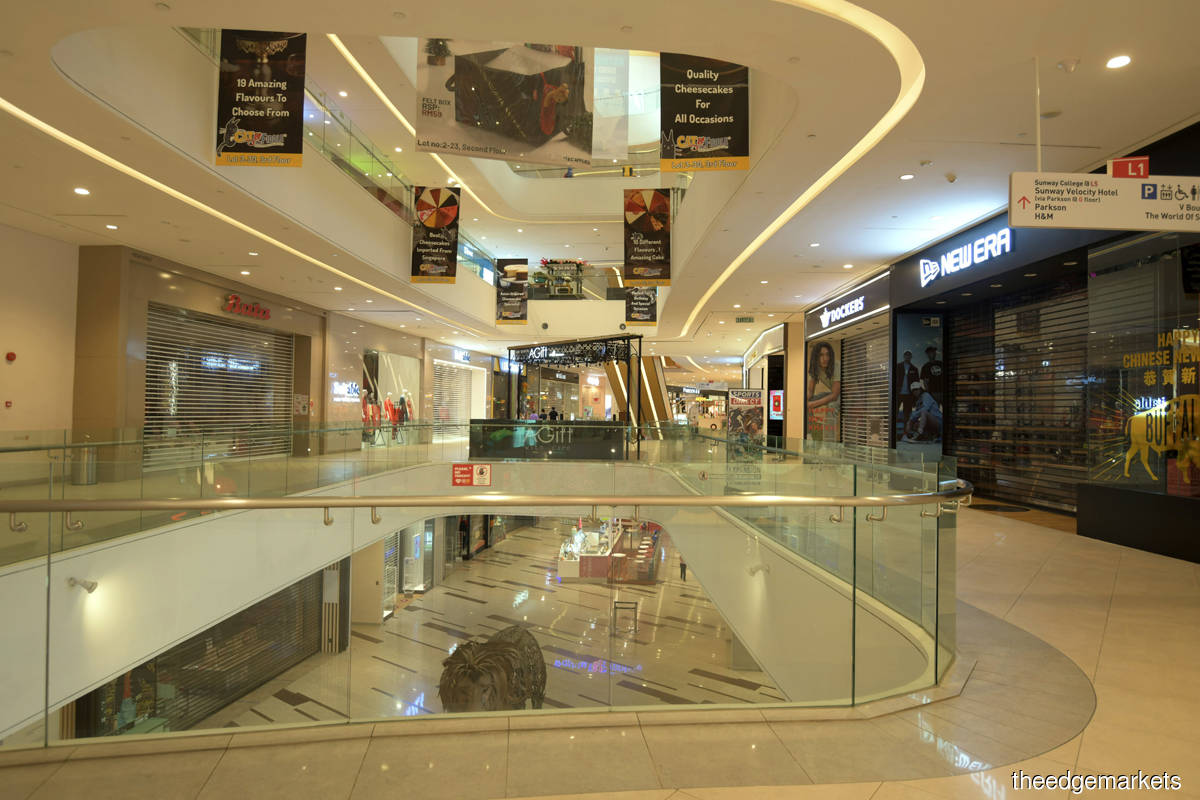 COMMERCIAL tenants — many of whom were already seeking lower rents — are requesting rental waivers following the imposition of stricter standard operating procedures under the current Movement Control Order, or MCO 3.0.
Given the oversupply of commercial space — both in the office and retail segments — the situation could worsen should tenants decide to take up less space, or exit altogether. As it is, additional space has become available as tenants leave or as new buildings are completed.
A real estate consultant who declined to be named tells The Edge that tenants have been asking for rental reduction since last year. "The bottom line is, everyone is still hurting."
He says office vacancy is currently "somewhere around 25% to 30%, depending on who you ask and what you look at".
Moreover, in recent months, a number of popular malls in the Klang Valley have reported a higher vacancy rate, "which was unheard of in years past".
Nevertheless, he adds, "I wouldn't say any building has seen significant declines across the board; rather, we are hearing of individual leases being renegotiated on much better terms, in some cases, with rent coming down by 20% to 25% even.
"It needs to be stressed that these are generally older or poorly managed buildings, where the landlords have allowed themselves to be pushed into a corner. Also, with demand remaining weak, many landlords are willing to give discounts, rather than having to go out and find new tenants, especially for larger occupiers."
The consultant, who is handling a large office portfolio, observes that landlords have been generally at the mercy of tenants for some years now. "The difference now is that, while in previous years, the WFH (work from home) angle wouldn't have been taken so seriously, it is (now) a viable alternative for many companies. And even if it were not viable, it can still be presented as a credible threat to demand for office space."
But in the end, much depends on the location, quality and unique selling proposition of the building. "In times like this, tenant relationships are very important," he stresses, adding that most rental waiver requests are for the periods when movement restrictions are in force.
Stanley Toh, executive director of real estate and valuation firm Laurelcap Sdn Bhd, concurs. "For the office sector, the birth of online meeting platforms such as Zoom and Microsoft Teams has caused businesses to rethink their work space dynamics and many companies have opted to reduce their working space and save costs. Meetings can be held remotely and businesses have moved towards scaling down their office space."
However, he notes that some prefer to go to the office as not everyone has the facilities to work from home, may also find it less distracting and more efficient in carrying out certain tasks.
Both industry experts also agree that the situation appears to be worse for mall operators. "For an office, the company renting the space collects revenue from all its business operations, regardless of location. However, for retail outlets, they only collect revenue from specific locations, so the pressure is greater. Additionally, retail stores are facing significant competition from online now as well," says the consultant.
"There is also a knock-on effect to the turnover rent (rent based on turnover), which has become more and more common in recent years. Overall, this can have a significant impact on retail malls' revenue. For example, look at Pavilion's (REIT) recent results."
For the first quarter ended March 31, Pavilion REIT saw total gross revenue decline by RM8.1 million or 6%, compared to the corresponding period in 2020, largely due to the lower occupancy rate at its malls because of non-renewal of some expired tenancies.
Managing director of Mydin Mohamed Holdings Bhd Datuk Ameer Ali Mydin is definitely feeling the heat. He says since the announcement of an Enhanced Movement Control Order (EMCO) in Kinta, Perak, from May 22 to June 4, tenants at his stores in Meru and Majoi have started requesting for lower rents. "Since Kinta is under EMCO, tenants are obviously asking for a reduction in rent."
Several sub-districts and localities in Kelantan, Terengganu, Pahang, Sabah and Sarawak have also been placed under an EMCO. Going by what Ameer Ali says, it will not be surprising if more tenants at malls ask for discounts or waivers from landlords.
Toh points out that retail tenants have been hit not only by the movement restrictions but also the release of Hotspot Identification for Dynamic Engagement (HIDE) data. On May 8, the government published a list of locations flagged as potential Covid-19 hotspots under the HIDE system and instructed those on the list to close for three days. The publication of the list and directive to shutter stores spooked the public.
"For retail businesses, more of them are going online and they have also reduced their retail space requirements or moved to a cheaper alternative," Toh says. He adds that bricks-and-mortar retail businesses which relied on walk-in customers and did not pivot quickly enough to digitising their business model felt the brunt of the Covid-19 measures, while those which went online were able to survive.
"We also observed that the malls in KL city centre areas are badly hit compared with suburban malls, as business in the city centre malls is highly dependent on the office crowd and foreign tourists, and tourism is at its lowest point due to travel restrictions."
On a more positive note, Toh says he knows of tenants who are willing to secure a location despite the uncertainties. "An example is O'Coffee, which rented space at Menara Hap Seng 3 during the first MCO. At that time, there were many uncertainties in the market and office workers were working from home. However, due to the strategic location of the space, I think the F&B franchise decided to proceed with the tenancy."