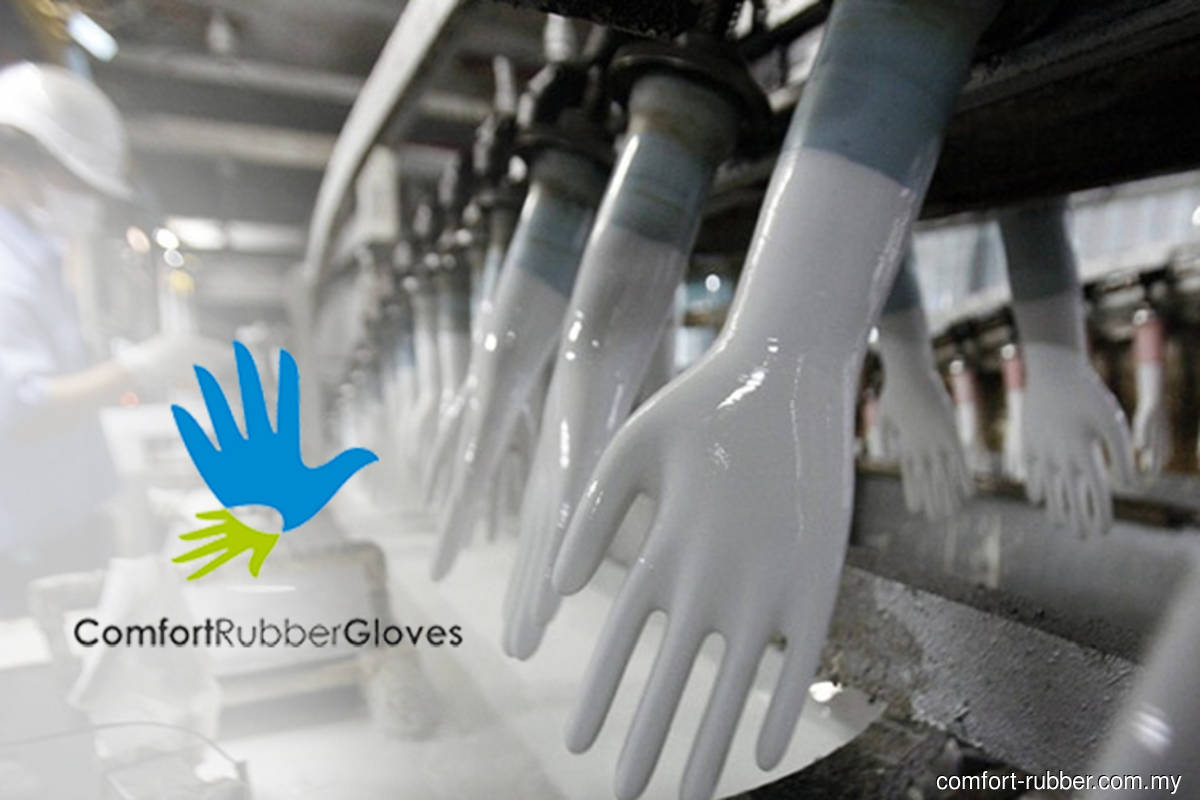 KUALA LUMPUR (April 12): Comfort Gloves Bhd has proposed a bonus issue of 174.13 million warrants to reward shareholders and raise funds primarily for capital expenditure (capex) purposes, as well as an employee share scheme (ESS).
In a bourse filing today, the rubber glove manufacturer said it would be issuing the 174.13 million warrants on the basis of three warrants for every 10 ordinary shares held by those whose names appear in its record of depositors at an entitlement date to be announced later.
The warrants will not be issued at any cost to shareholders and will be done in a single tranche.
It noted that assuming all warrants are exercised at RM2.60 apiece, the group's issued share capital would increase to RM595.73 million comprising 754.58 million shares, from RM142.99 million comprising 583.95 million shares as of April 8.
At the assumed conversion price of RM2.60 apiece, the gross proceeds from the bonus issue would be up to RM452.75 million, which would be used for capex purposes.
Comfort Gloves currently has an existing glove production facility in Taiping, Perak with 58 production lines. It plans to revamp some of these existing ones and expand them there. The capex used to fund these plans would be derived from internally generated funds.
It also noted that it owns a piece of industrial land in Batu Gajah, Perak spanning 15.75ha in size. It has plans to develop a new manufacturing facility there in phases — depending on the demand for rubber gloves, the availability of funds and other relevant approvals.
It tentatively envisions building a production facility with a total floor area of some 67,307 sq m, which can house 56 dipping lines. This facility would be able to push out 14.5 billion pieces of gloves per annum. Once fully implemented, its total production capacity would grow to 25.2 billion pieces, a 270% increase from its production capacity of 6.8 billion pieces per annum at the moment.
"The group estimates that it will require approximately RM1.2 billion to complete its production facility in Batu Gajah, Perak and intends to fund it via a combination of internally generated funds, bank borrowings and proceeds raised from as and when the warrants are exercised. For clarification, the group has yet to finalise its development plans for this facility.
"In the event the group's expansion of its Batu Gajah, Perak production facility is completed and fully funded via internally generated funds and bank borrowings before proceeds from the exercise of warrants are received, if any, the group proposes to utilise such proceeds, if any, for the repayment of outstanding bank borrowings utilised for the expansion. Pending the utilisation of the proceeds raised, as and when the warrants are exercised, such proceeds will be placed in deposits with financial institutions or short-term money market instruments as the board deems fit," it said.
At the same time, Comfort Gloves also announced that it would execute an ESS of up to 15% of its total share base to eligible directors and employees. The ESS shall be in force for five years.
Assuming that all of its warrants are exercised and its ESS is fully taken up, Comfort Gloves' share capital would increase to 867.76 million shares, from 580.44 million shares.
Its gearing would also decline to 0.08 times from 0.27 times.
The proposals are subject to shareholder approval and are expected to be completed in the second quarter of this year.
AmInvestment Bank is its adviser for the proposals.
Shares in Comfort Gloves closed 4.11% or nine sen higher at RM2.28, valuing it at RM1.33 billion. It saw seven million shares done today.