This article first appeared in Capital, The Edge Malaysia Weekly, on April 29, 2019 - May 05, 2019.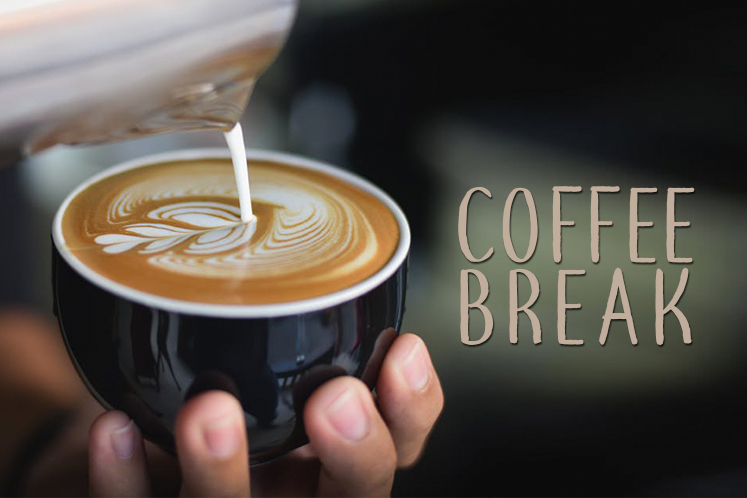 Life is a lot like drinking coffee. Our moments of happiness are sometimes hard-won, but fleeting, and then it's on to chasing the next moment of fleeting bliss.
It's like the five minutes of minty freshness in your mouth before reality sets in and your teeth start enjoying their 10-hour coffee bath all day.
Sometimes, the aftertaste spurs other cravings too, like the Musang King-flavoured coffee that is seemingly everywhere these days at our main airport terminals.
In any case, have some love for your local barista the next time you order a cuppa because it's not easy to do what they do.
Imagine what their day is like: You clock in first thing in the morning and then the grumpiest people show up, struggling with withdrawal symptoms, drowsiness and big headaches from sleep deprivation.
Then it's a guessing game as you try to figure out how exactly they want their fix and give them the appropriate dose, just enough to snap them back into functionability. After the effects wear off, they come back to you for more.
The upside, of course, is that you get to charge them a lot for their dependency on your brew. It's a lot like being a drug dealer, only you get paid just above the minimum wage despite your university degree.
The worst is when they come in with smart-ass shirts that say, for example, "Don't talk to me until I've had my coffee".
Imagine the dilemma as the barista opens his mouth, then is forced to close it. The silence starts to build up. In the meantime, the guy just stands there, half-asleep, scratching his armpits as he awaits that caffeine fix to touch his crusty lips, not realising the paradox he has caused.
And behind him, the line grows.
Of course, coffee is a serious business. In fact, we're on muddy ground because by 2050, the world's coffee production could reportedly be cut by half.
Scientists at the Royal Botanic Gardens, Kew, in London, have warned that as many as 60% of the world's coffee plants face the threat of extinction if current climate trends persist.
That's bad news considering several billion cups of coffee burn down our oesophaguses every day. Coffee, it could be argued, is the fuel combusted inside the global economic engine.
(And the global crises every decade or so could be approximated to that gap between the time we drag ourselves out of bed to the time we gulp down that delicious bitterness.)
In contrast, world consumption of coffee is heading upwards, according to the International Coffee Organisation (or ICO — and yes, it exists).
This year, the entire human population is expected to consume 164.99 million bags of coffee compared with 161.38 million bags last year.
That should give you a picture of how dependent our productivity levels are on coffee — it perks you up, boosts your mental alertness and soothes your anxieties.
And it's also a useful egg-timer of sorts in the office. If you get that fresh cuppa from the pantry, the next thing your boss tells you to do will last exactly until your coffee is cold.
Of course, what all this means is that strategies to ensure national coffee security should be a matter of priority in Malaysia.
We only have 2,587.5ha planted with coffee at the moment, with an average national yield of 3.9 tonne per hectare. Some of the problems include inefficiency. In Sarawak, for example, planters only produce a measly 256kg per hectare.
So, boosting productivity nationwide should be a policy priority. Looking beyond that, the expected coffee shortage in a few decades also presents an opportunity for Malaysia, which is lucky enough to be in the Coffee Belt.
Bear in mind that China is the world's biggest coffee consumer. Also, they love our Musang King durians.
So,  the next diplomatic weapon at our disposal could well be a coordinated supply chain of Musang King-flavoured caffeine concoctions to keep us in the good books of Asia's biggest superpower.
Ah, nothing like the smell of coffee to keep your neighbours in your pocket.