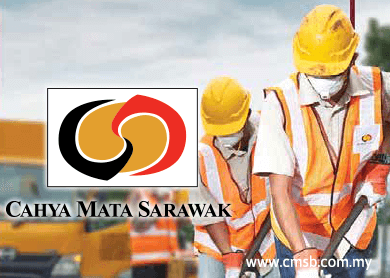 KUALA LUMPUR: Cahya Mata Sarawak Bhd (CMS) and Naim Holdings Bhd are among four consortiums competing to build a 350mw to 400mw combined cycle gas turbine (CCGT) project in Bintulu, Sarawak, valued at RM400 million, according to industry sources.
The purpose of the project is to support the ongoing development of the Sarawak Corridor of Renewable Energy (Score).
The consortium with CMS (fundamental: 3; valuation: 1.10) is seen as a front runner in the tender of the power plant, which is called the Kidurong project.
It is expected to be awarded soon, the sources told Th e Edge Financial Daily. Naim's (fundamental: 1.90; valuation 1.80) bid is in a close second place, said industry executives familiar with the project.
CMS, whose share price hit a record high of RM5.42 last month, is partnering with China's CTCI Corp utilising GE technology.
Meanwhile, Naim has partnered with Siemens Malaysia Sdn Bhd. Meanwhile, Japan's Mitsubishi Heavy Industries Ltd has partnered with China Machinery Engineering Corp while China's Sinohydro Corp Ltd has paired up with Alstom SA. In contrast to CMS' share price, Naim has been on a downhill, falling from RM3.29 in February to a one-year low of RM2.43 yesterday.
Note that the project is only for the engineering procurement and construction of the plant, and not a concession. Sarawak Energy Bhd, which is awarding the Kidurong project, will take ownership of the plant and operate it once it is completed. Furthermore, both CMS and Naim will only be providing the civil and marine works for the project while their partners take the technical lead.
The Kidurong project is being awarded through a closed tender where only players that are invited may compete. Both CMS and Naim, which are linked to Sarawak's former chief minister, Tun Abdul Taib Mahmud. The project is for a single block plant, with two gas turbines and one steam turbine. It is a brownfield project that will be developed on the existing Tanjung Kidurong Power Plant site where there is already an existing gas pipeline.
The tender is said to be about three months behind schedule. The commercial operation date (COD) for the project is expected to be the first quarter next year (1Q2016) for the first phase — open cycle. The COD for the second phase — combined cycle — is expected in 1Q2017.
While the size of the project is relatively small, it is understood that the Kidurong project comes with an option to deliver additional two turbines for a capacity of 800mw for the CCGT power in Samalaju, which is a port and industrial park that is part of Score.
This article first appeared in The Edge Financial Daily, on June 10, 2015.