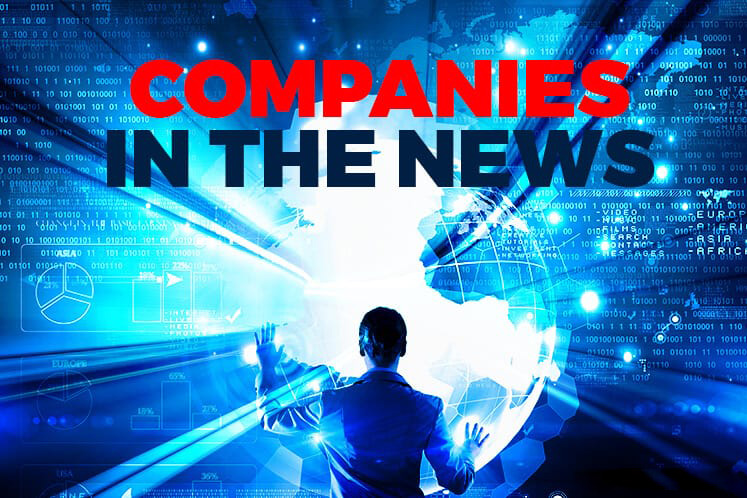 KUALA LUMPUR (March 13): Based on corporate announcements and news flow today, stocks in focus on Thursday (March 14) may include: Cahya Mata Sarawak Bhd, Lafarge Malaysia Bhd, Destini Bhd, Bermaz Auto Bhd and Lambo Group Bhd.
Cahya Mata Sarawak Bhd's (CMS') indirectly-owned joint venture entity has been awarded an RM466.68 million contract to construct a bridge crossing with a connecting road in Bintulu, Sarawak.
The contract was awarded by the Sarawak government to PPES Works CCCC JV Sdn Bhd, a joint-venture between PPES Works (Sarawak) Sdn Bhd and China Communications Construction Company (M) Sdn Bhd. CMS owns a 51% stake in PPES Works.
The scope of work includes the proposed construction and completion of the proposed Bintulu-Jepak bridge crossing Kuala Kemena. The cable-stayed bridge will be 1,048 metres long, with a four-lane double carriageway. The works also include a flyover with a four km-long connecting road.  
The contract runs for four years till April 2, 2023.
Lafarge Malaysia Bhd's chief financial officer (CFO) Yeoh Khoon Cheng has been redesignated its chief executive officer (CEO)
effective today.
Edward James Coultrup will replace Yeoh as CFO.
A unit of Destini Bhd has been awarded a contract for the provision of tubular handling, conductor installation and slot recovery equipment and services by Sarawak Shell Bhd under the the Pan Malaysia Petroleum Arrangement Contractors' (PAC Operators Drilling programme.
The total value of the contract awarded to Destini's wholly-owned unit Destini Oil Services Sdn Bhd (DOS), depends on work orders to be issued.
Bermaz Auto Bhd (BAuto) registered a record net profit of RM81.01 million for the third quarter ended Jan 31, 2019 on the back of higher revenue from domestic operations and higher share of profit contribution from its associate company Mazda Malaysia Sdn Bhd (MMSB).
The higher share of profit contribution from MMSB was mainly
attributed to an increase in production volume for the new CX-5 model to cater for both the domestic and export markets.
Group net profit doubled from RM40.47 million in 3QFY18, while
revenue rose 39.1% to a record RM778.13 million. The improved revenue was due strong domestic demand for Mazda vehicles, particularly the SUV models.
Lambo Group Bhd, formerly known as Accsoft Technology Bhd, has proposed to undertake a bonus issue of up to 1.27 billion warrants (Warrants B) on the basis of one Warrant B for every two existing shares held at an entitlement date to be determined later.
Assuming full exercise of 1.27 billion Warrants B at an illustrative exercise price of 16 sen per Warrant B — a 23.08% premium to the five-day volume-weighted average market price of its shares of 13 sen as at March 1 — the group expects to raise gross proceeds of RM203.25 million, which will be used to supplement its existing working capital.