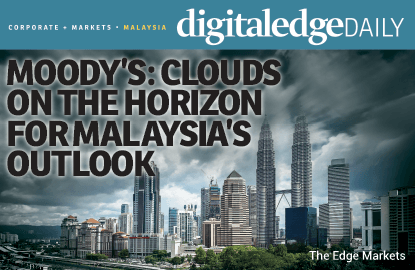 KUALA LUMPUR: Clouds are gathering on Malaysia's positive outlook amid strong external headwinds, such as China's economic slowdown, weak commodity prices and massive capital outflow,  said Moody's Sovereign Risk group vice-president and senior analyst Christian de Guzman.
While pointing out that the Malaysian government's fiscal consolidation — the lynchpin of the agency's decision to reaffirm the country's sovereign rating — remains intact, de Guzman said the underlying factors had changed and they might affect Malaysia's fiscal position.
"The backdrop of that fiscal consolidation has changed," he told reporters after the rating agency's seminar entitled "Emerging Challenges for South East Asia: Asean Sovereign Outlook".
"The [severity of] the economic, external and political factors I think [has] increased, putting the trend of fiscal consolidation in doubt. Clouds are gathering on Malaysia's positive outlook," he added.
De Guzman said among the underlying factors that had changed include the deteriorating growth outlook that is common among emerging economies due to concerns about slower growth in China, lower commodity prices and high capital movement which has resulted in lower foreign exchange reserves, and a weaker ringgit.
De Guzman highlighted that high household indebtedness and political risks are contributing factors that may also affect the government's ability to keep its fiscal consolidation on track.
He acknowledged Malaysia's declining foreign exchange reserves, which have dropped below US$100 billion (RM422 billion), are one of the factors of deterioration in the sovereign credit profile, but opined that the amount remains adequate to withstand the challenges ahead.
Bank Negara Malaysia's international reserves shrank to US$94.5 billion as at Aug 14.
Moody's affirmed Malaysia's government bond and issuer ratings of "A3" with a positive outlook in January. The reaffirmation rested on policies announced in the revised Budget 2015, which was based on an assumption of crude oil prices at US$55 per barrel; fiscal reforms such as the removal of fuel subsidies; fundamental credit strengths such as macroeconomic stability, domestic capital market depth and a favourable government debt structure that is able to withstand external factors.
However, crude oil prices have slipped further amid expectations of more supply in the international market as the United States keeps pumping more oil, while Iran will start producing soon after sanctions against it are lifted.
According to Bloomberg data, the October 2015 futures contracts for WTI crude oil and Brent crude oil are currently trading at US$40 per barrel, and US$44.87 per barrel, respectively.
Moody's expects Brent crude oil to slowly recover over the next two years, although strong headwinds remain, with US$55 per barrel at the end of this year to US$65 per barrel at end-2017.
On the depreciation of the ringgit, de Guzman said it had less of an impact on Malaysia's sovereign credit profile than it did in other countries, as a large amount of Malaysia's external debt is ringgit-denominated.
"It is the key mitigation against some of the high external debt," he said. "In other countries, what we have seen is greater indebtedness in foreign currency, so that means local currency depreciation has a much more adverse effect on those countries," he added.
The weaker ringgit will also have a minimal impact on the banking sector as foreign currency loans and foreign currency funding are relatively low.
Moody's vice-president and Financial Institutions Group senior credit officer Eugene Tarzimanov said the Malaysian banking sector is stable, but sees some headwinds ahead with the weaker ringgit. However, so far, it has been muted.
"There are obviously some contingent channels with the weaker ringgit related to foreign currency loans or foreign currency funding, but both of those aspects are pretty small in Malaysia," he said.
"We are talking about 10% of loans in foreign currency and a similar amount in foreign currency lending, so both risks appear to be contained at this stage," he added.
This article first appeared in digitaledge Daily, on August 28, 2015.