This article first appeared in The Edge Malaysia Weekly, on December 21, 2020 - December 27, 2020.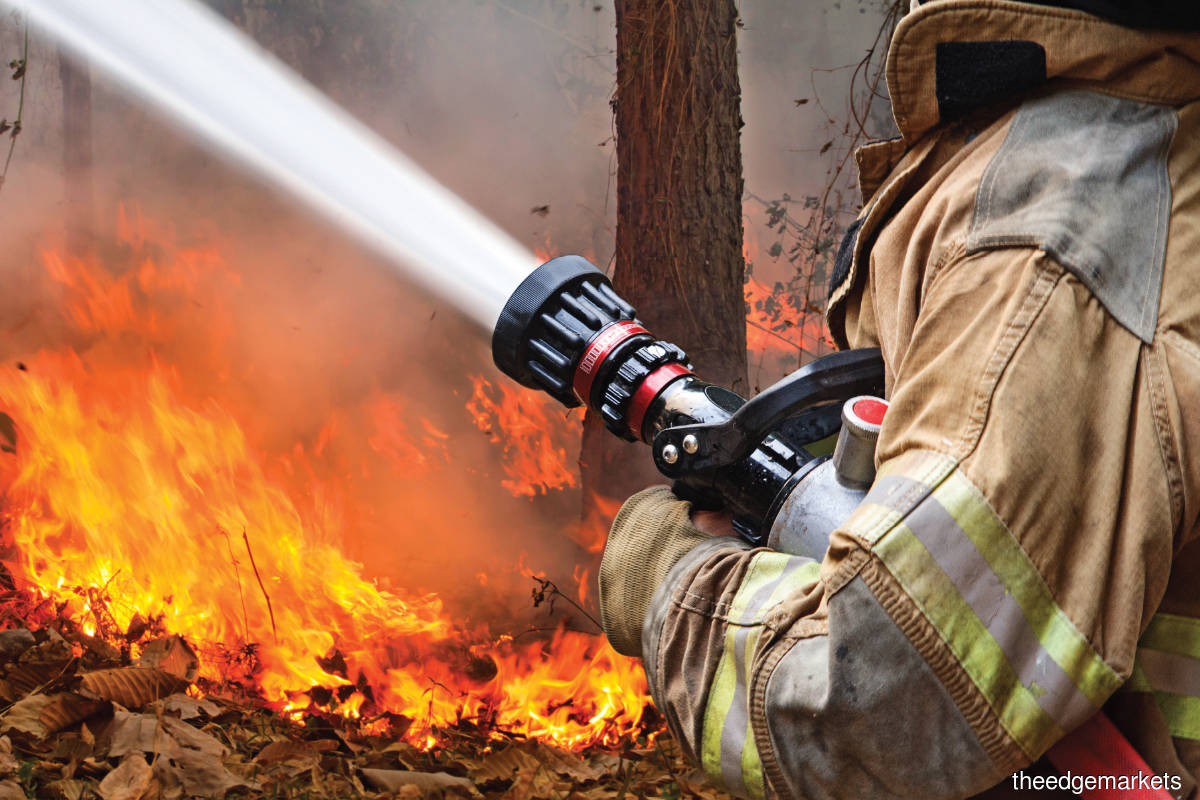 FIVE years ago, on Dec 12, all 196 nations in the world signed a treaty in Paris to curb climate change. The United Nations official behind the deal, Christiana Figueres, said afterwards that it had "ignited a huge flame of hope" after two decades of tortuous negotiations.
The signatories all committed to cut their carbon emissions in order to limit global warming to "well below" 2°C above pre-industrial times, if not 1.5°C. Today, that promise has not only failed to materialise but total emissions have climbed compared to three decades ago, according to news emerging from the United Nations Framework Convention on Climate Change (UNFCCC).
Experts meeting in late November at a dialogue of the global forum on the climate crisis revealed that the aggregate greenhouse gas emissions of developed nations, excluding economies in transition, will actually be higher in 2020 than they were in 1990.
"This sombre fact demonstrates that the world's most advanced developed countries not only failed to reduce their emissions to zero in the 30-year period from 1990 to 2020, but collectively failed to reduce their emissions at all," Dr Gary W Theseira, technical adviser to the Malaysian Green Technology and Climate Change Centre (MGTC), says in a note to The Edge.
Given the dire consequences of this trend, UN Secretary-General António Guterres had to leave no room for doubt on the action needed to address the situation. Speaking at the opening of the Climate Ambition summit, a virtual event to mark the fifth year since the Paris climate pact was signed, Guterres called on governments to declare a "state of climate emergency" and to fulfil their promises to slash carbon pollution as they recover from the Covid-19 pandemic, the France24 news channel reported.
"If we don't change course, we may be headed for a catastrophic temperature rise of more than 3°C this century," he said on Dec 12.
Theseira draws attention to the gross negligence of the richest nations and companies highlighted in a report by public interest groups in October entitled "NOT ZERO: How 'net zero' targets disguise climate inaction" (see illustration). When read together with the report by these climate justice groups, he says, the UNFCCC experts' dialogue "illustrates how the most profitable and deeply entrenched emissions are enabled, supported and even justified by the lowest cost emissions reductions measures".
Among other things, the Not Zero technical briefing points out that there is simply not enough available land on the planet to accommodate all of the combined corporate and government "net zero" plans for offsets and carbon capture and storage tree plantations, says Theseira.
To raise the profile of the climate emergency in the public eye, Climate Governance Malaysia (CGM) — an initiative that aims to bring corporate boards up to speed about their responsibilities on climate resilience and sustainability — has brought various stakeholders together to highlight the state of play as we mark the fifth anniversary of the Paris Agreement.
CGM's efforts are reflected in the views expressed by opinion leaders in this feature, including commentaries from the ambassadors of France and Sweden (see "Do the right thing before it is too late" and "Creating a fossil-free nation").
"We're now entering into what is likely to be the most critical decade in the history of humanity. In order for there to be a viable future for this planet, we need to take meaningful steps in the multi-decade carbon transition, which will be both deeply complicated and uncomfortable for many," said CGM founder Datin Seri Sunita Rajakumar and CEO Action Network Working Group chair Luanne Sieh in an op-ed to mark the anniversary.
Notwithstanding the climate justice movement's criticism of net zero goals as a false solution, the majority of nations and a growing number of corporations are rallying to the UN secretary-general's call to commit to carbon neutrality by mid-century. The EU, Japan and South Korea, together with more than 110 other countries, have pledged carbon neutrality by 2050 while China says it will do so before 2060.
For PwC Malaysia executive chairman Datuk Mohammad Faiz Azmi, the target sets the world in the right direction, pointing the way ahead for corporations to take. "While there has been much discussion on climate awareness, green financing and a move towards environmental, social and governance (ESG) disclosures, real change will only materialise if they are embedded as national and corporate commitments. One way to do this is to adopt a net zero emissions target as a first step," he says in an email to The Edge.
Major corporations are pushing the envelope. In October, Petroliam Nasional Bhd (Petronas) became the first oil company in Asia to commit to achieving net zero carbon emissions by 2050, and CIMB Group Holdings Bhd recently announced its commitment to phase out coal from its portfolio by 2040.
Says Mohammad Faiz, "Companies should commit to a net zero emissions target to set the tone from the top. This commitment will encourage the organisation to take a hard look at its business strategy and resource alignment, decide on what can or cannot be reduced and put in place an implementation plan towards achieving its net zero ambition."
Hard choices about our development path need to be made. As one of only 17 countries in the world that have been identified as having mega biodiversity, attention is focused on deforestation in Malaysia along with other countries in the global south.
"The ongoing destruction of ecosystems, resulting in climate change, is creating pressure to change our land-use approach and produce agricultural crops in a sustainable manner," CGM deputy chair Dr Kalanithi Nesaretnam tells The Edge in an email.
In Malaysia, 3.9 million hectares of forest have been cleared for oil palm plantations since 1990, she notes.
By embracing the criteria set by the Roundtable for Sustainable Palm Oil, which is the highest standard for any vegetable oil, and introducing the mandatory Malaysian Sustainable Palm Oil standard, the country is on track to persuade critical buyers that Malaysian palm oil is sincerely adopting nature-based solutions to protect its ecosystems, says Kalanithi. "The next step is to restore biodiversity in existing oil palm landscapes," she proposes.
Yet, this is only the tip of the proverbial iceberg as far as climate resilience goes. The nation's to-do list includes a climate change act, a carbon tax, mandatory corporate reporting on climate risks and enough public funding for a pivot to climate mitigation and adaptation measures, says Sunita. "Is it too late?" she asks.
"The longer we take to start taking real action, the steeper and more drastic the transition will be. This is a transition that needs all of society, including all of the government's attention and will, to act."
Do the right thing before it is too late
According to the World Meteorological Organization, this past decade will be the warmest recorded yet. This year is on track to be one of the three hottest on record. The average global temperature in 2020 is set to be about 1.2°C above pre-industrial (1850 to 1900) levels. There is at least a one-in-five chance of it temporarily exceeding 1.5°C by 2024.
Why mention the 1.5°C threshold? Because we all committed five years ago, in the 2015 Paris Agreement on climate change, to contain the rise in temperature at well below 2°C and to strive to limit it to 1.5°C by the end of the century. If our pledges — the so-called Intended Nationally Determined Contributions — stay what they are now, we will reach a global warming of over 3°C, and miss our target.
The detrimental effects of climate change on the environment should not be seen as something too far away to care about. They are already jeopardising our livelihood. In some ocean basins, sea levels have risen to 20cm since the start of the satellite record in 1993. This trend is alarming for countries like Malaysia, where 70% of the population lives in coastal zones.
Regarding biodiversity, if we follow a business-as-usual approach, 20% to 30% of animal and plant species will be directly threatened by extinction. The heat waves and droughts are getting more frequent, impacting our water supplies and agriculture. On this current path, by the end of this century, what used to be once-in-20-years extreme heat days are projected to occur every two or three years.
Yet a gloom-and-doom attitude is not appropriate. Now is the time to act together. The Covid-19 crisis is an opportunity to take a step back and put climate at the top of our priorities.
We have to reset this new decade on a positive agenda. That is exactly why France, the UK and the UN, in partnership with Chile and Italy, decided to organise a virtual summit on Dec 12 to upgrade our pledges before the next Conference of the Parties to the Agreement in Glasgow in 2021.
Moreover, France has been pushing recently for an increase in the EU's pledge with a new target of a 55% reduction in greenhouse gases by 2030 compared with 1990 in order to align our commitments with the Paris Agreement. France is also supporting the ongoing transformation of the European Investment Bank into a European Climate Bank, which should make it possible to mobilise €1 trillion by 2030 in favour of ecological transition.
Turning the economy around is not only a necessity but also a great opportunity to create local jobs, generate growth and unleash innovation. The green transition is the next industrial revolution.
This crisis is an opportunity to make our economies greener and more resilient to achieve the Sustainable Development Goals (SDGs) by 2030. Among them is the unavoidable energy transition to reach SDG No 7, which is to ensure universal access to affordable, reliable, sustainable and modern energy services by 2030.
Everyone is responsible for this change. Let's not waste the next decade and do this the right way.
Creating a fossil-free nation
The world's largest asset management company BlackRock recently conducted a survey among its clients around the world in order to better understand the tectonic shift in capital towards sustainable assets that is presently taking place. Its findings were clear, namely that investors recognise the importance of sustainable investing to risk-adjusted returns and are backing up this conviction with their asset allocation plans. Of the respondents, 86% stated that sustainable investing is already — or will become — central to their investment strategies.
So, climate is king and sustainable business is here to stay! And it does not matter if a company operates globally or is limited to its domestic market. For long-term profitability, sustainability is a necessary and worthwhile investment. Let me share some of the things that are happening in my country Sweden in the industry sector with a focus on climate action.
Sweden is aiming to be one of the world's first fossil-free welfare nations. Our long-term target is to have zero net greenhouse gas emissions by 2045 at the latest and to achieve negative net emissions after that. One piece of the puzzle to achieve this ambitious goal is Fossil-free Sweden, which is a government initiative launched prior to the global climate summit in Paris in 2015 with a clear message: "Sweden can and will be fossil-free". Under the Fossil-free Sweden umbrella, 22 industrial sectors have developed roadmaps showing how they can become fossil-free or climate-neutral while at the same time boosting their competitiveness. Based on this, Fossil-free Sweden now aims to identify and reduce obstacles for several upcoming industrial projects that will contribute to more jobs and greater welfare in Sweden while also providing the greatest global climate benefit.
The most talked-about projects so far are the HYBRIT development project in which steelmaker SSAB, iron ore producer LKAB and electricity producer Vattenfall are collaborating on a process to enable the reduction of steel from iron ore using hydrogen instead of carbon, and Northvolt, which will be Europe's biggest battery factory focusing on sustainability and recycling. Other industry sectors, such as aviation, cement, concrete, forest, construction and heavy road haulage, have also adopted roadmaps describing how they will become fossil-free and which technologies need to be developed.
In order to achieve this, the industry will need access to renewable energy. Today, more than 54% of Sweden's energy production comes from renewable sources. One important part is our waste management system, where 99.2% of household waste is reused or recycled. A lot of the waste is used to produce biofuel, district heating and electricity and many city buses run on biogas derived from waste and municipal sewage. In recent years, we have also seen an increase in the use of heat pumps, another contribution to a greater proportion of our energy coming from renewable sources. In the electricity sector, hydropower constitutes the main source of renewable energy, although we have seen huge investments in onshore and offshore wind farms in Sweden in the last couple of years.
And we can see that access to green and affordable electricity has attracted more investments to Sweden, for example in green batteries. This does not mean, however, that we can rest on our laurels. Production, storage and transportation of clean electricity must increase substantially — both the HYBRIT project and Northvolt will require a lot of electricity — if our journey to a fossil-free future is to be successful. The road might be long but there is no turning back!