This article first appeared in The Edge Financial Daily, on January 22, 2019.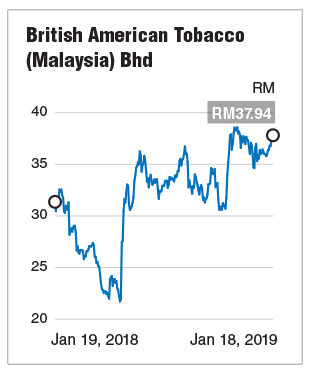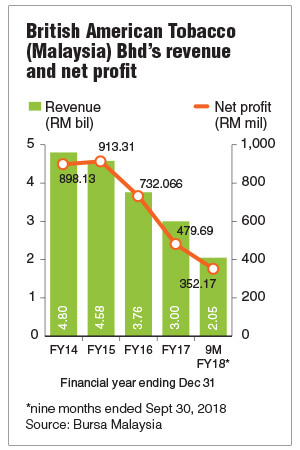 KUALA LUMPUR: Tobacco players felt relief last year without a hike in excise duty, but this did not last for long. New laws have been introduced in the new year, including a smoking ban in eateries. The fines are stiff too — up to RM10,000 if one is caught lighting up at non-smoking areas and RM2,500 for eateries not enforcing the ruling.
With the ministry of health (MoH) promising no let-up for smokers, it looks like the tobacco industry will not have it any easier this year, players and analysts told The Edge Financial Daily, amid the illicit cigarette trade accounting for 63% of the local cigarette market.
British American Tobacco (Malaysia) Bhd (BAT) managing director (MD) Erik Stoel said whether the tobacco industry does well this year will depend on the progress of the government's commitment to fighting the illegal tobacco trade and with that the legal market's recovery. "However, we would like to be proven wrong as we also expect the government's enforcement measures to give us an opportunity to compete fairly in this highly regulated industry," he added.
BAT is hoping for other enforcement agencies such as the MoH and the domestic trade and consumer affairs ministry to actively collaborate in ensuring retailers comply with the laws on minimum pricing, that consumers are not in possession of illegal cigarette packs, and illegal cigarettes with fake tax stamps are eradicated.
Meanwhile, the group will continue the drive to reduce illegal trade locally, and introduce a diversified portfolio strategy allowing growth in the legal market, taking into consideration those consuming illegal cigarettes.
"We will continue our strong support for the Royal Malaysian Customs Department in its enforcement and will continue addressing demands from the legal market. Everyone has a responsibility to fight the illegal tobacco trade as the problem has grown too big to rely on enforcement alone," said Stoel.
"We still believe the need for demand-based measures to complement enforcement because there are smokers who, despite price increases, have not quit smoking but are opting for cheap packs retailing illegally at RM3 or RM4."
JT International Bhd (JTI) MD Cormac O'Rourke concurred, noting the market outlook for 2019 is greatly influenced by how the government is successfully getting a grip on this issue.
"We foresee legal cigarette volumes will continue declining or remain flat at best with value brands increasing their participation, giving the market some stability," said O'Rourke, noting the industry will need to manage any downside from margin erosion given this new dynamic.
O'Rourke noted a pack of illegal cigarettes is widely available in the Malaysian market from as low as RM3, one-third of the minimum legal price. As such, any increase in the price of legitimate cigarettes will only fuel the illegal sales further, resulting in less revenue returns for the government.
"Currently, the government is missing out on RM5 billion per year in cigarette tax collections," said O'Rourke. "In our view, there should be a moratorium on the cigarette excise for three years coupled with a more stringent enforcement to eliminate the illegal cigarette trade."
Alternative cigarettes the way to go
Philip Morris (Malaysia) Sdn Bhd is more optimistic about 2019 prospects. "Following 50 strong years of presence in Malaysia, we look ahead to a dynamic future where our vision is to offer the five million adult smokers in Malaysia with better alternatives to cigarettes," its MD Kang Tae Koo said. The company is banking on its heat-not-burn electronic cigarette IQOS to boost earnings amid competition in its traditional business. Philip Morris Malaysia, on Nov 8 last year, rolled out the new product in key cities in Peninsular Malaysia.
Kang said nearly six million adult smokers worldwide have stopped smoking and switched to its new product, available in over 40 markets globally. "To that end, we will continue sharing our cutting-edge and independently verified science behind our products with regulators and work with them to ensure we can continue to offer smoke-free products as better alternatives to Malaysian adult smokers."
O'Rourke said while the reduced risk products (RRPs) allow the industry to improve revenues, clarity is required on how such products are to be regulated.
"As of today, there appears to be an inconsistent approach as to how nicotine delivered through tobacco vaping is viewed versus nicotine delivered through liquids, that is conventional vaping.
"We believe the RRPs provide an alternative to conventional tobacco products for existing adult consumers wishing to quit smoking," he said, adding this is a "growing global trend" as seen in the UK and New Zealand.
Will smoking bans in eateries impact cigarette sales?
The jury is still out on whether smoking bans in eateries would impact sales of tobacco products. Stoel said it is still early days to know the impact as consumers do not necessarily stop smoking but may alter their smoking behaviours.
While BAT is seeing an indication that certain outlets are considering ceasing cigarette sales, Stoel however said this will merely impact the places where consumers purchase cigarettes.
Given the recent price increase of cigarettes following the sales and services tax reintroduction in September last year, Stoel said this has forced BAT to tightly monitor the market on any change in consumption and distribution patterns.
Opinions are divided among analysts too. "We are generally neutral on that rule (smoking bans in eateries) and we do not believe it will have a big impact [on tobacco firms] in sales volume or earnings," TA Securities Holdings Bhd analyst Damia Othman told The Edge Financial Daily. She believes that despite the smoking ban, smokers will continue lighting up, albeit at a more private space in accordance with the ruling.
However, Kenanga Investment Bank Bhd analyst Clement Chua viewed the new ruling will put pressure on the legal consumption. "Regardless [of the smoking ban], my view on tobacco sales has always been negative," he said, adding there is no catalyst for now to spur people to consume more legal cigarettes. "At the end of the day, if the government's agenda is to encourage non-smoking habits, then this is the right way to go, but it would not be a positive for tobacco players."
As the only listed tobacco firm on Bursa Malaysia, BAT's net profit fell 14.4% to RM352.17 million for the cumulative nine months ended Sept 30, 2018 from RM411.6 million a year ago. Revenue dropped 8% to RM2.05 billion from RM2.23 billion. The group attributed the weak performance to a volume decline.
Over the past year, BAT's share price has risen 20.74% to RM37.94 last Friday, with a market capitalisation of RM10.83 billion.