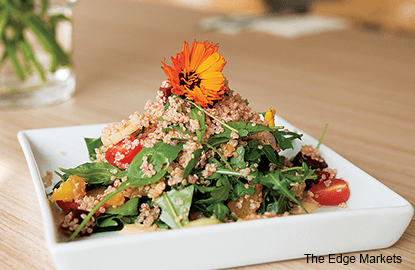 This article first appeared in The Edge Financial Daily, on January 20, 2016.
Bright, clean and unassuming. That's the feeling that one gets when walking into Nara Kitchen & Co, a restaurant located in the fringe of Uptown in Damansara Utama. With its huge windows with sunlight streaming in and white, bare walls, chic, simple tables and chairs, Nara—which means "happy" in Greek—is the epitome of modern living. Founded by the owners of The Good Batch several doors away; Caroline Lai and Andrew Tan, Nara prides itself in bringing out the happiness in guests while serving them "happy" food. 
In line with their clean and minimalistic theme, dining at Nara is "no-frills" — guests come in, take a look at the 2-page menu, head over to the counter to make their orders and then pay. Servers will then serve the orders to the guests' table when the food is ready. This helps streamline the dining process and avoid the clutter of many servers milling around, tending to customers' requests. Water jugs are placed in the centre of the restaurant, enabling patrons to refill their glasses whenever they wish. 
"We're a café/restaurant serving clean, gourmet food that's not classified as fine dining, but more of a casual-fine dining setting. Essentially, the type of the food that we serve here is healthy and clean, with a lot of fresh and refined ingredients such as tuna tartar, lobster roll, organic quinoa, arugula, fresh greens and fruits," Lai explained in an interview with Live It!
As opposed to The Good Batch which serves hearty meals as well as all-day breakfasts — eggs, sausages, and the like — Nara sports a menu that every health nut would enjoy. There is a great selection of salads and bowls such as the Golden Granola, made from baked organic rolled oats, orange slices, apples, nuts and cinnamon as well as the Big Belly Salad, which consists of white organic quinoa, fresh mint, roasted beets, orange wedges, kyuri, homemade hummus dressed with a miso vinaigrette. They also make their own bread daily, as well as some cakes, all of which are available for purchase. 
The all-day mains feature an eclectic mix of dishes, from unique ones such as the NaraDonburi, which is torched salmon, miso zucchini, organic egg, truffle mayo, shredded seaweed topped on Japanese rice to Organic Scramble, made from organic eggs, tempura mushrooms and truffle drizzle topped with a mixed berries compote, tobiko, and caviar with a side of buttered brioche. 
"I wanted a pretty place, because The Good Batch is very warm, hipster. This time I wanted a comfortable setting so that people can feel like they're at home — very Scandinavian and Zen-looking. Some people say that they are reminded of Japanese-style restaurants when they come here," Lai says of the idea and inspiration behind Nara's ambience. 
"Of course, the menu matches the ambience of this place. It's very clean food, and we use a lot of edible flowers which are sourced from Cameron Highlands. People always think that imported things are better, but not necessarily. We get a lot of good produce here in Malaysia as well," she continued. 
The menu is also partially inspired by Australian dining — the healthy eating movement has spawned a huge band of followers who subscribe to eating as much raw food as possible, which is reflected in Nara's menu. They serve tuna tartar, salads, and a variety of fruits — all raw or only lightly cooked. On the other hand, other dishes incorporate elements of American dining, such as the Chicken and Waffles, a waffle dish topped with fried chicken and drizzled with maple syrup.
"It's really a mix of cultures from all around the world. We have some local-inspired cuisine too, like the Red Curry Beef," Lai explained. 
Although the prices of the dishes that Nara serves can seem a little steep at first, one quickly realises, after scanning through the menu, that the dishes aren't overpriced food made with cheap ingredients. Alongside a host of organic varieties of eggs and grains, they make use of high-quality ingredients such as caviar, lobster, salmon, lamb, tuna and beef. 
"We have a great selection of fresh juices, and we are highly focused on serving food that is natural, preservative-free, organic and fresh. Our guests are people who are health-conscious and want to eat quality food. The problem with a lot of Malaysian food is that they are overpriced and the quality isn't that good, or it's cheap but crap. Our food is the kind that you can eat every day and don't get sick of it," said Lai. 
Nara Kitchen & Co tries to differentiate itself from the crowd — the "hipster" fad in particular, which has been taking over the Uptown area by storm. At almost every corner, there are several hipster cafes and restaurants adorned with vintage décor serving overpriced food. Nara's simple, clean ambience is a truly refreshing change, enabling guests to dine in peace and comfort, enjoying their healthy meals.
---
Nara Kitchen & Co is located at 61, Jalan SS21/1, Damansara Utama, 47400 Petaling Jaya. For inquiries or reservations, call (03) 7733 5897 or email [email protected]. Opening hours are from 12pm to 10pm (Tues-Fri) and 10am to 10pm (Sat & Sun).