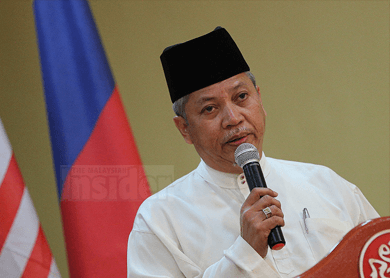 KUALA LUMPUR: Claims that Umno will lose in general elections have existed since Tun Dr Mahathir Mohamad was in power and are nothing new, a former minister said in urging the retired statesman to stop criticising Prime Minister Datuk Seri Najib Razak.
Former rural development minister Tan Sri Annuar Musa said fears that the ruling Malay party would lose in general elections had always been around and as such Dr Mahathir has to stop dividing the Malays.
"I know Dr Mahathir believes that if Najib stays as prime minister, Umno will lose. During Dr Mahathir's time, the same words were also uttered but Umno did not lose.
"This is because people like us with no interests stood by the party, not by any individual," Annuar said at a forum on Monday night.
Dr Mahathir's criticism of Najib is creating tension, as the Ketereh MP said people still respect the former prime minister and do not want to oppose him publicly.
"We don't want to do anything improper. I hope Tun understands. No matter what, it is difficult for us to do something impolite and it is not proper for Tun because he is not the party leader any more.
"He is a statesman who should be respected and remembered," Annuar said at the Bicara tokoh: kupasan isu-isu politik semasa forum organised by Pertubuhan Nadi Rakyat Malaysia in Kuala Lumpur.
Annuar said Dr Mahathir had once said he would not interfere in the running of the country when he retired.
But his constant criticism has confused many as to whether he has forgotten his own promise.
"I was reminded of what he had said before repeatedly, when Singapore appointed Lee Kuan Yew as senior minister.
"In negotiations with Singapore, we had to refer to Lee. Dr Mahathir said to us 'when I am no longer prime minister, I will not take a position like senior minister and interfere in the government'," Annuar said.
The Kelantan lawmaker also said he remembered Dr Mahathir once saying that mistakes are not always the fault of others, but self-committed.
Annuar said Dr Mahathir had made this remark after Datuk Seri Anwar Ibrahim was appointed as deputy prime minister and made administration in Kelantan Umno difficult.
"I told Dr Mahathir that it was hard for me to work in Kelantan because of Anwar. He built his strength and his own faction. It made my job hard.
"He said that if he had problems with Anwar, people would not say it was others' fault but his own fault. His words are still fresh in my memory," said Annuar. — The Malaysian Insider
This article first appeared in The Edge Financial Daily, on June 10, 2015.