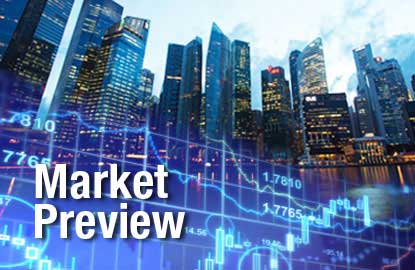 SINGAPORE (June 30): Here are some stocks that could move the market this Thursday morning.
Civmec, the oil & gas and civil engineering company, has won a total of A$50 million ($50.1 million) in new contracts for major infrastructure projects in New South Wales, Australia. Among the projects clinched, Civmec will supply precast components to the Northwest Rail Link project, for NRT Infrastructure JV. Civmec shares closed at 38 cents.
Second Chance Properties posted a 29% decline in earnings to $6.8 million for the nine month period to March (9MFY2016). Revenue fell 8.9% to $26.9 million on lower sales of its apparel, properties and securities businesses. Revenue from its gold business, however, rose by $0.29 million to $11 million. Second Chance's shares closed unchanged at 26 cents on Wednesday.
Infinio Group, which is abandoning its core online gaming portal business to go into gold-mining in Australia, saw net loss for FY16 ended March narrow to $0.97 million from $3.38 million in FY15. Full-year group revenue decreased by 88% to $5,000 due to the June 2015 expiry of the licence of the group's subsidiary Onegame which was not renewed. Infinio closed 0.2 cents higher at 0.3 cents.
Neo Group says wholly owned subsidiary, Deli Hub Catering, has received approval for the renewal application of the Muis Halal certificate from the Islamic Religion Council of Singapore. The approval was received on June 23 and the renewed certificate will be valid until June 30, 2017. Shares of Neo Group closed higher at 63.5 cents on Wednesday.
Manhattan Resources has completed the acquisition of a majority stake in PT Kariangau Power (PT KP) after obtaining shareholders' approval at an Extraordinary Meeting held on Wednesday. The acquisition was completed through SLM Holding, a wholly-owned subsidiary of Manhattan Resources, for US$35.7 million ($48.2 million). Manhattan Resources last traded at 10.9 cents.
International Healthway Corporation on Wednesday said it has applied to the High Court here to wind up its wholly owned subsidiary, IHC Management. In its explanation for the move, the company said that IHC Management owes it certain sums by way of inter-company loans. The stock closed at 5.4 cents.
Markets
US stocks scored solid gains for a second straight day on Wednesday as fears abated about Britain's vote to exit the European Union and its impact on the global economy. The Dow Jones Industrial Average advanced 1.6 per cent to 17,694.68. The broad-based S&P 500 rose 1.7 per cent to 2,070.771, while the tech-rich Nasdaq Composite Index climbed 1.9 per cent to 4,779.25.
The Straits Times Index on Wednesday rose 36.2 points to 2,792.73, bringing it back to almost exactly the same level it was on the eve of the UK's referendum.