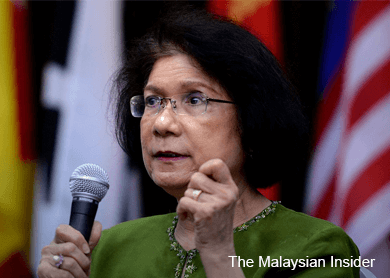 KUALA LUMPUR: The open letter by the G25, a group of prominent Malays calling for a rational dialogue on the position of Islam and Islamic law in Malaysia, has given ground for pluralism and liberalism, the National Civics Bureau said.
In a dossier that was available on its website until Monday night, the bureau listed several characteristics of the G25, with a compilation of facts on each of the group's initial members including its spokesman, former diplomat Datuk Noor Farida Ariffin.
Also in the analysis section of the document, it said the open letter written by the group last December was a reaction to cases that involved Islam, and cited the case of Negeri Sembilan transgender women testing their constitutional right to cross-dress as an example.
"The letter has opened up room for pluralism and liberalism groups to speak up," it said. "Groups that support them, the majority are from opposition and pro-pluralism and liberalism groups [example: Dyana Sofya (DAP), Dr Farouk Musa (Islamic Renaissance Front), Sisters in Islam and Zaid Kamaruddin (Negaraku)]".
The bureau said members of the G25 had been educated under a "socialist" system, going through English-medium schools during the socialist era.
The G25, consisting of retired civil servants and influential leaders, asked Prime Minister Datuk Seri Najib Razak to address religious and racial tensions and exercise leadership in guiding Malaysia back to moderation.
The letter expressed concern over how religious authorities were "asserting authority beyond their jurisdiction" and that fatwa issued had violated the Federal Constitution as well as the consultative process.
Public support for the letter's contents and the 25 signatories has been strong, with many writing to media organisations expressing their thanks and solidarity with the signatories, while an online petition called #iam26 drew thousands of signatures.
The bureau's document also listed activist Lyana Khairuddin, who started the online petition, as among the G25's biggest supporters, which also include 22 young Muslim activists and some 93 non-governmental organisations (NGOs).
It added that these supporting NGOs not only represented Malays but also all Malaysians.
On Monday, the bureau also red-flagged the Malaysian "indie" music and literature movement, saying that it was anti-establishment and could impact the results of the next general election.
In a document that was earlier available online but has now been removed, the bureau highlighted student activist Adam Adli Abd Halim, DAP member Melati Rahim, and writer and independent film-maker Amir Muhammad as members of the indie scene. — The Malaysian Insider
This article first appeared in The Edge Financial Daily, on June 17, 2015.