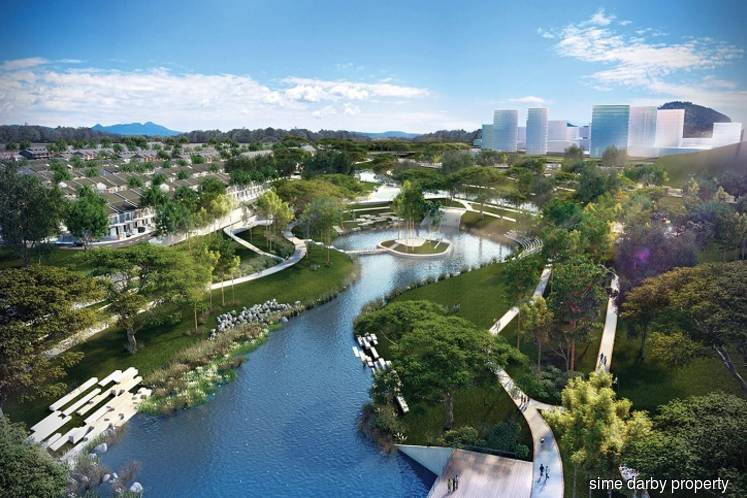 Artist's impression of the rainforest knowledge centre at City of Elmina. (Image by Sime Darby Property)
PETALING JAYA (Aug 27): Sime Darby Property has signed a memorandum of understanding (MoU) with Tropical Rainforest Conservation & Research Centre (TRCRC), to jointly operate the Elmina Rainforest Knowledge Centre (ERKC) and an Endangered, Rare and Threatened (ERT) Native Tree Nursery in the City of Elmina, Shah Alam.
The ERKC and ERT will be set up at the 300-acre Central Park in the City of Elmina.
The township is connected to the 2,700-acre Subang Forest Reserve while the Central Park is expected to become an off-site conservation area.
The ERKC is currently under construction and is expected to be completed by mid-September this year, while the ERT Native Tree Nursery will be constructed by mid-2020, Sime Darby Property said in a statement yesterday.
Sime Darby Property Acting Group CEO Datuk Wan Hashimi Albakri Wan Ahmad Amin Jaffri said the company plans to replant an urban rainforest within Elmina Central Park to improve biodiversity value, help mitigate climate change by sequestering carbon and to create an environment that provides opportunities to learn about the importance of nature.
"In essence, the reforestation project is carried out to connect our communities with nature. TRCRC's expertise will help us complete our mission and enhance community awareness on the benefits of co-existing with nature," he offers. TRCRC is a local non-profit non-governmental organisation (NGO) which focuses on rainforest conservation and research.
Positioned as the "Gateway to Malaysia's Natural Heritage", the ERKC will focus on environmental education and conservation, research & development, promotion of eco-tourism and other green activities whereas the ERT Native Tree Nursery will be a facility focusing on producing up to 100,000 threatened species under the International Union for Conservation of Nature (IUCN) Red List. These trees will be planted first within the Elmina Central Park.
The ERT Native Tree Nursery will also help to continuously supply plants for the township and other Sime Darby Property townships in the future.
"Our collaboration with Sime Darby Property will help raise awareness on the plight of the Malaysian rainforest, and hopefully make rainforest conservation more accessible for people to participate in," said TRCRC executive director Dr Dzaeman Dzulkifli.
TRCRC plans to manage and operate both facilities, with a portion of the profits from the sale of trees from the nursery funding the programmes at the ERKC.