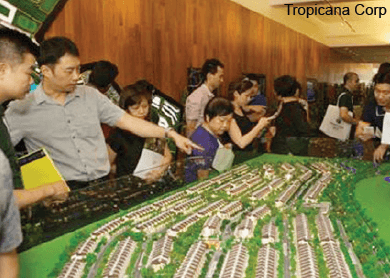 LANDED homes have always been the preferred product of property buyers. Armed with this insight, Tropicana Corp Bhd forged ahead with the official launch of its 863-acre, RM13 billion township Tropicana Aman on May 30. It is located next to Kota Kemuning in Shah Alam, Selangor.
So far, only earthworks have begun, says group managing director Datuk Edmund Kong. The developer decided to take the plunge and launch Tropicana Aman during this slow period in the hope that demand for landed homes will carry the project through.
The first phase, Ehsana, is open for bookings. So far, 90% of the units are spoken for, with a booking fee of RM10,000, according to Tropicana Corp head of marketing and sales Ung Lay Ting. This includes houses allocated for the phase's 30% bumiputera quota.
"We know the market is slow, but we are convinced that we will be able to convert all the bookings into sales in the next six months because we see that they (the people who booked the units) are looking for a home, and they are prepared to service the loan," she tells City & Country.
Ehsana is a 41.1-acre precinct and will comprise 326 two-storey and 106 three-storey terraced houses. The gross development value (GDV) is RM342 million.
There will be four types of 2-storey houses. Their built-ups range from 2,278 to 3,314 sq ft and land areas, from 1,647 to 4,532 sq ft. Each type of layout will have 4 bedrooms and 3 bathrooms, except for one that will have 4+1 bedrooms and 5 bathrooms. Prices start at RM700,000.
Meanwhile, the 3-storey houses will have built-ups of 3,261 to 3,660 sq ft and land areas of 1,765 to 4,198 sq ft. The homes will have 5+1 bedrooms and 5 bathrooms. Prices start at RM900,000.
Maintenance fees for the 2-storey houses will be RM280 per month, and 3-storey houses, RM300 per month. However, fees will be waived for the first year, says Ung.
Gated-and-guarded Ehsana's notable features will include round-the-clock security patrolling, perimeter fencing monitored by closed-circuit television cameras, a 1.3-acre community park and 0.65 acre of green space, a community hall, east and west gardens, two children's playgrounds, a park with open lawn, a pavilion and a 5km cycling and jogging track.
Instead of back lanes, there will be communal linear gardens 25ft to 75ft wide.
"We do not want to make the phases too small because then, the cost to maintain the guardhouse and landscaping would be very high for individual units. So, we try to come up with an optimum size of land, about 40 to 45 acres, and number of units — 400 to 500 units — so that the contribution to the maintenance per house will be more manageable," says Kong.
The next phase, which should be launched in the third quarter, will be similar in concept and design to the first phase, says Ung.
Ehsana's configuration follows the current trend of lushly landscaped and gated-and-guarded enclaves coming up around Kota Kemuning. However, the township will stand out from the other offerings for a number of reasons, says Kong.
Similar to the group's flagship Tropicana Golf & Country Club development — which boasts a championship 27-hole golf course — Tropicana Aman's core feature will be an 85-acre central park that will include lakes, bridges and a 7km jogging and biking trail.
Kong says various facilities, such as a mosque, police station, schools, football fields, a clubhouse and neighbourhood centre, are designed to be within walking distance of each phase. This is to encourage cycling and walking, as part of the developer's drive to promote healthy living.
Safety was another key consideration when designing the township, hence the gated-and-guarded phases and central location of the park.
"We wanted to ensure that the park will be safe, that there will not be any dark corners, and [that residents from] all the parcels can get to the park in the shortest time.
"Many developers will ask, 'Why must we sacrifice so much space in the centre, right out in the open?' But we can see the value. It is so important to people," says Kong.
According to executive director of projects Daniel Teh, only 49% of the township is earmarked for development.
The rest will be kept for public amenities, open spaces, lakes and roads. Moreover, 16% of the township will be green space, which is more than the 10% required by the state government, he adds.
As there will eventually be almost 9,000 homes within the township, the roads will have two 7m-wide lanes on either side to reduce traffic congestion, with a two-metre buffer between the road and sidewalks.
To further encourage walking and cycling, bike racks will be installed throughout the township. Moreover, the sidewalks will be three metres wide — almost triple the typical sidewalk width of regular schemes, says Kong. "It is so annoying to walk on a narrow sidewalk. You could end up walking into a lamp post, like I did," he quips.
Future plans include a 198-acre commercial hub, which will comprise the township's town centre, neighbourhood retail area, Tenby International School, commercial village and serviced apartments.
Tropicana Aman will introduce commercial properties in its fourth or fifth phases, according to Ung.
Former Canal City site abuzz with activity
For years, there were no new developments around Kota Kemuning — specifically the area formerly known as Canal City. Mooted in 2007, Canal City would have entailed the building of an 18km tunnel from Sungai Klang to Sungai Langat, making it the country's most ambitious flood mitigation project. However, the project was scrapped by the then Selangor menteri besar Tan Sri Abdul Khalid Ibrahim in 2011 because he deemed it not beneficial to the state.
Subsequently, state investment agency Permodalan Negeri Selangor Bhd (PNSB) sold a portion of the tract — 1,879 acres — to a joint venture between IJM Land Bhd and Kumpulan Europlus Bhd.
Earmarked for a township, the tract was eventually launched as Bandar Rimbayu in 2012. The development of the township is currently in its fourth phase, known as Scarlet, which will comprise 110 two-storey link houses with lot sizes of 24ft by 70ft and 24ft by 75ft, and are priced from RM762,000 to RM820,000.
Bandar Rimbayu's next phase is expected to comprise more link houses and the township's first serviced apartments.
In 2013, PNSB sold 1,172 acres of Canal City to Tropicana (then known as Dijaya Corp Bhd) for RM1.3 billion. One of the conditions of the sale was that the state would be entitled to a 9% share in the project GDV.
Tropicana sold a 307-acre portion of the land to Eco World Development Group Bhd (EcoWorld) for RM470.67 million in March last year. The latter will develop EcoSanctuary, a residential and commercial project with a projected GDV of RM8 billion, on the site, according to reports last year. The reports add that the first phase of the project — which marks EcoWorld's first foray into the Klang Valley — will comprise luxury landed homes.
Despite the many new entrants in the area, there is still plenty of room for growth, say consultants and property agents.
CBD Properties (Puchong) Sdn Bhd senior executive director Steward Ship says the pace of development around Kota Kemuning is brisk, with frequent new launches. However, he points out that the current phases — mostly landed homes — are low in density, so the market is not overcrowded at the moment.
"The upcoming new developments have all the features of an outdoors lifestyle that emphasises space, greenery and environmental features. I am sure the developers would have thought of designs that blend nature and community into a sustainable ecosystem of high-quality living quarters," he opines.
"There will be new arteries of access, such as the South Klang Valley Expressway and West Coast Expressway, in the area which will ease any congestion. Thus, I don't think the area will be overcrowded."
ExaStrata Solutions Sdn Bhd chief real estate consultant Adzman Shah Mohd Ariffin describes the area as a maturing neighbourhood with well-planned high-end residential schemes that boast attractive green lungs, parks, golf courses and bodies of water.
"The master plan has been done rather well to accommodate all the infrastructure and accessibility needs of the locality. As the developments are mainly low density, the area does not appear to be overcrowded," he says.
Adzman Shah says prices of new homes range from RM500 to RM600 psf.
Ship observes that several new launches in the area were priced at RM550,000 to RM750,000, a range he deems affordable and "very attractive" for first-time homebuyers. "These homes were mainly snapped up by people seeking to upgrade, yuppies and investors."
Both Adzman Shah and Ship say the buyers came mainly from Subang Jaya, USJ, Shah Alam and Klang. "They were all attracted to the affluent neighbourhood and amenities such as schools and golf courses," says Ship.
Adzman Shah says buyers are drawn to these properties for more pragmatic reasons. "Most are either upgraders who can afford to trade up and occupy the units themselves, or investors who are looking to flip at the first opportunity."
However, despite the properties' allure, sales slowed by mid-2014 due to the challenging market, with stricter lending requirements a key factor, says Adzman Shah. This made it more challenging for bookings of primary market properties to be converted into sales.
"It can generally be said that landed homes are much more costly, especially those with larger built-ups, and can only be purchased by high-income households and investors. The rate of conversion has been dropping lately due to the stricter requirements by the financial institutions on housing loan approvals. The rate of conversion is reportedly less than 50%," he says.
However, Ship observes a more optimistic 75% conversion rate for sales in the Kota Kemuning area, despite factors such as loan rejections arising from lack of eligibility and financial over-commitment.
What about the subsale market? Ship says secondary market properties can fetch anywhere from RM600,000 to RM800,000, depending on the degree of renovation and furnishings.
Adzman Shah notes that homes on the subsale market are currently selling at RM350 to RM500 psf. "The price of properties bought 10 years ago has in fact appreciated between 100% and 150%. With the incoming supply from the newly completed projects and softening demand, price appreciation is expected to be less dramatic and more reasonable."
Ship concurs with this assessment, noting that "the past five years have seen very good house pricing appreciation". "Most of the terraced houses have seen their values double from the original purchase price, and some even tripled."
While secondary market transactions have also slowed slightly, he says prices remain firm in the area.
The rental market, in contrast, is "nothing to shout about", says Ship. "Basic terraced houses can fetch rents of between RM1,000 and RM1,600, depending on the size and furnishings."
What is the outlook for the area? According to Adzman Shah, it remains attractive due to its competitive pricing and newer schemes.
"In the short term, there appears to be an oversupply of residential units, but this situation should improve in the long term when more completed units are taken up and occupied. Prices should be at more reasonable levels in the next few months due to lower demand, leading to lower supply in the locality," he says.
This article first appeared in City & Country, The Edge Malaysia Weekly, on June 1 - 7, 2015.