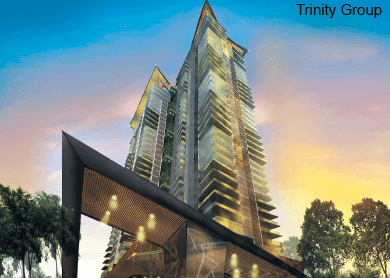 WHILE most developers are taking a step back this year and holding back their launches because of the uncertain property market outlook, Trinity Group Sdn Bhd is forging ahead with its projects.
It is also venturing abroad, following in the footsteps of the bigger players.
The developer now plans to launch its Trinity Aquata condominium in Sungai Besi on May 16. The launch had been scheduled for last month, but it was postponed because of the weakening ringgit and the introduction of the Goods and Services Tax (GST).
But the date is still subject to change. "I have to check with the feng shui master to see if it's a good date, but for now, that is the time that has been set," Trinity Group founder and managing director Datuk Neoh Soo Keat says with a chuckle.
"We did our research and found that buyers were adopting a wait-and-see attitude. That affected our decision as the launching period is important … when we launch, we want the product to sell, or we'll get a bad name."
The market, however, appears to be slowly recovering, with buyer confidence apparent in selected areas, Neoh notes.
"There are buyers in the market. It's not that people don't have money, they're just cautious because of the state of the economy," he adds.
Trinity Aquata has a gross development value (GDV) of RM300 million and is located on 3.85 acres of freehold land in Sungai Besi. It consists of two 26-storey blocks, linked by a landscaped sky bridge, above six storeys of parking space. The two towers will house 492 units, with built-ups ranging from 1,100 to 1,400 sq ft. The layouts feature 2 and 3-bedroom units with spacious balconies, priced at RM600 psf.
Security features include 24-hour patrol guards, perimeter CCTV and access card for the guard house and lobby. Residents will enjoy full clubhouse facilities.
Trinity Group CEO Datuk Andy Khoo Poh Chye says the location is a definite boost as it is near the Besraya Highway, KL-Seremban Highway and Middle Ring Road 2 (MRR2).
Venturing into different markets
A Hausa (an African language) saying goes like this: "Choose your neighbours before you buy your house." That is what Trinity is striving to do with its projects in China and London.
Neoh says the group is happy to take baby steps and learn from the bigger developers before its takes a bigger bite of the cake.
In China, it is involved in the Xuancheng New Harbor Eco-lake Tourism Development — a joint venture with Sunway Bhd, Singapore's Oxley Holdings Ltd and China's Macau Glory Group.
The mixed-use development — located near Shanghai, Jiangsu, Zhejiang and Anhui — consists of resorts, hotels, apartments, villas and a theme park, which will be the first in the area.
But Neoh says the GDV cannot be worked out with any certainty because the property regulations in China are different.
"The Chinese measurement of the land is 3,000 mou, which is equivalent to 500 acres. How it works is that the land is allocated by the government, parcel by parcel. This means we would have to complete a certain parcel before we are allowed to work on the next one," he explains.
Phase 1, comprising 217 townhouses and apartments, was launched at RMB5,000 per sq m and is 50% taken up. Phase 2 , which will offer 350 lakeside villas, will be launched after Phase 1 is completed, says Neoh.
Khoo says the development is strategically located as the planned high speed rail from Shanghai is expected to pass through the area. The site is also a 30-minute drive from the RMB2.2 billion Xuancheng Wuhu Airport.
According to the Xuancheng New Harbor Eco-lake Tourism Development master developer, the area is set to attract many economic and technical investments. Apart from that, China wants to ensure that the rural economy keeps pace with urban economic progress, says the developer. As such, a lot of focus will be placed on the development of third and fourth-tier rural cities, such as Xuancheng.
Xuancheng is well positioned for the development of domestic tourism as it is rich in historical and cultural heritage.
This is the company's only project in China at the moment. The market is dominated by big players and "we want to see how the project will fare and learn from this experience", Neoh says.
In London, Trinity plans to launch its maiden project — a 4-storey apartment block on a 0.36ha parcel in Sandbanks, Feltham — in the first half of 2016. The £15 million development will comprise 54 units of private and social housing and is set to be completed in 2018.
"The land value was £1.4 million when we went into the market a few years ago, but now it is £2 million," says Neoh. The site is 1km to the Piccadilly Circus Tube Station and eight minutes to Heathrow airport.
He adds that the group will continue to study the foreign market for three to four years before venturing into other projects overseas.
Projects in the pipeline
The group had planned to list on Bursa Malaysia last year but missed out because of certain issues. However, it is keeping that option open.
"Now we are in investment mode … we will buy something that will elevate the group," says Neoh.
As at February, Trinity had a total landbank of 70.4 acres, and a total GDV of RM4.2 billion.
Neoh says there is no point in having many projects overseas if they do not add value to the company. "Whatever we have overseas is not even 10% of our total GDV or investments. The reason is that no matter what happens — for example, if the projects fail — it will not affect the company," he explains.
With the ringgit strengthening, there are many opportunities in Malaysia now, he notes.
Back home, in Mont'Kiara, Trinity plans to launch a three-acre freehold luxury condominium, with a GDV of RM390 million, later this year.
In Ampang, a mixed-use development on an 8.7-acre parcel, near the MRR2, is still in the planning stage. The project has an estimated GDV of RM1 billion and is scheduled to be launched next year, but Neoh declined to reveal further details.
In Bukit Serdang, Selangor, Trinity is planning a serviced apartment project on a five-acre freehold parcel, with a GDV of RM350.5 million, scheduled to be launched next year. "We are also planning to add infrastructure in the area," Neoh says.
In Permas Jaya, Johor, Trinity will be developing a residential project near the Senibong area on a nine-acre parcel, with a GDV of RM605.7 million. To be launched in 2017, the selling price will be RM400 psf.
In USJ 19, Subang Jaya, the group has a three-acre parcel. It also has land in Hulu Langat and Kuala Langat earmarked for landed houses.
"The undeveloped land is our back-up plan for a rainy day. We don't even mind working with the government on building affordable housing there. Why not?" Neoh says.
Asked if Trinity would venture into other states, he says the group will concentrate on its current markets.
"We would like to expand if there are opportunities but we are aware that we are not familiar with the other states. We have looked at Penang, and the market is expensive. An option would be to build on the mainland as that is coming up, but we will see," he says.
This article first appeared in City & Country, The Edge Malaysia Weekly, on May 11 - 17, 2015.