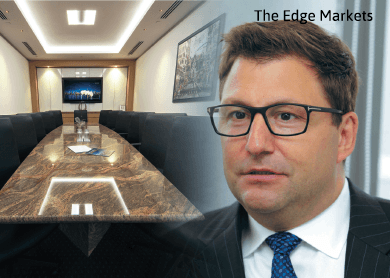 For start-ups, renting a whole office suite may be an expensive affair. However, there are alternatives, such as serviced offices that can be rented for as short a period as one month, or, with today's technological advancements, they can opt for a virtual office instead.
One company that provides both alternatives is Australia-based Servcorp. In addition to leasing out physical office space, Servcorp also provides virtual offices. With the latter option, businesses can use the address and phone number of a Servcorp centre, complete with a receptionist to handle their sales calls.
Servcorp operates in over 130 locations in the US, Europe, Turkey, Southeast Asia, China, Japan, the Middle East, India, New Zealand, and Australia. One of the group's biggest milestones was succesfully venturing into the US. It now has centres in major cities such as New York, San Francisco, Chicago, Boston, Los Angeles, Miami and Washington DC.
Servcorp chief operating officer Marcus Moufarrige tells City & Country, "We aim to have our centres in main cities around the world. We strive to be a premium service, offering premium addresses to our clients."
The company started operating in Malaysia in 1989 at Menara Haw Par in Jalan Sultan Ismail. However, it was closed after the lease expired a few years ago. Today, there are three operating centres in the Kuala Lumpur city centre — at Menara Standard Chartered, Menara Citibank and Nu Tower 2.
Servcorp's biggest business is its virtual office service, in which the company has invested more than US$50 million to develop its technology platform. "This technology platform for a global network will enable our clients to provision their businesses very quickly and manage it themselves," says Moufarrige. "We're currently developing Version 3 of the technology that will allow our clients to self-service where or when they need to use it."
According to Moufarrige, Servcorp started developing the technology in 2002. "The virtual office was my father's idea but I helped in the automation of the idea and made it available as a mass-market product on a single technology platform while helping to differentiate us from other companies," says Moufarrige.
"This option is flexible, where you don't have to physically be in the office to manage your business. You could be at home or anywhere in the world and still able to manage your business efficiently. The people who opt for a virtual office pay a lot less than those who rent physical offices," says Moufarrige. "About 90% of customers who opt for virtual offices are small or private businesses that need a central address, while the 10% are big companies that want to use us for teleworking." Renting Servcorp's virtual office costs RM120 a month.
For bigger companies that want physicial office space to operate from, Servcorp provides executive suites. "About 70% of clients who opt for executive suites are big companies," says Moufarrige. "There is a general perception that those who rent offices like these are small companies but the numbers have shown otherwise."
Moufarrige adds that large companies that choose executive suites have a small team based in the relevant country. "Serviced offices work well for companies that have less than 10 people in that area." He adds that leasing a serviced office is 30% to 50% cheaper than renting a shophouse.
Moufarrige says the company plans to set up another centre in KL. "I believe there is immense opportunity not only in Malaysia but also in Singapore, Hong Kong, Thailand, Vietnam and the Philippines. These countries will experience another decade of reasonable growth while China will continue to flourish and get more competition from the US."
"I believe our growth is also attributable to how people change the way they work, particularly American companies that want to get access to the Southeast Asia market. This has contributed to our growth in Malaysia and Singapore with a little bit in the Philippines and Hong Kong. We've had extensive growth, particularly in the Middle East and the US, with some growth in Southeast Asia and Japan."
Servcorp will soon be expanding to Jakarta. It will be the company's second attempt. The company was in Jakarta between 1990 and 1997 but pulled out during the political unrest. Moufarrige says he wants to grow Servcorp's presence in Europe and establish centres in new territories like Canada and South America.
Serviced office market outlook
Serviced offices have become increasingly popular in the Malaysian market in the past few years. Savills Malaysia executive vice-president Nicole Daprato says the serviced offices market is becoming more popular not only in Malaysia but globally as well.
"People are more aware of such an option. And it appeals to companies that need temporary offices before they move into a traditional office, whose main offices are under renovation or need to accommodate new teams entering the local market," says Daprato. "The increasing supply of Grade A offices in the KL city centre has also contributed to the popular serviced office market as serviced office providers will enter new Grade A offices with good addresses."
She adds that serviced offices are popular with start-ups as they do not have to fork out money to buy furniture and fittings.
Daprato explains that different offices or addresses will attract different types of industries. "For example, due to its location, KL Sentral may attract more IT companies compared with oil and gas outfits, which prefer offices in the KL city centre."
When it comes to rates, Daprato says it depends on the grade of serviced office, the tenure and desks taken.
She explains that some serviced office providers may have gold standard serviced offices, which offer a prime address and better furnishings and fittings. There are also serviced offices in the suburbs that may have lower standards, and thus, have different rates and fittings.
Daprato adds that clients may have to pay a premium for shorter-term leases as longer-term tenants provide secure cash flow for the serviced office providers.
JLL Property Services (Malaysia) Sdn Bhd managing director, Y Y Lau says serviced offices have become more popular because Kuala Lumpur has developed into a major business hub, driven by the increasing inflow of foreign direct investment into Malaysia.
Lau says serviced offices grew in tandem with the supply of office space. She adds that serviced offices are "recession-proof". "We see serviced offices as a recession proof business as it becomes attractive when companies downsize due to their respective countries' weak economy and influx of new businesses in strong economic times," she explains. "However, the serviced office market in Malaysia is becoming saturated and very competitive due to the rising number of operators. Apart from the usual operators, they face strong competition from incubators and semi-furnished offices."
Incubators with semi-furnished offices are rented out with some work desks and minimal facilities such as Internet connectivity and air-conditioning. Lau explained that these operators cater for tenants who are particular about costs and want affordable short-term rental space.
Despite the steady growth of serviced offices in Kuala Lumpur, Rahim & Co's corporate real estate executive Alexander Ang says the serviced offices market in low-grade buildings may be affected by the increasing supply of conventional offices that will be completed in the next few years, especially in decentralised areas.
Ang adds that brand recognition and building qualities are crucial distinctions among serviced offices providers. "Serviced offices located within integrated developments and key locations such as the Golden Triangle and KL Sentral will still enjoy healthy occupancies, as proper Grade A office supply is still relatively limited among existing and new completions, while those in other areas will have to rely on competitive price points."
This article first appeared in City & Country, The Edge Malaysia Weekly, on April 6 - 12, 2015.