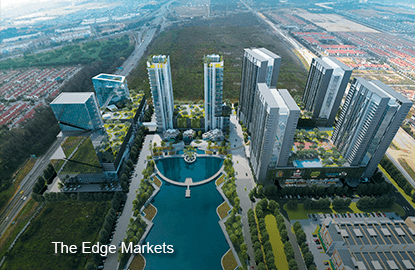 MITRALAND GROUP SDN BHD will be building a new landmark in the fast-growing southern Klang corridor in Selangor. A number of townships, such as Bandar Bukit Tinggi, Bandar Botanic, Bayuemas and Bandar Parklands, have come up in this area, making Klang a rising housing and property investment hot spot. Banking on the potential of Klang South, Mitraland is embarking on a RM1.3 billion mixed-use development there called Gravit8.  
"We looked at the opportunity and potential in Klang South. The place lacks a lifestyle development, a place where friends and families can gather and enjoy some time together. We want our project to be that place," CEO Chuah Theong Yee tells City & Country. The name "Gravit8" is a play on the word "gravitate", he adds.
The development is located on a 15-acre freehold site in Jalan Klang Banting, opposite the proposed Johan Setia LRT station. It is also next to the Shah Alam Expressway (Kesas) headed towards Port Klang — about a 10 to 15-minute drive from Kota Kemuning.
Consisting of serviced apartments, speciality retail outlets, a mall, corporate offices, small offices/versatile offices (SoVos) and a boutique hotel, it has a marine theme, which is what comes to mind when Klang is mentioned.
Mitraland chairman Datuk Johan Ariffin says the developer plans to have an eight-acre lake on the site. "We will not only invest in landscaping it [the lake] but also build walkways, fountains and other water features. We would love to see families enjoy the lake, the views, go kayaking or boating."
In line with the theme, Mitraland also plans to display the first in-mall aquarium in Klang and set up the royal city's first seafood hub within Gravit8.
"Everyone talks about Klang's seafood; unfortunately, there aren't many nice places to dine at. We would like to offer good seafood in a nice dining ambience. We are still in the midst of getting the concept finalised. Once we are done, we will talk to some local famous restaurants for joint-business opportunities," says Chuah.
The first phase of the development was launched in March and has seen an encouraging take-up of 80% without the help of advertisements. It offers 22 three to five-storey shopoffices that have built-ups of 4,909 to 18,190 sq ft and are priced from RM1.83 million to RM5.5 million. The phase is due for completion in May 2018.
Phase 2A, comprising two towers offering more than 600 serviced apartments, is currently open for registration and is targeted for launch in December. The apartments have built-ups of 600, 750, 850 and 1,000 sq ft and an indicative price psf of RM500 to RM550.
Mitraland's current development direction is something that is affordable yet fulfils the demand for lifestyle products and Gravit8 will reflect this mantra. Some 80% of its serviced apartments will be priced below RM500,000. "Some are close to just RM300,000," observes Johan.
"I believe lifestyle accommodation is the trend now. When you are young, lifestyle may mean a vibrant nightlife but when you get older, you want to go back to your family and have a healthy lifestyle," he adds.
"Nowadays, people would rather buy a 500 sq ft condo with lifestyle facilities and tight security rather than a non-gated landed property without the services."
For Gravit8, the developer is eyeing local buyers from Kota Kemuning and other nearby Shah Alam areas. He believes the population in Klang and the surrounding areas is big enough to support the project. "Bear in mind that there is no such good-quality, niche and strategically located project in the vicinity," Johan points out.
Success formula
"We see ourselves as a niche developer. For our business model, we don't need big pieces of land, just small ones but in choice locations. We want to create..." Johan pauses to find the right word and Chuah chimes in, "high impact."
This has been Mitraland's philosophy for many years — to create high-impact or high-value projects in good locations. "How do we do that? Our formula is to find the right place, identify a gap in the market and fit it with the right product. Maximise the land's value with a good concept and product," Chuah remarks.
The developer has projects with an estimated gross development value (GDV) of RM2.5 billion that use this formula and will keep it busy for the next four to five years.
Its projects are spread across various locations in the Klang Valley and Greater KL — from Cheras to Mont'Kiara, from Kota Damansara to Puchong and now in southern Klang. Soon, Mitraland will be moving on to Semenyih and even Melbourne, Australia — its first overseas project currently on the drawing board.
"We believe if you can get a piece of land at the right time and at the right price, your project's success is already halfway there," says Chuah. The other half of the success formula would be the project's concept and current market trend. For instance, the developer introduced the first serviced apartment project, named Livia @ C180, to Cheras South in April 2010.
Besides Livia, another high-rise development launched by Mitraland in Cheras South is Vina Versatile Homes, which has recorded 90% take-up since it was launched in mid-2013. According to Chuah, the 7.5-acre freehold three-block residential development was 50% completed as at May and is due for completion next year.
"Looking back at South Cheras, we built the first serviced apartments there and now there are countless of them. We saw the potential and market gap then. Similarly, in Klang South, we hope to fill this market gap and hope it will be a successful business formula," Chuah adds.
However, the developer wants Gravit8 to do more than just fill a gap in the property landscape in Klang South. "Of course, we can just build condos there but we want to be there for the long haul, so we want Gravit8 to become an icon for Mitraland and Klang South," explains Chuah.
Gravit8's Phases 2B, 2C and 3 are scheduled to be unveiled in the next few years. "We need to be realistic about the current market situation. If the response to the current phase of serviced apartments is overwhelming, we may open the next phase this year. Otherwise, Phases 2B and 2C will be launched next year," says Chuah.
Phases 2B and 2C will offer more serviced apartments, retail shops, the concept seafood hub, a mall and SoVos while Phase 3 will feature offices, a boutique hotel and some retail shops.
"We have yet to decide who we will be working with on the hotel and mall, although we have some experience in running a hotel. I suppose the hotel would not be too big, between 150 and 200 rooms," Johan says, adding that Gravit8 should be completed in seven to eight years, depending on market conditions.
Chuah, who had set up Mitraland right after the 1997/98 Asian financial crisis, does not deny the fact that an economic downturn would hit every industry, including property.
"In past economic crises, I experienced a market that saw a 30% drop in property transactions. You might think that was bad but it tells me that there is another 70% that still wants to buy a property, even in bad times. As a developer, our mission is to cater for consumer needs and create value in our products."
Klang South properties in demand
According to Zerin Properties' Selangor branch head, Paul Poh, properties south of Klang have seen good demand over the last few years. "We see people moving from the old Klang town because Klang South, such as Bandar Bukit Tinggi and Bandar Botanic, have better township management. Property prices there have been appreciating better than those in Klang town," Poh says, adding that the area offers the biggest shopping centre in Klang — AEON Bukit Tinggi — while the LRT will be stopping in the area soon.
"The area has AEON Bukit Tinggi and GM Klang, plus it is so close to Kota Kemuning, whose residents mostly originated in Petaling Jaya and Kuala Lumpur. The area is quite happening," he remarks.
However, he is concerned that there may be an oversupply of commercial properties in this part of Klang as KSL Holdings Bhd is building a large shopping mall — KSL City Mall 2 — close to Bandar Parklands.
"AEON Bukit Tinggi, GM Klang and the upcoming KSL City Mall 2 will provide a lot of choices for commercial property buyers," Poh says. "Nevertheless, in the long run, I believe the overall outlook for southern Klang is positive because of the improvements in its public transport system and connectivity, which would draw more people here."
This article first appeared in City & Country, The Edge Malaysia Weekly, on June 29 - July 5, 2015.