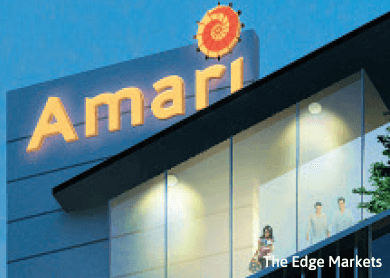 United Malayan Land Bhd is collaborating with Thailand's ONYX Hospitality Group to open the first Amari hotel in Malaysia. It will be part of UMLand's RM496 million Suasana Iskandar Malaysia mixed-use development in Johor that comprises residential (serviced apartments), retail and hospitality components. The hotel is expected to be completed in early 2017 at a cost of about RM180 million.
The Amari brand is ONYX's most established chain of hotels with a presence from Asia to the Middle East. The hotel in Johor will be owned by Exquisite Mode Sdn Bhd (a subsidiary of UMLand) and managed by ONYX.
UMLand group CEO Datuk Chia Lui Meng says partnering ONYX is a no-brainer because the latter is well established in Thailand and financially sound. "We're bringing Thai hospitality to Johor. The Thais are, after all, famous for their hospitality."
Commenting on the hotel's location, Ken Ng, head of subsidiary at UMLand, says, "It's located on the old Rex cinema site, right opposite KOMTAR Johor Baru City Centre, which makes it perfect. It is also near the train and bus stations, which is very convenient."
The fact that the 1.49-acre Suasana Iskandar is surrounded by shops and eateries adds to the allure of the project, he adds.
Meeting demand
Amari will have 242 rooms in total and the indicative average price per room is between RM1,158 and RM1,552 per night depending on the premiums.
Bobby Chin, UMLand's assistant general manager of business development, says the hotel brand's flexibility is another reason for including it in the Suasana Iskandar mix. "The Amari brand can be incorporated anywhere. With other hotel chains, there is a specification — it either suits the city or is more ideal as a resort. With Amari, it can be both," he says.
According to Chia, "The Johor Baru hotel market is in dire need of rooms. Right now, many tourists are coming to the country and they either go directly to JB or come from Singapore. Most travel agencies have packages for tourists. For those visiting JB, the packages include visits to Legoland or other attractions before moving on to Singapore where they will visit places like Universal Studios. These tourists need somewhere to stay. Currently, only a few hotels are available in JB and they are usually fully occupied."
Chia adds that it has become a trend among the Singaporeans to spend their weekends away from the hectic city state. "They come to JB not only to get away from Singapore but also to get out of their small flats. And why not? Even we here in KL sometimes like to check into a hotel over the weekend to enjoy the ambience and everything is done for you — it's a good break."
The construction of the hotel is timely as there has not been much activity in JB's hotel sector in the past few years, Chin observes, stressing that although there is much talk about an oversupply in the JB market, it is of apartments, not hotels.
Chia adds "Hotels are in short supply there. I am not worried about the softening market because it doesn't apply to the hotel market. As for the oversupply of apartments, like how water has a way of levelling itself, I believe the market will be all right in about a year."
There is definitely demand for good and new hotels in JB, notes KGV-Lambert Smith Hampton (M) Sdn Bhd (Johor) director Samuel Tan. "Growing activity in JB has created a demand for hotels here. Apart from that, a lot of people from Singapore are coming to Johor for their meetings because the room rates here are much lower."
Tan sees a good future for Amari as it is part of a big development and is strategically located in the city. "I would say that Amari will do well in the market. It's in the city, close to many attractions and easily accessible."
UMLand has hired Singapore-based FBEYE International, headed by its lead designer and managing director Warren Foster-Brown (see story below), to do the interior architecture of the hotel. "We decided to engage Foster-Brown to design the hotel as the consensus in the market is that his work is good. Clients are happy and he does have a flair for designing products to suit the target market," says Chia, adding that unlike other designers, Foster-Brown allows the participation of the developer in the planning process. "Most of the time, we get designers with a fixed idea of how they want the design to be and they do not like it if we throw in our ideas because they say that it is no longer their idea then. But Foster-Brown incorporates all that we want into its plans, accept our comments and so far, everything is on track."
The design will feature elements of Thailand to create a calm and relaxing ambience for the guests. Chia believes it is always good to have the interior designers on board from the beginning. "The designers should be the earliest to be on board. It's a good approach. It helps with the spatial planning. By doing this, it's easier to map out the plans and eradicate problems of unwanted space when the design is completed."
In the pipeline
With 1,600 acres of undeveloped land in JB and 200 more in the Klang Valley, UMLand has a lot of projects in the pipeline. Apart from Amari, it is also constructing a hotel in its RM1 billion flagship mixed-use development, UMCity Medini Lakeside in Iskandar Malaysia.
Called OZO, the hotel also belongs to the ONYX stable. Its design is leaner, making it suitable for "businessmen and tourists", says Chia.
The hotel is scheduled to be completed in 2018 along with the entire development and is targeted at the mid-market.
UMCity, which is expected to be officially launched sometime next month with a groundbreaking ceremony, will also feature ONYX's SHAMA luxury serviced apartments, which will be the first of their kind in Malaysia and outside Hong Kong and Thailand.
The development will house Citadines Apart'hotel by The Ascott Ltd — one of the world's largest operators of serviced residences — as well.
So far, only the office suites of UMCity have been released and about 60% of them have been taken up. The soft launch of the office suites was held last November.
Apart from these, UMLand is also working on launching Star Residences — a joint venture with Symphony Life Bhd.  The project will comprise three blocks of serviced apartments with a total of 1,500 units. The first block, which was launched in 1Q2014, is about 85% sold. The soft launch of the second tower is scheduled for July and the official launch by September. The launch of the third tower is tentatively scheduled for the end of next year.   
"This project is different because it will boast a Star Walk of Fame, like the one in Hollywood. It is set to be a tourist attraction. Apart from that, we will also have niche restaurants and entertainment and signature retail outlets. Each strata floor will feature a signature restaurant and branded boutiques or offices. We hope to bring in Michelin-rated restaurants as well," says Chia.
Another component of the development is a small tower called Star Boulevard (which will house the F&B, entertainment and signature retail outlets) next to the first tower of Star Residences.
UMLand's fourth township, Taman Seri Albion (347 acres), is scheduled to be launched in 2016. Located in JB, the first phase will comprise industrial properties while the later phases will feature residential properties, including affordable housing. "The township will serve the industrial estates around Pasir Gudang, near Pengarang, which is seeing spillover from Tanjung Langsat. We are expecting a huge population growth there," says Chia.
In the Klang Valley, UMLand is planning to launch the first phase of Mahkota Hills next month or in June. The 355.7-acre project is located in the southern part of Semenyih near Eco Majestic by Eco World Development Group Bhd, and 14km from The University of Nottingham Malaysia campus. It has an overall gross development value of RM2 billion.
This article first appeared in City & Country, The Edge Malaysia Weekly, on April 20-26, 2015