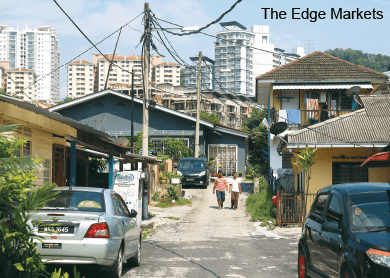 WITH Mont'Kiara approaching saturation point and development land becoming scarcer, property projects have been moving into neighbouring areas such as Dutamas and Segambut. In fact, in the last three years or so, developers have been pitching parts of Segambut, Dutamas and Kepong as "North Kiara" to jack up their appeal.
However, as the authorities have not recognised North Kiara officially, its boundaries are debatable. According to James Wong, managing director of property consultant VPC Alliance Malaysia Sdn Bhd, North Kiara is centrally located between Mont'Kiara and Desa ParkCity and about 9km from the Kuala Lumpur city centre.
"Within the so-called boundaries of North Kiara are Kampung Segambut Dalam, Bukit Prima Pelangi, Bukit Seri Bintang, Taman Prima Impian, Taman Sri Sinar, Mesra Terrace, Taman Segambut SPPK and Segambut Bahagia," he says.
LandServe Sdn Bhd managing director Chen King Hoaw concurs. "I would take it as all the areas bounded by the Damansara-Ulu Kelang Expressway and the North-South Expressway in the east and south, Desa ParkCity in the west and Sri Bintang, Sri Sinar and Jalan Segambut in the north," he says.
Higher residential property prices in Mont'Kiara, Dutamas and other nearby areas have strengthened North Kiara's attraction to owner-occupiers and investors, especially those who want more floor space at a cheaper cost.
Existing condominiums of note in North Kiara are Prima Duta, Changkat View Condominium, Menara Duta 1 and 2, Duta Ria Condominium, Anggun Puri, Sutramas Luxury Condominium, Prima Tiara and Rosvilla while luxury landed properties include Mesra Terrace, Villa Pines, The Serai and The Richmond.
According to Wong, the opening of Lycee Francais de Kuala Lumpur, more commonly known as the French School of Kuala Lumpur, in September 2005 in Jalan Dutamas Raya in North Kiara drew other developers to the area. Due to the small size of the parcels, most of the developments in the area are high-rise.
Also, due to the scarcity of land, there are few commercial developments in North Kiara and even then, they are restricted to neighbourhood shopoffices.
However, the short distance to Mont'Kiara, Desa Sri Hartamas and Kepong allows North Kiara locals, especially the expatriates, to enjoy readily available amenities and schools, such as the Gardens International School, Mont'Kiara International School, Sekolah Kebangsaan Kiaramas and SMK Seri Hartamas.
Shops, hypermarkets and shopping centres with supermarkets such as Tesco and Giant in Kepong and Publika in Solaris Dutamas, Plaza Mont'Kiara and 1Mont'Kiara in Mont'Kiara and the Hartamas Shopping Centre in Hartamas are located within a 2km to 4km radius.
Developers such as Brem Holdings, Orando Holdings, UOA Group, BCB Bhd, Angsana Setia and BRDB Developments Sdn Bhd, formerly known as Bandar Raya Developments Bhd own land in North Kiara on which they have developed residential projects.
Growing interest
Apart from Dutamas, Taman Sri Sinar, Mesra Terrace, Taman Segambut SPPK and Segambut Bahagia, another area in North Kiara that has seen increasing development and homebuyer interest in recent years is Kampung Segambut Dalam.
With a mix of squatter homes and elegant high-rises, this section in North Kiara has a unique community. One may notice the expats living in the condominiums there strolling around the area amid children from the kampung riding their bicycles and their folk thronging the stalls along the road.
Also not uncommon are luxury cars passing through the kampung, presumably headed towards the more upscale Mont'Kiara and Desa Sri Hartamas or Jalan Bukit Kiara. And with still a substantial amount of undeveloped land, North Kiara can be described as fairly green too.
Though Dewan Bandaraya Kuala Lumpur (DBKL) and developers have been slowly swallowing Kampung Segambut Dalam — for the Segambut road-widening project in the case of the former and new developments in the case of the latter — the village remains a prominent feature of North Kiara, its character intact with small restaurants, warung (stalls), grocery shops, car workshops, community halls and a religious school.
Branding North Kiara
Developers have been touting North Kiara as the next prime residential area after the nearby Mont'Kiara. "Since 2011, the name 'North Kiara' has been used by developers to link their developments in the area to Mont'Kiara. The first major development to use the term in its branding is Verdana by BRDB, followed by Concerto North Kiara (BCB), Scenaria @ North Kiara Hills (UOA) and, more recently, Anjali North Kiara (Angsana Setia)," remarks Landserve's Chen.
Judith Ng, executive director of CBD Properties Sdn Bhd, adds, "The name 'North Kiara' definitely raises awareness of the area and it will certainly attract higher-income investors with an eye on the nearby Mont'Kiara and Desa ParkCity."
Eventually, says Wong, "the branding of North Kiara will increase the value of residential properties there but by a very small percentage".
"North Kiara is not a township; it is a residential area with a mix of low, middle, and high-cost housing developments. You will notice the mismatch of residential buildings along certain stretches. Higher-income investors will still opt for Mont'Kiara, Sri Hartamas and Desa ParkCity," he adds.
C H Williams Talhar Wong Sdn Bhd (WTW) managing director Foo Gee Jen says poor accessibility may be an obstacle to the branding of North Kiara. "The name certainly sounds better than 'Segambut'. It has been successful in differentiating the properties from the rest of Segambut. But due to its limited connectivity to Mont'Kiara, it is unlikely to be considered a part of Mont'Kiara even in the long run," he says.
"Its neighbours, such as Kampung Segambut Dalam, are likely to affect the branding as well. The lower-income households in the area are likely to remain there for a long time."
A stronger market
The recent slowdown does not seem to have impacted North Kiara's property market. Investor sentiment remains bullish and there has even been a surge in values.
Most of the land in North Kiara is zoned "residential" with some allocation for commercial properties. According to VPC's Wong, last year, the highest number of transactions by subsector in North Kiara was seen in high-rise residences (70.8%), followed by terraced houses (27%). Various factors have determined that condominiums and apartments remain the bestselling properties in North Kiara.
The capital appreciation of residential properties in North Kiara, both landed and high-rise, is higher than in Mont'Kiara, thanks to the lower selling prices. Values grew 26.4% to 63.5% from 2011 to 2014, says Wong.
Overall response to developments in the area has been positive in recent years. According to LandServe's Chen, sales were good because banks and developers were offering the developer interest bearing scheme before it was banned in end-2013. "On the secondary market, the prices of condos in the same locality rose in tandem," he says.
Still, high-rise residences in North Kiara did not perform as well as those in Mont'Kiara, Sri Hartamas and Desa ParkCity with moderate take-up in the primary market from 2013 to 2014. Rents were no better — gross rental yields in North Kiara ranged from 3.3% to 4.4% compared with 4.5% to 6.2% in Mont'Kiara, according to data provided by LandServe.
"Residences in the area are bought mostly by young families for their own occupation and investors for capital gains and rental returns. They come from various parts of the Klang Valley, but especially from Segambut, Kepong and Petaling Jaya," says Chen. "The bestsellers are luxury high-rises whose prices range from RM500 to RM700 psf — much lower than in Mont'Kiara." But this also means a difference in quality and type of facilities and services provided compared with properties priced from RM900 to RM1,000 psf in Mont'Kiara.
"Indeed, the target market in North Kiara is the middle-income group as prices of RM500 to RM700 psf are well within their reach," says WTW's Foo.
Wong also believes there will be more owner-occupiers than investors in the area due to the affordability of its properties and accessibility via DUKE and NSE.
Echoing the other property consultants, Foo says, "Mont'Kiara and North Kiara are two distinctive localities with different characteristics. Mont'Kiara was established and branded as a high-end locality with an eye on the expatriates. We don't anticipate a surge in high-end properties in North Kiara."
Challenges
North Kiara clearly has much growth potential but there are some challenges too, including overall infrastructure conditions and Kampung Segambut Dalam.
The residents have to endure traffic snarls every day due to the narrow roads in the area, including the thoroughfare Jalan Segambut. However, DBKL has moved to resolve the problem.  
"We have undertaken a traffic dispersal project, with a budget of RM200 million, to alleviate congestion in Segambut and Mont'Kiara, especially since more developments are coming up in these areas," Sabudin Mohd Salleh, deputy director of DBKL's infrastructure planning department, tells City & Country. "We have to break the project into different phases to complete it with no encumbrances and hope to achieve this within three to four years. As for utilities, they will take at least a year to resolve."
The Segambut road-widening project covers Segambut Bahagia, Bukit Segambut, Kampung Segambut Dalam and Mont'Kiara. It has been divided into three phases: Section A (1.4km), Section A addition (600m) and Section B (2.026km) (see map).  
Section A, which stretches from the Segambut KTM station to Taman SPPK Segambut, was completed in late 2013.
Section A addition and Section B of the project – which will continue to Jalan Kiara 4 – are still in the process of tendering, design refinement and engagement with the residents. The completion dates of these sections have yet to be confirmed.
"Our target is to achieve level of service C, with about 1,200 cars on six lanes per hour for this project," says Sabudin.
On the matter of private land and squatters in the Segambut area, he says the National Land Code will be invoked and the land valued by an independent government body to protect the interests of the residents. "For land acquisition in areas with squatters, we will engage with the locals on their concerns and ensure their requests are met."
MRT appeal
Another potential factor that could draw more investors to North Kiara is the upcoming Mass Rapid Transit Sungai Buloh-Serdang-Putrajaya Line (MRT 2) that is due for completion in 2018.
Ho Chin Soon Research Sdn Bhd chairman Ho Chin Soon says the nearest MRT 2 station for North Kiara would be in Jinjang. "Naza TTDI's KL Metropolis is also tipped to have an MRT station in the Circle Line (MRT 3) and a possible station in nearby Sri Hartamas is possible," he adds.
Improved utility services and waste management to maintain a clean neighbourhood would also be a pull factor, says WTW's Foo. North Kiara's growing population will also require adequate power and water supply with minimal disruption, he adds. "Well-structured waste management and utilities will ensure high quality of living for North Kiara's present and future communities. It's good that an oxidation pond located opposite SK Taman Sri Sinar is being upgraded.
"The proposed road widening as well as MRT stations will be an added bonus for potential investors in North Kiara," he sums up.
In short, though North Kiara has its shortcomings, proposals to resolve them could mould it into the next up-and-coming neighbourhood in Kuala Lumpur.
An eclectic neighbourhood
The residents of Kampung Segambut Dalam in North Kiara recognise the changes taking place in their neighbourhood and its possible gentrification. Once a quiet area with kampung houses and squatters, it has seen the sprouting of medium to high-end developments and the influx of white-collar residents, including expatriates, in recent years.
"I normally go to the kedai runcit and warung in the area but they are starting to disappear," laments Indonesian contractor Mulady when asked about the changing landscape.
"I have been living here for over 10 years and I have seen a lot of changes. The homes of a lot of squatters have been demolished and new developments are coming up. Most of my work is based in Penang but I have worked on several projects in North Kiara."
Endy from Kalimantan, Borneo, adds, "Most of Kampung Segambut Dalam's residents have shifted to areas such as Sungai Buloh and Rawang. They had to move because some of the land was bought up by the government [for Kuala Lumpur City Hall's road-widening project]." The 34-year-old contractor, who has been working in UOA Group's Scenaria project, has lived in the kampung for 12 years now.
The residents of the high-rises in North Kiara, however, are not troubled by the nearby Malay settlement. Mohd Khairi Mohd Kamal, 31, who lives in Yuk Tong Group's Kiara 3 condominium, says, "I chose to live in Kiara 3 because of the low rent and the fact that North Kiara is central to the places I frequent between my workplace in Batu Tiga, Subang Jaya, and the Kuala Lumpur city centre.
"There are a few nice restaurants nearby and places to jog in the area. The residents in my block are mainly expatriates, who indulge in recreational activities in the area without feeling threatened by the kampung.
"The kampung's tight-knit community celebrates local festivals, events and weddings in its hall. It does get noisy from time to time but I don't think it bothers the condo residents. There is also a padang and futsal court for the locals.
"If the kampung were demolished, I think certain amenities, such as the surau and hall, should be maintained. I get worried when I see the kampung children play along the tiny roads in North Kiara, so I think road-widening would not only be convenient but also good for the overall safety of the community."
This article first appeared in City & Country, The Edge Malaysia Weekly, on June 8 - 14, 2015.