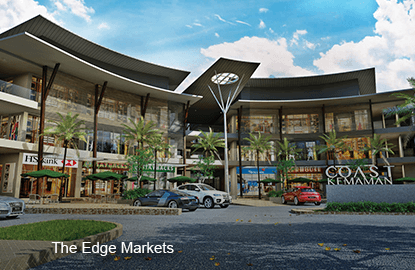 WITH long stretches of sandy white beaches, glistening waters and developed areas, the east coast is a developer's haven. It is indeed little wonder that property consortium UDA Holdings Bhd (formerly known as the Urban Development Authority) is now bringing more projects to Pahang, Terengganu and Kelantan.
Slowly carving a name for itself as a niche builder of high-end projects, UDA tells City & Country that the purchasing power in three states is growing.
"We believe the east coast market is getting more sophisticated as the people begin to appreciate 'lifestyle living' with facilities such as swimming pools, multipurpose halls and gyms. It is our hope to cater for this burgeoning market," says group managing director Datuk Ahmad Abu Bakar.
Last year, UDA reported revenue of more than RM500 million and a profit before tax (PBT) of RM158 million, compared with RM300 million in revenue and a PBT of RM40 million in 2013.
One of UDA's latest joint ventures is with Eco World Development Group Bhd and the Employees Provident Fund (EPF), for the RM8 billion regeneration of the 19.4-acre Pudu jail site in Kuala Lumpur. Undertaken by BBCC Development Sdn Bhd — UDA (40%),
EcoWorld (40%) and EPF (20%) — Bukit Bintang City Centre is expected to be one of the major contributors to UDA's future bottom line.
UDA is now shifting its focus to three developments in the east coast — Pelindung Heights in Kuantan, Coast Kemaman in Terengganu and UDA Sky in Kota Baru.
Pelindung Heights will occupy 5.72 acres of freehold land in Kuala Kuantan. With a gross development value (GDV) of close to RM20 million, the project will be developed in two phases.
Phase 1A, which was launched in 2008 and completed in 2013, comprises 22 semi-detached houses with built-ups of 2,792 to 3,638 sq ft. It is fully sold.
The success of Phase 1A prompted UDA to forge ahead with Phase 1B, which consists of nine 2-storey bungalows. Launched in December 2014 and scheduled to be completed next year, the bungalows are priced between RM1.3 million and RM1.56 million. With a take-up rate of 70%, UDA says most of the buyers are locals.
"Location is one the main draws of Pelindung Heights. Its strategically situated in the elite enclave of Teluk Cempedak beach and near well-known places such as the Royal Pahang Golf Club, Taman Teruntum and the botanical garden. The roads here (Jalan Tengku Mohamad and Jalan Teluk Cempedak) have also been extended, making it easier for residents to commute to town," says Ahmad.
Although located in the outskirts, the gated Pelindung Heights is just a 10-minute drive from Kuantan.
"We launched the development in small quantities to ensure quality," says Ahmad.
According to him, UDA has plans to expand in Kuantan as "we have about 40 acres of undeveloped land there".
About 70km north of Pelindung Heights, in Terengganu, is Coast Kemaman. With a GDV of RM66.7 million, the 3.4-acre freehold development also promises lifestyle living facilities. "Coast Kemaman is a one-of-a-kind development; it will offer the locals a new shopping experience as well as al fresco dining," says Ahmad.
The low-rise commercial development comprises three blocks with a total of 110 shops and offices. With built-ups of 1,246 to 1,638 sq ft, the selling prices of the units are between RM405,529 and RM1.03 million. The project was launched in March and is slated for completion in 2018. So far, 30% of the units have been sold.
With a contemporary design, Coast Kemaman is poised to become Terengganu's next commercial hub. It is expected to benefit from the growth of nearby industrial centres such as Kemaman Port and the oil refineries in Kijal.
UDA is also expanding to Kelantan. Located in the heart of Kota Baru is UDA Sky, a high-end mixed-use development sitting on 1.52 acres of freehold land. The project features two blocks with a total of 357 serviced apartments. The units are priced at RM250,000 (for a studio) and RM1.56 million (for a penthouse). There will also be 14 retail lots, whose prices have yet to be determined.
According to Ahmad, UDA Sky will attract young executives and Kota Baru folk looking for a holiday home. The development will feature facilities such as a swimming pool, multipurpose hall, gym and convenience store. It will also offer 24-hour security with a card access system for the lifts and parking area. The project is expected to be launched in 1Q2016 and completed in 3Q2018.
Seeking opportunities
According to UDA's mission statement, its original mandate "has been firmly rooted in shaping and urbanising Kuala Lumpur, the Klang Valley and other main cities in Malaysia", focusing mainly on developing low-cost residential and commercial properties.
However, the company is looking to expand its range of products and the east coast projects are its attempt to venture into the high-end market.
"Although we are 100% owned by the Ministry of Finance, we do not receive grants for our projects. We operate just like any other developer and we look for opportunities to maximise our profit while fulfilling our social obligation," says Ahmad.
Apart from the east coast, UDA's landbank totals 800 acres — 200 acres in Johor, 100 acres in Penang and the rest in Bandar Tun Hussein Onn, Selangor, and Melaka.
UDA is currently exploring the possibilities of acquiring more land. "We are in the midst of identifying strategic parcels that can give us good returns. However, we prefer to set up joint ventures with reputable developers," says Ahmad.
UDA maintains that its east coast projects are in line with the East Coast Economic Region (ECER). "We believe the east coast can grow further by bringing in more investors from outside Kelantan so that they can tap into the ECER effort. Asean initiatives will also help," says Ahmad.
ECER is one of the economic corridors launched by the federal government with the objective of accelerating the growth of Kelantan, Terengganu, Pahang and Johor through efforts in tourism, manufacturing and trading as well as infrastructure and logistics hubs, over 12 years.
A subdued market
Like in most parts of the country, the east coast's property market has also been affected by the implementation of the Goods and Services Tax (GST) and the government's cooling measures.
"The demand for properties in Kuantan is slowing down. GST and tighter lending rules have affected the market, causing consumers to adopt a cautious approach," says Danny Yeo, director of C H Williams and Talhar Wong Kuantan Sdn Bhd.
"Correspondingly, the demand for properties in Terengganu and Kelantan has also been moderate in the past year," concurs Muhd Kamal Mohamed, director of C H Williams and Talhar Wong Terengganu and Kelantan Sdn Bhd.
According to Yeo, the property market in Kuantan is dominated by the residential subsector, which constituted about 60% of total transactions last year.
The volume of transactions and values of residential properties in the district of Kuantan saw a slight decline in recent months, according to the National Property Information Centre.
"Double-storey terraced houses are the most popular type of homes in Kuantan, and the prices are between RM450,000 and RM500,000," says Yeo
The residential segment is also the strongest in both Terengganu and Kelantan. "Nonetheless, demand in these two states is concentrated in certain vibrant areas," says Muhd Kamal.
"The most sought-after areas for residential properties in Kelantan are Kota Baru, Tumpat, Tanah Merah and Pasir Mas [with prices ranging from RM50,000 to RM250,000]. In Terengganu, there is strong demand for properties in the price range of RM50,000 to RM500,000 in Dungun, Kuala Terengganu, Besut and Kemaman. Vacant plots, 1-storey terraced houses, detached houses and low-cost homes are types of properties mostly transacted."
Despite the growing number of high-rises in the east coast, the landed segment still dominates the market. "As evident in recent transactions, 1-storey terraced houses, detached houses and low-cost houses are in demand," says Muhd Kamal.
"Nonetheless, many new condominium and serviced apartment projects in the east coast are showing good take-up rates, with some achieving 95% sales.
"For the commercial segment in Kota Baru, Tanah Merah and Kuala Krai, 2 to 3½-storey shophouses/shopoffices are in demand. In Terengganu, prime areas such as Kuala Terengganu, Dungun, Kemaman see strong demand for 2 and 2½-storey shophouses/shopoffices.
"The 3 and 3½-storey commercial units in an upcoming township in Kelantan, called Lembah Sireh, are highly sought after."
The average rental yield in the east coast has increased significantly over the years. In Kuantan, the residential segment's yield is between 3.5% and 4%. In Kelantan and Terengganu, it is 4% to 5.5% and 4% to 4.5%, respectively.
The target market of most developers in the east coast is owner-occupiers. "They are usually first-time homebuyers and upgraders. There are also some investors," says Yeo.
"Although most of the buyers are owner-occupiers, the new developments are seeing strong take-up by investors," says Muhd Kamal.
Both consultants agree that there are opportunities for high-end products in the east coast. "Flood-free areas and the city fringes are highly sought after nowadays. Typically, a certain target market, such as the higher income group and retirees, will not be in a rush to buy property. This group will go for upmarket developments," says Muhd Kamal.
Nonetheless, developers in the east coast face a few challenges. "There is an emerging trend of launched and upcoming projects bringing in 'outside' developers. This results in higher selling prices, driving the market towards a mismatch between price and affordability," says Muhd Kamal.
Projects launched during this time will subsequently create an oversupply of residential units in the coming years, he adds.
"East coast folk are likely to take some time to accept such price hikes, thus resulting in a slowdown in the short term," Yeo says.
"The best strategy is to offer attractive promotions, packages and better quality products to the prospective buyers."
"It is advisable for developers to review their selling prices and types of products offered in view of the slowdown. They should take into account the income of potential buyers," says Muhd Kamal.
Forging ahead
UDA has launched a restructuring programme focusing on three areas — recruiting professionals, improving management of projects and installing a new integrated IT system.
"When I joined the company three years ago, the results were flat. So, we reorganised and restructured the company with a new pool of talent. We also have a new IT system and changed the work culture," says Ahmad.
He adds that there is a high level of transparency after the transformation exercise. "Everything we do now is well documented, and as far as the business plan is concerned, our mission and vision, and our timeline of projects are much clearer now."
UDA is forging ahead with its plans to achieve RM3 billion revenue in 2019. Its development plans of about RM10 billion in GDV in the next three to five years consist of the redevelopment of the Pudu jail site and a high-end serviced apartment project in Jalan Sultan Ismail.
As for the future of UDA, Ahmad is hopeful that the company will be stronger. "We will continue to innovate to come up with better products. I expect to see the fruits of our labour in the next few years."
This article first appeared in City & Country, The Edge Malaysia Weekly, on June 29 - July 5, 2015.