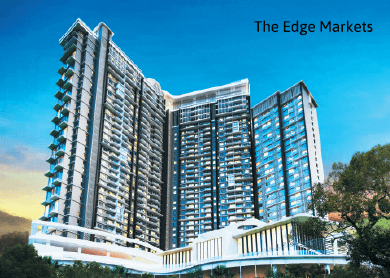 Perched 1,800m above sea level in Gunung Ulu Kali of Pahang is integrated resort Genting Highlands. With its misty, cool weather and within an hour's drive from Kuala Lumpur, it is a popular getaway for the city folk. A stone's throw from the resort is the Windmill Upon Hills residential development by PJ Development Holdings Bhd (PJD Group), which will open for preview early next month. The project, with a gross development value (GDV) of RM711 million, will offer 1,108 serviced apartments on a 5.57-acre freehold site.
"What's interesting is that the project is located mid-hill in Genting Highlands, which we think will enjoy the best of both worlds. It's a 45-minute drive from KL city centre or even nearer from Ampang or Gombak, and a 15-minute drive to Resorts World Genting, where the 20th Century Fox World theme park is taking shape, plus the proposed Genting Premium Outlet and new cable car station. Also, you get to enjoy the cool, misty atmosphere and lush greenery of the hills," general manager of sales and marketing Nicole Lee tells City & Country.
Homes on the highlands
The concept of the development is a green sanctuary for those seeking to rejuvenate, she says.
"With nature and wellness in mind, Windmill Upon Hills is a place for those longing for a break from city living, wanting to enjoy breezy and cool weather throughout the year," she adds.
The building structure will have four wings, with two of them joined to each other. Three of the wings will be 42 storeys tall and the other that is adjoining the main structure will have 32 floors.
"It is inspired by the windmill, whereby all the units are placed in a linear manner to allow for maximum exposure. Our objective is to ensure every unit gets a fantastic view of the surrounding greenery," Lee says.
The unit sizes are 362 sq ft for studios, 730 sq ft for 1-bedroom units, 688 to 783 sq ft for 2-bedroom units, 818 to 1,523 sq ft for dual-key units and 962 sq ft for duplex units.
"The duplex units will have fantastic views and we think the loft concept may appeal to some buyers. As for the dual-key units, they can be for own use or rented out. There will be bigger units such as penthouses, which will have dual keys. We are targeting international purchasers for these," says Lee.
She adds that all the units will be fully furnished as buyers may have concerns about furnishing them themselves at that location. "We are providing hassle-free occupation. Every unit will come with electrical appliances, curtains and other things."
Additionally, the company is extending property management services through its property management arm Swiss-Garden International Hotels, Resorts & Inns to preselected units of different types and sizes.
The serviced apartments will have facilities for the hosting of events such as family get-togethers and corporate functions, Lee says, adding that Windmill Upon Hills will be one of the developments with the most facilities in the area.
"For example, there will be a celebratory alcove on the rooftop where people can hold small functions and enjoy the view of Genting and the city. We will have sunken decks at the rooftop pool, where you can sip your wine while soaking up the atmosphere. There will also be a [rooftop] bar. The outdoor gym will be good for corporate team-building events as well," she says.
Other facilities include a pavilion, hammock swing, children's playground, parcourse, hot spa, reflexology footpath, barbecue area, games room, lap pool, heated splash pool, Jacuzzi, squash and tennis courts, jogging tracks, cabanas and gardens.
Lee says the facility floors will be surrounded by greenery as landscaping is one of the main features of the development. "We have put a lot of thought into landscaping and will make simple fit-outs unique for residents to have a photo-ready background ... the whole concept is to be a place for creating memories."
Also, to complement the environment and ensure comfort, due consideration was given to the selection of building materials, she says. She cites the example of laminated timber to be used for flooring instead of tiles.
As Genting Highlands is a holiday destination, Lee says construction work is not allowed during weekends, so time management and planning are important to ensure the project is delivered on time. She adds that the site is relatively flat and that helps in terms of construction.
The development will be constructed in two phases with the first phase to be completed in May 2019 and the other, by 2021.
After the preview, PJD Group is targeting to launch the first phase of over 500 units within the second quarter of this year. Selling prices range from RM381,000 to RM1.47 million, and the maintenance fee is 36 sen psf.
Location and market
Amenities available in the area include a cable car station, Awana golf course and Strawberry Farm. Gohtong Jaya, which is a five-minute drive away, has food and beverage (F&B) outlets, convenience stores and a clinic. Highlands International Boarding School is also located within walking distance from the development.
Drawing similarities to Bandar Utama 10 years ago, Lee sees growth potential in Genting Highlands, especially within the next two years due to upcoming developments at Resorts World Genting and its surroundings.
New developments in the area include Geo 38 by Pesat Bumi Sdn Bhd, Vista Residences by Fututech Bhd and Midhills by LBS Bina Group Sdn Bhd. Existing developments include Mawar Apartment, Bunga Raya Apartment, Genting View, Genting Permai and some shoplots.
"This place will be very different [in the near future]. There will be new hotels and retail and F&B outlets in addition to the 20th Century Fox World theme park and Genting Premium Outlet. These will attract a lot more visitors, and when there are more people, there will be business. These sectors will be labour-intensive, and going forward, many will need a place to stay in Genting, and this area will definitely attract the rental market," says Lee.
 "Also, it is an ideal place for a second home and for retirement due to what it has to offer."
She adds that the development has garnered interest of those from Singapore and China, as Genting Highlands is a well-known destination and frequently visited by many in the region, including the Chinese, Singaporeans and Indonesians.
However, the company has yet to decide where to market the project internationally.
According to JS Valuers Research and Consultancy Sdn Bhd executive director Chan Wai Seen, the market sentiment in Genting Highlands has improved after the government, together with the Genting Group, announced the Genting Integrated Tourism Plan (GITP), which includes the 20th Century Fox World theme park, in December 2013.
"With the GITP, I am positive about the outlook of the primary and secondary residential property markets. Genting Highlands is well known for its lush greenery and cool weather, hence, it is of paramount importance to maintain these natural attractions," he says.
He adds that generally, prices in the secondary residential property market in Genting Highlands have increased by more than 50% since the announcement of the new theme park.
"Depending on the condition of the units, selling prices at Bunga Raya Apartment and Mawar Apartment in Gohtong Jaya have risen from RM320 to RM500 psf and RM550 to RM700 psf respectively," he says.
As Genting Highlands hasn't had many apartments for sale for a few years, people may be rather sceptical about the location.
Lee, however, remains optimistic. "We are going into a location that is rather untested, and people may wonder if the value will go up. But to be honest, the fact that many developers are coming in does give us confidence, and we see their presence as a positive influence.
"Also, the more, the merrier because with more people living there, amenities and infrastructure will follow quickly."
Company outlook
With so many projects lined up, Lee says PJD Group remains positive on the property market despite the impact of the Goods and Services Tax (GST) on property prices as well as stricter end-financing rules imposed by banks.
"If we look at the fundamentals in the long term, I think Malaysia is still doing fine, although in the short term, people will adopt a slightly more cautious attitude due to the weak crude oil prices, slowing economy and, of course, GST. However, based on our experience, demand is still quite strong as there are people who are really looking to own property," she says.
"Although some may see a bubble forming, if we look at the Malaysian demographics, I think the demand is well supported, as we have a high number of young adults aged between 25 and 35. These people are starting their families and will need a place to stay, and those who are having children will become upgraders. But, of course, end-financing by banks will definitely come into play."
What's next?
On the proposed acquisition of PJD Group by OSK Holdings Bhd, as reported by theedgemarkets.com in Oct 15 last year, Lee says the merger has not yet taken place but the companies are expecting to complete the exercise between June and September.
"The property divisions of both companies are now overseen by one executive director, and we are still having two brands and running as two teams and will remain as two public-listed companies. In terms of management, we have just started integration activities, and I believe we will have a clearer direction once the corporate exercise is completed.
"With the combined strength, it will be a different ball game altogether," she says, adding that there may be projects jointly developed by the two companies but this would depend on the post-merger corporate structure.
"PJD Group is already planning an integrated development in Melbourne, to be launched next year. Looking at our portfolio, we have an established Swiss-Garden brand as well as construction and manufacturing arms, which help us manage our cost structure. Looking at the whole value chain, we are ready to take on anything bigger such as township development and international expansion."
The mixed-use development in Melbourne, with a GDV of RM3 billion, comprises a hotel, retail units, offices and serviced apartments.
Apart from Windmill Upon Hills, the company is expected to launch the third phase of You City in Cheras in 3Q2015. This mixed-use development with an estimated GDV of RM780 million will feature a shopping mall and serviced apartments. The earlier phases were launched in 2012 and 2013.
"Phase 3 of You City is right next to the upcoming Taman Suntex mass rapid transit (MRT) station. It will have a mall with a net lettable area of about 500,000 sq ft. It will be a sizeable neighbourhood mall with serviced apartments on top. This development will have a covered bridge linking to the MRT station," says Lee.
For next year, the company has lined up several launches, including a RM1 billion mixed-use development at Section 13, Petaling Jaya, comprising a hotel, retail units and serviced apartments; Phase 2 of serviced apartments in Sungai Karang, Kuantan, with a GDV of RM228 million; and Phases 1 and 3 of serviced apartments in Butterworth, Penang, with a GDV of RM207 million.
This article first appeared in City & Country, The Edge Malaysia Weekly, on April 20 - 26, 2015.