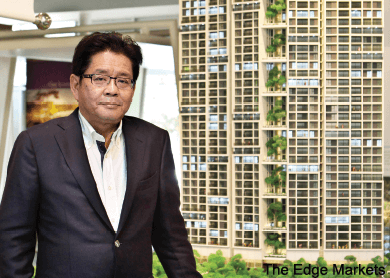 THE show must go on, declares Perdana ParkCity Sdn Bhd group CEO Lee Liam Chye. Perdana ParkCity is the property arm of Samling Group and the developer of the highly successful Desa ParkCity in Kuala Lumpur.
Like many developers in the country, Perdana ParkCity held back its launches last year due to the soft property market, which was attributed to the government's cooling measures and Bank Negara Malaysia's tightening of housing loan regulations.
However, despite the current cautious sentiment, the developer has decided to go against the headwinds and launch Westside III in the 473-acre Desa ParkCity. The township, which is located adjacent to Bandar Menjalara, is accessible via the Damansara-Puchong Expressway, Guthrie Corridor Expressway and Middle Ring Road 2.
"Last year, we did not launch anything because we expected the market to soften. The government implemented cooling measures, then the oil prices fell, among other things … We held back, but we are ready to go [now]. We think there will be an appreciable demand for our products," Lee says, adding that it will launch only one project in the Klang Valley this year.
He says the 49-storey luxury condominium Westside III will be unveiled on May 30. The single-phase project has a gross development value (GDV) of RM505 million.
"This is our largest condominium project. Back in 2000, we had envisaged the master plan of Desa ParkCity. What you see today is not improvised as we develop," he says.
Westside III will sit on 1.73ha of freehold land. It will offer 469 units with built-ups of 1,077 to 1,927 sq ft and prices starting at RM636 psf. The maintenance fee is 36 sen psf.
The partly furnished units will come in three layouts — two bedrooms with two bathrooms, three bedrooms with two bathrooms, and three bedrooms with four bathrooms.
There will be 1,079 parking bays for residents across five levels. The project is expected to be completed in May 2018.
The gated-and-guarded development will have facilities such as a gym, Jacuzzi, swimming and wading pool, multipurpose hall and barbecue area at level six. At the ground level, there will a jogging track, tennis court, playground and outdoor water amusement park with water jets.
Lee says the facilities will be exclusively for Westside III residents and their guests.
"We had about 2,000 registrants without [above-the-line] advertisements within three months [since the registration began in March]. Of the number, 500 are repeat buyers and the rest, new buyers," he says. "Based on our track record, we can achieve about 60% sales within a month."
He says the target market is families, especially those aged between 30 and 45. The company is also targeting first-time homebuyers and upgraders.
"We are keeping our design concept for condominiums, which is to create a happy neighbourhood where everyone knows everybody. Interaction doesn't take place only at public facilities but also at the lobby and the outdoor park," says Lee. "At the lobby, we will have water dispensers because we want to encourage community-building. The furniture [and fittings] must encourage that sort of activity.
"All our condominiums today are moving towards that direction — we have done the same for Westside I and Westside II. However, I think the social interaction will be stronger at Westside III because of what we will put in ... We will have a traffic-free area in front and a drop-off zone at the back. This way, the lobby will engage the open space [which will have a jogging track, water amusement park and parlour]."
To give the units more space, Perdana ParkCity will do away with the wet kitchen and maid's room. It will instead allocate space for a washer and dryer.
Lee notes that an increasing number of families are not hiring maids as they are harder to come by and cost more these days. This prompted Perdana ParkCity to start its own premium maid service, ParkCity Cleaners.
"We will be managing the maid service ourselves and it will start in July. The service will help the residents manage their lifestyles and free their time," says Lee.
The fee for the service will be between RM25 and RM35 per hour, with a minimum of two hours. The service will be made available to all residents in Desa ParkCity.
Targeting the young
Lee says after Westside III, the company will build another condominium, tentatively named Project R2, in its ParkCity TownCentre.
Upon completion, the 55-acre ParkCity TownCentre will have shops, offices, condos, small offices/home offices (SoHos), a hotel, private international school, private hospital and medical and wellness complex. Already in operation are the 300-bed Sime Darby Medical Centre and the 54-classroom International School @ ParkCity. Also, The Breezeway homes have been completed.
Project R2 will comprise 471 condos, targeted at young professionals. Lee says the estimated GDV is more than RM500 million.
"This is for the lively, robust urbanites and yuppies ... I was in America and I saw similar mixed-use developments, and they told me they are for the grey [-haired] market, not the yuppies. They (the older folk) want to be in a happening place because they have money and still think they are young. So, I will also expect older folk to buy units in this project," he says.
 He adds that Project R2, to be located next to the 11.32-acre Plaza Arcadia, will be about the same scale as Westside III, with slight variations in the built-ups.
Plaza Arcadia, which comprises retail and commercial units, was launched in March 2013 and is fully sold. It is expected to open its doors in end-2016.
Lee believes Project R2 will be a hit among the young as Plaza Arcadia will have F&B outlets such as pubs and al fresco eateries. Residents can expect to find Korean, Western and Japanese cafés and restaurants as well.
He says Project R2 is expected to be launched by 3Q2016 and completed in 40 to 42 months.
Meanwhile, Villager Grocer will take up 25,000 sq ft in Plaza Arcadia and open at the end of next year.
Appreciating values
Despite the slowdown in the property market, values and rents in Desa ParkCity have been resilient.
"[In fact,] rents are going up because there is a growing expatriate community here," Lee says.
KGV-Lambert Smith Hampton (M) Sdn Bhd director Anthony Chua concurs with Lee. He says Desa ParkCity's properties are able to fetch premium prices because of the medical centre and international school.
He adds that the project is designed to provide conveniences, security and various amenities to the residents, which is a plus point for capital appreciation.
"Prices and rents have been higher than the neighbouring schemes. For example, the earlier condominium in Desa ParkCity — The Northshore Gardens — is still commanding prices way above those in the [neighbouring] Kepong area and matching those in Mont'Kiara," says Chua.
The Northshore Gardens was launched in 2008 and priced at RM650 psf for the smaller units and about RM500 psf for the larger ones. Currently, they are going for RM1,000 psf and RM800 psf respectively.
According to theedgeproperty.com, Westside I had a priority launch on June 5, 2010, with an average selling price of RM600 psf. Chua says the present asking price for units of this project is between RM700 and RM900 psf.
Lee says generally, 70% of Perdana ParkCity's customers are owner-occupiers while the rest are investors. "We have many repeat buyers, who have bought three to four properties in Desa ParkCity for investment. One of them has bought 15 properties since 2002 and has not sold any of them because he's renting them out. That's why we see prices going up."
He adds that properties in Desa ParkCity have a gross yield of as high as 7% per annum.
However, transactions in the secondary market have dropped. Citing The Northshore Gardens as an example, Chua says transactions fell from 40 units in 2013 to fewer than 20 units last year.
Accordingly to Lee, there is about 32.37ha of undeveloped land in Desa ParkCity, which has an estimated GDV of RM4 billion to RM5 billion. He expects the land to keep the company busy until 2025.
Chua believes the residential property market in Desa ParkCity will remain stable until the end of the year. He does not expect transactions to rise substantially this year due to the weak economic outlook. However, once the market picks up, he says, "the well-planned schemes will usually rebound first and at a faster pace".
DTZ Malaysia managing director Eddy Wong agrees with Chua. "Sales [in Desa ParkCity and its surrounding area] are expected to pick up later this year, if not early next year, once the market sees that a price correction, which is on everyone's wish list, is unlikely to happen in a major way," he says.
As for Lee, he expects the overall property market to be slower this year. "However, business must go on. We think that after tweaking [the product design], it is the right product [to sell] … Initial response proves that we are right," Lee says of the decision to launch Westside III.
Building outside the Klang Valley
In Miri, Perdana ParkCity launched a 100-unit development called SoHos Kenyalang Corner @ Arcadia Square on April 18. The 7.77ha Arcadia Square is part of the 550-acre Marina ParkCity township.
The partly furnished SoHos, with built-ups of 603 to 958 sq ft, are priced from RM550 psf upwards. The maintenance fee is 35 sen psf.
"SoHos Kenyalang Corner is the first of its kind in Miri. SoHos are good for those who want to live and work in the same place. It has been proven everywhere that when you have a residential component in a mixed-use development, it will do well because of the synergies and convenience. That's why they are selling [at] higher [prices] than offices [which are going for RM380 psf]," says Lee.
The SoHo development, which has a GDV of RM48 million, is slated for completion in April 2018. To date, 80% to 85% of the units are sold to mostly local buyers, with about 40% of them being repeat buyers.
Marina ParkCity is developed by Pantai Bayu Indah Sdn Bhd, a joint venture between Perdana ParkCity (which holds a 70% stake) and Pelita Holdings Sdn Bhd (30%), which is wholly owned by the Sarawak government.
Lee says the company has no plans to increase its landbank in Miri as 93% of Marina ParkCity's land is not developed.
Optimistic progress in Hanoi
Perdana ParkCity ventured into Hanoi, Vietnam, in 2010. Its maiden project there is the 77.4ha ParkCity Hanoi, which is developed by its wholly-owned subsidiary Vietnam International Township Development JSC. According to Perdana ParkCity, the project has a GDV of more than US$2 billion (RM7.19 billion).
Hanoi was not the first choice, says Lee. Initially, he was looking for land in Ho Chi Minh City but "could not find any".
"We went there (Ho Chi Minh City) in 2007. Every time we established contact with [property] agents there and flew over, someone would beat us to it," he says.
"ParkCity Hanoi is within Hanoi, about 13km from the city centre. It is also very near the new administration centre. All the big hotels are moving there, and there is a light rail transit under construction. [ParkCity Hanoi] is 500m from an LRT station, which should be ready by next year."
Following the success of its first phase, Nadyne Gardens, in 2010, the developer is ready to launch Phase 2 — Evelyne Gardens — in July. This phase will feature 147 units of 3-storey townhouses and 18 units of 3-storey semi-detached villas on a 1.9ha parcel. The units will have built-ups of 2,605 to 3,807 sq ft.
The gated-and-guarded Evelyne Gardens will have a plaza, pavilion, children's playground and fitness corner. Its completion date is being finalised.
Lee says the 6.46ha Nadyne Gardens, which comprises 24 semi-detached villas and 153 townhouses, was handed over to buyers four months ago.
"I'm very hopeful that Hanoi will take off as the markets are improving. There is a lot of foreign direct investment coming to Hanoi ... Japanese, Korean and Singaporean [investments] for the infrastructure and manufacturing [sectors]," he says.
He adds that the majority of his customers are Vietnamese.
He has obtained approval to build about 7,000 homes in the town centre of ParkCity Hanoi, including those at Nadyne Gardens and Evelyne Gardens. ParkCity Hanoi still has 68.8ha of undeveloped land, which, Lee says, will keep the company busy for at least 10 years.
Consideration for expansion plans
Lee says if given a chance, he would like to expand to Java, Indonesia, because he foresees the Indonesian economy improving due to an increasing population and the strong leadership of President Joko Widodo.
In the Klang Valley, Lee is looking for land parcels of more than 500 acres in zones of tiers one and two to develop townships. He considers Bandar Utama as a tier one zone.
"Our forte is in masterplan projects. If we develop in the Klang Valley, we will need about 500 acres. We are looking at a couple of locations in Selangor, which we will announce later," Lee says.
Ultimately, what makes a township successful is its focus on the residents, he says. "You must think of your customers more than any other people because what you give them will determine their quality of life. It is one of the biggest investments they will ever make."
This article first appeared in City & Country, The Edge Malaysia Weekly, on May 25 - 31, 2015.