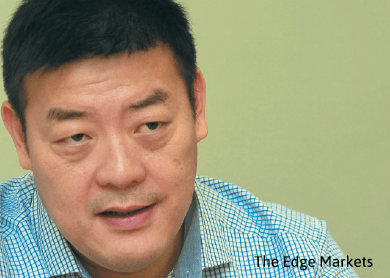 THE economic slowdowns of the 1980s and 1990s took a heavy toll on many Malaysian businessmen. Datuk Lim Si Boon, a manufacturing engineer by profession, should know for he witnessed his father — the late Datuk Lim Keng Kay — struggle through them.
Lim is the executive chairman of Bonanza Venture Holdings (BVH), which his father founded in Ipoh, Perak, in 1971 as a mining consultancy firm. Today, the company is involved in property development (under Kinta Properties Holdings Sdn Bhd) and leisure activities (managing the Meru Valley Golf and Country Club in Ipoh).
Lim believes the tough times taught BVH some key lessons. "Before 1997, we thought we had the Midas touch, [so] we became complacent … we were over-geared and we had plenty of assets but only some of them were performing well. When the 1990s crisis struck, what got us through was making the bitter decision to restructure and dispose of assets [to finance the loans]. We came down to earth and ate humble pie."
"After my father passed on, I became the controlling shareholder of BVH and its subsidiaries," says Lim, who is also the executive chairman of Kinta Properties. Before taking over the business, he was working for AT Kearney Pte Ltd, an international consulting firm in Singapore.
"I had a promising career as a consultant at the firm but it was weighing me down ... I lived in Singapore but I frequently travelled to Indonesia, South Korea and Hong Kong. That was not the life I wanted," Lim says, adding that his father's health was deteriorating at the time.
BVH sold its non-core assets, such as its quarry operations Palm Co Holdings Bhd (in 1997) and Rock Chemicals Industries Bhd (in 2003) and brick manufacturing and property development company Mega First Corp Bhd (in 2003). Then it consolidated its property developments under Kinta Properties.
BVH had acquired Kinta Properties — which was set up in 1969 — from Renong Bhd in 1995. In 1996, it bought over the financially distressed 500-acre Kelab Gold Darul Ridzuan (renamed Meru Valley Golf and Country Club) and 850-acre Klebang Industrial Estate (now known as Bandar Baru Sri Klebang or BBSK).
According to Lim, Meru Valley is former state land located about 8km from the Ipoh city centre. A golf course was built on the land in 1992 but it was abandoned in 1996. Situated just 15km from the city centre, BBSK was an industrial estate owned by Perak Corp Bhd until it got into financial difficulties.
Both these sites have about 300 acres of undeveloped land and, according to Lim, plans for them are in the early stage.
BVH embarked on its first property project — a residential development — on former mining land in Taman Setapak Indah, Selangor, in 1985. It was developed by one-time subsidiary Gombak Land Sdn Bhd, which was disposed of in 2003.
The 120-acre development comprised 1,500 one-storey and two-storey terraced houses and apartments.
Lim says the company then focused on developing integrated projects, ranging from residential to industrial. To date, it has completed about RM2 billion worth of projects in Ipoh, Melaka, Kuala Lumpur and Selangor.
Most of its completed projects are residential developments in Ipoh, including the 40-unit, low-density The Club Condominium in Jalan Sultan Azlan Shah (also known as Tiger Lane) that was completed in 1999, and Halaman Meru Impian, which comprises 246 two-storey terraced homes in Bandar Meru Raya, that was completed in 2010.
Lim continues to develop in Ipoh, whose community he describes as close knit, where the locals literally know each other.
"Ipoh is changing very slowly ... there are a few more tall buildings. However, it has not changed much over the years, including the pre-war buildings … the old establishments are still there and the stalls and coffee shops have been around since the 1950s and 1960s," he tells City & Country.
Ongoing projects
Kinta Properties is currently building 265 terraced houses (85% sold), 72 semi-detached houses (65% sold) and 43 detached houses (50% sold) on 50 acres of freehold land in BBSK. To be completed at the end of the year, these homes have an estimated combined gross development value (GDV) of RM187 million and were launched between June 2012 and October last year. The average selling price of the terraced houses (built-up of 2,166 to 2,260 sq ft) starts at RM353,000, the semidees (2,780 sq ft) cost RM578,000 while the detached houses (2,725 to 3,762 sq ft) are going for RM1.05 million onwards.
Also ongoing is the 9.5-acre Meru Valley EcoVillage in the Meru Valley master development. The leasehold, gated residential enclave comprises 34 villas (70% sold), 48 townhouses (50% sold) and 84 apartments (70% sold). The prices of the villas (built-up: 1,166 to 1,493 sq ft) and townhouses (1,583 to 1,938 sq ft) start at RM663,000 while the apartments (537 to 732 sq ft) are going for RM328,000 onwards.
Meru Valley EcoVillage, which has an estimated GDV of RM82 million, was launched in November 2013 and is expected to be completed by June next year. Lim says the project is targeted at empty nesters in their late fifties and early sixties. "It is next to the Meru Valley Resort clubhouse, where most of the community congregates for dining, recreation and sport. We are quite excited about the project as it showcases our vision of a community [with] a caring lifestyle."
In August, shares Lim, Kinta Properties will be launching 68 terraced homes on a 6.6-acre parcel in BBSK. With a collective estimated GDV of RM28 million, the homes will have an average selling price of RM408,000 and built-up of 2,342 sq ft. They are expected to be completed by August 2017. Lim says the company has yet to decide on a name for the project.
Following the terraced homes, Kinta Properties may launch two blocks of condos in Meru Valley. The 3.28-acre project, which is expected to be launched next February, will offer such facilities as an infinity pool, a multi-purpose hall, a café, a barbecue area, a convenience store, a gym and a game room for children and adults.
Ipoh still popular
JS Valuers Research & Consultancy Sdn Bhd executive director Chan Wai Seen opines that Ipoh continues to be popular because of its many tourist attractions, such as its limestone caves, well-established eateries and increased accessibility via the electrified double-track railway that connects it to Kuala Lumpur.
In fact, the railway's extension to Perlis was completed last year and will become operational in June.
As for Meru Valley and BBSK, Chan describes them as well-planned townships. "Meru Valley Resort offers a resort living environment, capitalising on the nearby greenery while Bandar Baru Sri Klebang is a residential and commercial development," he says, adding that both projects are well accepted by the Ipoh market. He notes that the Jelapang area (where Meru Valley is located) is relatively well developed and that developments are expanding to the Meru Valley.
The construction of the third AEON Shopping Centre in BBSK will further drive developments in BBSK, he points out.
Comments WTW Ipoh, "The Perak market is mostly driven by ownership demand with little speculation. Even though property prices are appreciating, they are still lower than in other major cities in the country."
Both consultants agree that the Goods and Services Tax (GST) and increase in development charges will force selling prices up, although they are unable to estimate the percentage of growth in property values.
Bumpy outlook
Lim says this year will see a perfect storm in the property development market, especially in Perak. "GST has kicked in, subsidies have been removed and there are stringent rules on housing loans," he says, adding that the Perak government has imposed additional rules on the development of affordable houses and increased development charges. He expects all these to dampen buyer sentiment and GST and the higher development charges to raise house prices between 2% and 3%.
"Land remains scarce in the developed areas of Perak, which means we are moving towards higher-density developments … If a project is uneconomical to build, we will hold off until the market can afford prices that give us reasonable returns to justify our risk of undertaking the development," he remarks.
The softening property market aside, Lim is confident his projects will continue to sell. In fact, he expects housing prices in Ipoh to continue to appreciate. "[Our projects are] mostly funded internally. Our gearing is low and we have no problems about build and sell," he says. "Terraced homes [priced] below RM350,000 will continue to be in demand. Kinta Properties will focus on more affordable homes and increase the supply of terraced homes below RM400,000 without sacrificing our profit margin. The higher-end homes in Meru Valley will be lifestyle products."
Lim adds that the company is looking for land to develop in Penang and the Klang Valley, such as Kepong, but nothing has been finalised.
This article first appeared in City & Country, The Edge Malaysia Weekly, on April 6 - 12, 2015.