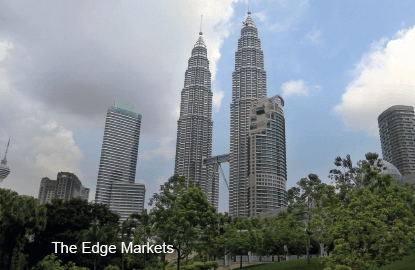 THE office market in Kuala Lumpur and beyond Kuala Lumpur (Selangor), which saw two new completions in 1Q2015, continues to hold steady, according to The Edge/Knight Frank Klang Valley Office Monitor 1Q2015.
The completion of Menara MBMR with about 240,000 sq ft of net lettable area (NLA) brought the cumulative supply of office space in the KL fringe to 21.72 million sq ft while the cumulative supply of office space beyond KL (Selangor) increased to 17.46 million sq ft following the completion of The Ascent @ Paradigm (520,000 sq ft). Over at KL city, the cumulative supply was maintained at 48.96 million sq ft.
For both KL and beyond KL (Selangor), the total cumulative supply of purpose-built office space stood at 88.14 million sq ft and is expected to grow 6.1% to 93.56 million sq ft by year-end.
"The high level of incoming supply, coupled with the challenging market and weak sentiments, continue to favour tenants," Knight Frank Malaysia managing director Sarkunan Subramaniam says in presenting the monitor. He adds that the oil and gas industry is also putting plans for business expansion and hiring on hold, which means less need for office space by it.
The first quarter saw net absorption fall sharply by over 65% quarter on quarter to about 167,000 sq ft. The low net absorption, Sarkunan says, reflects the prevailing market sentiment.
Despite an expected 19.3% increase in office space to 16.97 million sq ft over the next three years, Sarkunan says well-located Grade A and dual-compliant (MSC and green) offices — which make up only 12% of total supply — will continue to be in demand, thereby maintaining high occupancy and competitive rents.
Moving forward, he expects continued investment interest as several good grade buildings are on the market. These reportedly include Vista Tower, Menara Prudential, Wisma Genting and Menara Multi-Purpose.
Holding steady
The overall occupancy in KL city was maintained at 85.2% from the last quarter. The central business district (CBD) recorded an average occupancy of 88.5%, dipping 0.1% q-o-q, while the Golden Triangle (GT) remained at 84.5%.
In the KL fringe, overall occupancy improved 1.5% from the last quarter to 87.8%, with KL Sentral (KLS) and Mid Valley City/Bangsar/Pantai (MVC/Bangsar/Pantai) increasing 2.8% and 0.9% respectively to 80.9% and 95.5%. The improvement seen in KLS was due to movements reported in 1 Sentrum. Meanwhile, occupancy in Damansara Heights (DH) fell 0.1% to 87.7%.
Beyond KL (Selangor), overall occupancy was at 77%, with Petaling Jaya, Subang Jaya, Shah Alam and Cyberjaya recording averages of 81.4%, 63.3%, 81.8% and 77.2% respectively.
As for rents, rates for Grade A buildings in both KL city and the KL fringe showed improvements from the last quarter. In KL city, rental rates for GT Prime A+ buildings increased 3% from the last quarter to RM11.33 per sq ft, while rates in Grade A buildings in GT and CBD increased 3.2% and 3.5% respectively to RM7.21 psf and RM5.61 psf. As for the KL fringe, Grade A buildings in DH, KLS and MVC/Bangsar/Pantai recorded improvements of 2.2% to RM5.40 psf, 3.2% to RM6.78 psf and 2.3% to RM5.90 psf respectively.
The overall average monthly rental rates beyond KL (Selangor) stood at RM4.19 psf, while average rates were at RM4.40 psf in Petaling Jaya, RM3.92 psf in Subang Jaya, RM3.50 psf in Shah Alam and RM4.17 psf in Cyberjaya.
Notable transactions and movements
There were three notable transactions during the quarter — Integra Tower (NLA: 760,715 sq ft) in KL that was transacted at RM1,400 psf, Plaza Pekeliling (NLA: 144,376 sq ft) in KL at about RM196 psf, and Tropicana City Office Tower together with Tropicana City Mall (NLA: 448,248 sq ft for mall and 101,246 sq ft for office) in Petaling Jaya — which were sold for RM540 million.
Sarkunan says the sale of Integra Tower set a new benchmark price of RM1,400 psf in the GT.
Some notable movements in 1Q were seen in Menara Binjai, Menara 238 and Menara Worldwide in KL city, 1 Sentrum in the KL fringe, and The Ascent @ Paradigm in Selangor.
Two new tenants in Menara Binjai — Integra Process & Offshore (M) Sdn Bhd and Premier Global Conferencing — have taken up 17,000 sq ft. Over at Menara Worldwide, Lazada and Prudential BSN Takaful Bhd will take up 21,000 sq ft.
The Royal Malaysian Police will expand its office in Menara 238 to 130,000 sq ft. Meanwhile, Google Malaysia has taken up 54,000 sq ft in 1 Sentrum, while DKSH Malaysia Sdn Bhd and WCT Group now occupy 180,000 sq ft in The Ascent @ Paradigm.
Notable announcements
Hap Seng Land Sdn Bhd, a subsidiary of Hap Seng Consolidated Bhd, has unveiled Menara Hap Seng 2. The RM380 million 30-storey Grade A office building sits on a 1.2-acre freehold parcel in Jalan P Ramlee and adjoins the existing Menara Hap Seng.
Built in compliance with the Green Building Index (GBI), the office building has an NLA of 326,000 sq ft. Before its completion, Hap Seng Land had secured several multinational tenants, including MSIG Insurance (M) Bhd.
Meanwhile, Goldstone Kuala Lumpur Sdn Bhd has submitted a proposal to Dewan Bandaraya Kuala Lumpur to convert the 20-storey Menara ING into a hotel.
Goldstone is reportedly studying the possibility of retaining the lower floors as office space and converting the ninth floor onwards into a hotel, as well as introducing retail outlets on the ground floor.
The company purchased 19 offices and 190 parking bays in Menara ING last December for RM132.34 million or RM825 psf.
The freehold strata-titled Menara ING has a gross floor area of 256,158 sq ft and an NLA of 160,413 sq ft, excluding the sixth and eight floors of the tower block and the first and second floors of the annexed block, which have different owners. Tenants such as Khuan Choo Realty Sdn Bhd and YTL Corp Bhd are occupying part of the property that was sold.
Over at Menara Multi-Purpose, the Malaysian Chinese Association is reportedly putting the 42-storey building at Capital Square in Jalan Munshi Abdullah, KL, on the market for at least RM410 million. Purchased from Multi-Purpose Holdings Bhd in late 2011 for RM375 million, the 31-year-old office block offers 541,424 sq ft in NLA and 414 parking bays, and houses the headquarters of Alliance Bank Malaysia Bhd and the offices of MPHB Capital Bhd's related companies.
Ahead of its move to a new office at Jalan Belfield in Kampung Attap, Genting Malaysia Bhd is seeking a buyer for its Wisma Genting office building in Kuala Lumpur.
Pending the completion of the new building, the group is proposing a sale and four-year leaseback of Wisma Genting at an indicative price of RM500 million or RM1,222 psf.
Located at the corner of Jalan Sultan Ismail and Jalan Raja Chulan, the building offers 25 floors of office space and six levels of basement parking with a total of 514 bays. Sitting on a 42,410 sq ft freehold parcel, it has a built-up of 678,632 sq ft and an NLA of 409,084 sq ft. The building is presently 95% occupied with 65% of the space taken up by the Genting group. Other notable tenants include CIMB Bank, Maybank and Uni Financial Reinsurance Services Ltd.
Meanwhile, LGT Green, a mixed-use development in Jalan Belfield, is in the planning stages. The high-end development is located on a 4.5-acre freehold parcel and will comprise three blocks — two 33-storey buildings, a 43-storey office block above a podium, and a 46-storey serviced apartment tower. LGT plans to obtain a GBI gold certification for one block and GBI certification for the other blocks. The project will be undertaken by LGT Sdn Bhd, Genting Highlands Bhd and F3 Capital Sdn Bhd.
Another mixed-use development in Jalan Belfield is Belfield Crest by Prestasi Kemas Sdn Bhd, an indirect subsidiary of Salcon Bhd. The project's first phase will comprise a 21-storey office block, a 32-storey block with 172 serviced apartments, a 34-storey building with 244 serviced apartments, and a 7-storey podium comprising one floor of shops and six floors of parking bays.
The next phase will feature a 36-storey block with 246 serviced apartments and a 41-storey tower with 320 units above an 8-storey podium with shoplots, parking bays and a lobby.
Opposite Belfield Crest is the 118-storey KL118 tower by PNB Merdeka Ventures Sdn Bhd. It will feature 80 floors of office space, a hotel that will take up 13 floors, and five floors of serviced apartments.
The project will also feature an 8-storey retail podium and a two-level tunnel named Belfield Tunnel, which will link the fourth and fifth basement floors of the building to Kampung Attap, linking the areas that are currently separated by Jalan Maharajalela.
In the Kuala Lumpur city centre (KLCC), there are plans for three new high-rises on Lot 185 near the Petronas Twin Towers. Two of the three towers are being jointly developed by KLCC (Holdings) Sdn Bhd and Qatari Diar Real Estate Investment Co (the investment arm of the Qatari Investment Authority) in a 50:50 venture.
The other tower will be an office block whose space will be partly underwritten by the Qatari firm. The development will consist of 500,000 sq ft of retail space, an office and a hotel.
Meanwhile, UDA Holdings Bhd, Eco World Development Group Bhd and the Employees Provident Fund have sealed a tripartite agreement to jointly redevelop the 19.4-acre Pudu jail site into Bukit Bintang City Centre. The RM8 billion mixed-use development will comprise strata offices, office towers, a hotel and serviced residences, and a lifestyle centre, which will include a Malaysian grand bazaar, retail mall, and F&B and entertainment components.
Meanwhile, parcels along Jalan Bukit Bintang designated for the luxurious Harrods Square development have yet to be transferred to its developer Jerantas Sdn Bhd and remain in the name of the Federal Lands Commissioner. Jerantas is owned by Tan Sri Syed Mokhtar Albukhary, Tan Sri Desmond Lim Siew Choon and Qatar Holding LLC.
Harrods Square will comprise a 27-storey hotel with 102 rooms and 60 serviced apartments, a 61-storey building with 508 serviced apartments and four floors of commercial and retail space, a 52-storey building with 516 serviced apartments and commercial and retail space, and a 31-storey office building with a food court and day-care centre. The development will be connected to Pavilion KL by an underground pass and pedestrian bridge.
In Brickfields, Primamuda Holdings Sdn Bhd has acquired the former site of the Brickfields district police headquarters in exchange for building police stations in Jalan Travers. Primamuda plans to redevelop the site with serviced apartments and two office blocks.
This article first appeared in City & Country, The Edge Malaysia Weekly, on June 22 - 28, 2015.