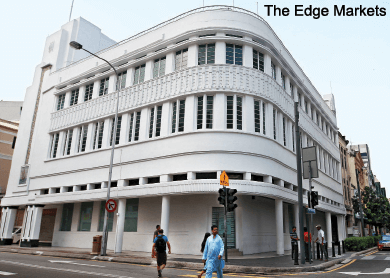 A COLONIAL-ERA office building, known among locals as "OCBC building", in Jalan Hang Kasturi, Kuala Lumpur, near the Central Market, is up for sale. This is probably the first time the property has gone to the market since it was built almost eight decades ago.
The 4-storey corner building, which used to house the Malaysian headquarters of the then Oversea-Chinese Banking Corporation Ltd, will be sold via open tender by its owner OCBC Group. The tender will be conducted by the property's exclusive agent JLL Property Services (M) Sdn Bhd (JLL Malaysia).
While declining to reveal the reserve price, the international property service firm's country head, Y Y Lau, tells City & Country, "We aim to achieve the maximum possible price."
By comparison, says an industry observer, 2-storey and 5-storey pre-war shophouses in the area have fetched RM750 to RM800 psf in recent transactions while asking prices can reach RM1,000 psf (see table).
Laurelcap Sdn Bhd director Stanley Toh says some notable transactions of office buildings in the area include that of the 16-storey Wisma MBSB (land area: 0.33 acre) by MBSB Properties Sdn Bhd to Superb Upline Sdn Bhd for RM36.6 million in March 2013, HL Bandar Sdn Bhd's 15½-storey Bangunan Hong Leong (0.17 acre) in Jalan Tun H S Lee to Mammoth Empire Holdings Sdn Bhd for RM38 million in April 2012, and HSBC Bank Malaysia Bhd's 9-storey building (0.19 acre) to Kumpulan Hamzah Kwong Hing Realty Sdn Bhd for RM28 million in December 2007.
Lau, however, points out that it is unfair to compare OCBC Building with other buildings as it is one of a kind. Indeed, the building stands out from its peers — a mix of the aforementioned shophouses and taller and newer office buildings in the area — due to its generous frontage and well-preserved façade.
"[It is] at the intersection of Jalan Hang Kasturi and Lebuh Pasar Besar, therefore it enjoys dual frontage. Over the years, [it was] the headquarters [of OCBC Bank, which] moved to its new premises in Jalan Tun Perak. The building was much talked about [when it was built] and [considered] a masterpiece," says PPC International Sdn Bhd managing director Datuk Siders Sittampalam.
Lau says the building comes with naming rights. "It was built in the 1940s and over time, has undergone improvement works. It remains a well-maintained building [today]. It has always been used for commercial purposes and [has been housing a bank] for many years. Its outstanding architecture has made it an iconic landmark in the locality."
According to JLL Malaysia, the freehold building has a land area of 6,501 sq ft with a built-up of 28,304 sq ft and a net lettable area of 22,687 sq ft. It also has a basement previously used as bicycle parking space.
The tender closes on May 27
The building was designed by Arthur Oakley Coltman and is one of his numerous Art Deco structures that dot downtown KL. His other buildings include the nearby Wisma Lee Rubber in Jalan Tun H S Lee, Oriental Building in Jalan Tun Perak that used to house Radio Malaya, and Odeon cinema at the junction of Jalan Tuanku Abdul Rahman and Jalan Dang Wangi.
"It [OCBC building] has strong visibility, an attribute much sought after by corporate and boutique users," Lau says.
While the location is not popular, Siders notes that the building "has its own charms in respect of its heritage value and curved façade, which offer an opportunity for redevelopment with the façade maintained".
He cites Wisma Straits Trading as an example of buildings that have been refurbished   with their façades intact.
Uncovering gems in KL's old CBD
The structures in the immediate surroundings of OCBC buildi–ng are a hotchpotch of charming pre-war shophouses and newer and taller office buildings. Businesses operating here include banks, law firms and restaurants, reflecting the area's history as KL's former central business district (CBD). There are also temples and tourist sites. The Masjid Jamek LRT station is just around the corner.
While the area is very much developed, it is still seeing redevelopment, which may spark further growth, say valuers.
According to Laurelcap's Toh, one such redevelopment is Mammoth Empire's transformation of Bangunan Hong Leong into Wolo Chinatown, a 288-key boutique hotel with a cinema. "Other catalysts would be the upcoming Warisan Merdeka or KL118, the redevelopment of Kompleks Dayabumi and the revival of Plaza Rakyat."
The 118-storey KL118 is coming up near Stadium Negara and Stadium Merdeka and will feature 4.3 million sq ft of floor space. Comprising residences, offices and a luxury hotel, the project will have a gross development value of RM6 billion.
Meanwhile, KLCC Property Holdings Bhd will upgrade Kompleks Dayabumi's office tower, demolish its retail podium and rebuild it as a high-rise. The redeveloped complex, near the Central Market, will have residences and offices.
Last year, Dewan Bandaraya Kuala Lumpur secured the troubled Plaza Rakyat project in Jalan Pudu by repaying a RM145 million loan taken by its developer Plaza Rakyat Sdn Bhd from a consortium of banks. DBKL plans to revive the development, but details are not available yet.
"The upside potential of the area is that many of the office buildings have individual titles. Hence, they have massive redevelopment potential, especially into budget or boutique hotels," Toh says.
"This is also driven by the proximity to public transport [halts] such as the Masjid Jamek LRT station, Pudu bus station and future MRT stations. Petaling Street is also a major factor in the redevelopment of old office buildings into budget and boutique hotels."
Siders says older buildings may have to make way for commercial buildings, such as offices, retail centres and hotels, due to the mass rapid transit lines and other improvements in public transport.
Jalan Hang Kasturi is part of KL's old CBD. In 1H2014, the total office space was 1.33 million sq m across 96 buildings, according to the Property Market Report 2014 by the National Property Information Centre. About 88% of the space was occupied, it says.
"Not many low-rise office buildings are placed on the market, although their upper floors may be vacant and available. Perhaps, this could be attributed to the fact that these buildings are occupied by the owners. The occupancy rate of the office buildings in this locality is between 85% and 90%," says Siders.
"Traditionally, the Jalan Hang Kasturi neighbourhood has been popular with banks and financial institutions. But over the years, it has also attracted institutions of higher learning, probably due to its easy access to public transport and relatively lower rents."
Toh concurs, noting that Jalan Hang Kasturi, Jalan Tun H S Lee and Lebuh Ampang were part of the old CBD, which was home to several banks. "However, most of those banks have moved to the KLCC/Golden Triangle area. Also, many legal firms have moved to the Hartamas area because of the new courthouse."
According to Siders, rents in the Jalan Hang Kasturi area are between RM2.50 and RM3 psf. Toh says they could be higher — between RM4 and RM5 psf.
While the area has the benefit of being the old CBD, the overall office market in the city is still weighed down by an oversupply. This is coupled with the increasing allure of fringe locations.
"The office market is getting very competitive, and many tenants are seeking out offices in the outer fringes of KL as well as Petaling Jaya for lower rental rates, newer finishes, better facilities and proximity to public transport stations," says Toh.
"Places such as Bangsar South are newer and they provide a variety of new F&B (food and beverage) concepts, which are more appealing to the younger generation. Nowadays, it is not necessary for companies to be based in KL, and the top management of companies, who mostly live in Petaling Jaya, do not want to commute to the city centre, like in the old days."
This article first appeared in City & Country, The Edge Malaysia Weekly, on May 25 - 31, 2015.