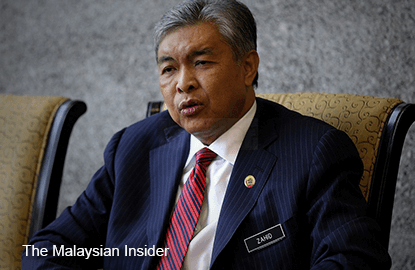 (Dec 3): Datuk Seri Ahmad Zahid Hamidi told Parliament today that Putrajaya could not elaborate on the RM2.6 billion deposited in Prime Minister Datuk Seri Najib Razak's personal bank accounts as it would prejudice ongoing investigations by the authorities.
The deputy prime minister, who took the floor to answer on behalf of Najib, provided a short explanation regarding the ongoing investigations under Standing Order 14, which allows a minister to make a statement to the House on a specific matter.
As the rule only provides for an explanation, Speaker Tan Sri Pandikar Amin Mulia refused to allow follow up questions by other lawmakers.
"Any statements made about this issue now can cause prejudice against the individual under investigation," Zahid said in Parliament, saying he was advised by Attorney-General Tan Sri Mohamad Apandi Ali not to issue any public statement on the matter.
The issue of the alleged political donation is being investigated by the Malaysian Anti-Corruption Commission (MACC).
The Wall Street Journal (WSJ) had alleged that the money came from firms linked to 1Malaysia Development Bhd (1MDB), but Putrajaya had denied the claims.
The prime minister was supposed to answer those questions in Parliament today, more than five months after the WSJ exposé, but critics argued that even if he turned up, there will not be enough time to answer all queries.
Minister in the Prime Minister's Department Datuk Seri Azalina Othman Said had previously said that the issue would be answered during question time but it was noted that there will be little chance for the MPs to seek clarifications on any explanations given, as today is the last day of the Parliament sitting.
"If the prime minister answers today, there will be continuous questions. Don't you think it is fairer to accumulate all the questions on the last day?" she reportedly had said.
"Whether the prime minister will answer or anyone in the Prime Minister's Department, it is still the prerogative of the prime minister."
Zahid repeated a finding by the MACC back in August that the sum was not from 1MDB but is instead from a political donor whose identity is known but yet to be revealed.
He also justified the fact that political donations are a norm and there is no law against it.
"All parties, including the opposition, receive political donations," he said.
"In fact, the prime minister wanted to introduce a legislation controlling political donations in 2009 but this was rejected by the opposition," he said.
Najib had also sent a letter of demand to WSJ over allegations that the money came from 1MDB, but has not initiated legal proceedings as yet.
Opposition lawmakers, led by Gobind Singh Deo (DAP-Puchong), had said that Najib should have answered the matter personally as it involved his own personal account.
However, Pandikar ruled that a government minister can provide an explanation on a certain issue even if it does not come under the jurisdiction of a minister.
Zahid is the home minister while the MACC, which is probing the matter, comes under the Prime Minister's Department. – The Malaysian Insider