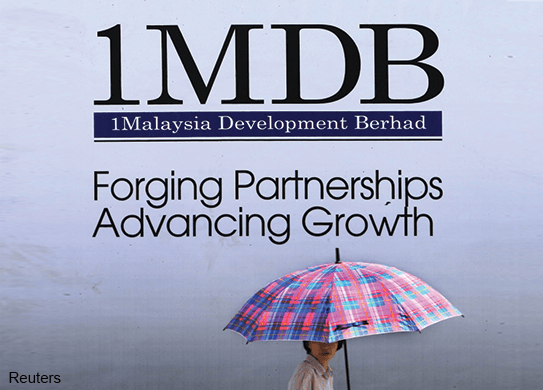 (June 18): Putrajaya remains mum on loans taken by troubled 1Malaysia Development Bhd (1MDB) from local banking institutions, citing secrecy provisions under a local law.
In a parliamentary written reply, Finance Minister Datuk Seri Najib Razak told Mohamed Azmin Ali (PKR-Gombak) that the federal government is bound by the provision under the Central Bank of Malaysia Act 2009.
"Any information related to loans in banking institutions are subjected to secrecy provisions under the Central Bank of Malaysia Act 2009.
"As such, the government cannot comment specifically on matters related to the borrower's account or banking institutions under BNM's supervision," he told Azmin in a one paragraph reply, referring to Bank Negara Malaysia.
Azmin had asked the finance minister to list the local banking institutions that had given loans to 1MDB and the impact of the capital adequacy ratio of each bank if the company's debts were classified as non-performing loans.
1MDB had taken a RM2-billion loan from a consortium of local banks.
Malayan Banking Bhd (Maybank) and RHB Capital Bhd (RHBCap) are the lead lenders, with 58.99% and 32.41% respectively of the RM2 billion loan.
The other lenders are Alliance Investment Bank Bhd (4.06%), Malaysia Building Society Bhd (3.24%) and Hwang DBS Investment Bhd (1.29%).
The RM2 billion is part of a RM5.5 billion bridging loan to the relevant banks taken by 1MDB subsidiary, Powertek Investment Holdings Sdn Bhd to refinance a RM6.17 billion bridging loan taken in 2012. It was to part finance the purchase of power assets.
Criticism has been mounting over the Finance Ministry's wholly owned investment vehicle, established in 2009, which has chalked up debts of up to RM42 billion, backed by Putrajaya.
The Auditor-General is currently looking through 1MDB's books, with a preliminary report expected to be submitted to the Parliament by the end of this month, while Parliament's Public Accounts Committee is conducting a separate inquiry on the troubled firm. – The Malaysian Insider