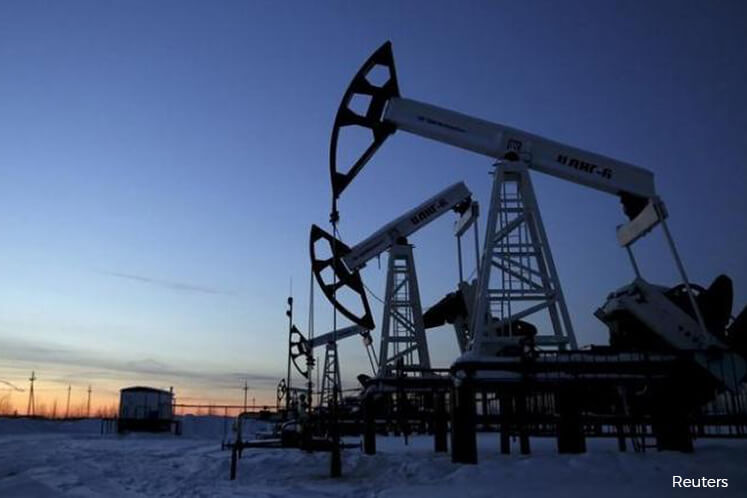 (March 15): Buy oil now, and count on Saudi Arabia for support, according to Citigroup Inc.
OPEC's output cuts aimed at easing a global glut are "real" and is cleaning up the market, analysts including Seth Kleinman wrote in a report dated March 14. While prices have dropped recently amid rising US inventories and drilling activity, investors should take advantage of the slide because the Saudis are likely to defend prices this year, according to the bank.
The bank's comments are similar to Goldman Sachs Group Inc., which called for investors to be patient and said they should go, or stay, long on oil. Prices last week fell below US$50 for the first time since December on concern rising US output will offset curbs by the Organization of Petroleum Exporting Countries and other producers. While Saudi Arabia told OPEC it dialed back on some of its cuts last month, the extra supplies were moved into storage and the kingdom said it remains determined to stabilize the market.
"Citi views this sell-off as a buying opportunity for 2017," the analysts wrote. "Running down the record level of inventories was always going to be a lumpy process, with tighter timespreads pushing oil out of tank and onto the physical market where it will weigh until it clears."
While Saudi Arabia pumped more than 10 million barrels a day last month, the volume of crude supplied to markets nonetheless fell by 90,000 barrels a day to 9.9 million. The nation's data show it's cutting output more than required under the terms of OPEC's Nov. 30 agreement. Nevertheless, Energy Minister Khalid Al-Falih warned last week that the kingdom won't indefinitely "bear the burden of free riders."
Balancing act
"The perceived change in rhetoric from Al-Falih, saying there would be no 'free-rides' for US shale producers, is at odds with the ongoing OPEC cuts and the headlines reflecting other OPEC producers are already starting to assume that the cuts do get extended, in line with Citi's expectations," the bank said in its report. "'The Saudis must play a balancing act this year, needing to keep the oil price up through 2017."
West Texas Intermediate traded up 1.7 percent at US$48.53 a barrel on the New York Mercantile Exchange at 1.43pm Singapore time, after sliding the past seven sessions. Brent crude, the benchmark for more than half the world's oil, was up 1.5 percent at US$51.69 a barrel on the London-based ICE Futures Europe exchange.
The OPEC agreement is for an average monthly cut over a six-month period, and crude production data for January and February indicate that Saudi output for the first two months of the year was 180,000 barrels a day below its target level so far, according to Citigroup.
"The oil markets are always noisy, but it looks like the Saudis are sending a clear signal that the kingdom will defend prices over market share for the remainder of this year," the analysts wrote.