This article first appeared in Enterprise, The Edge Malaysia Weekly, on March 9, 2020 - March 15, 2020.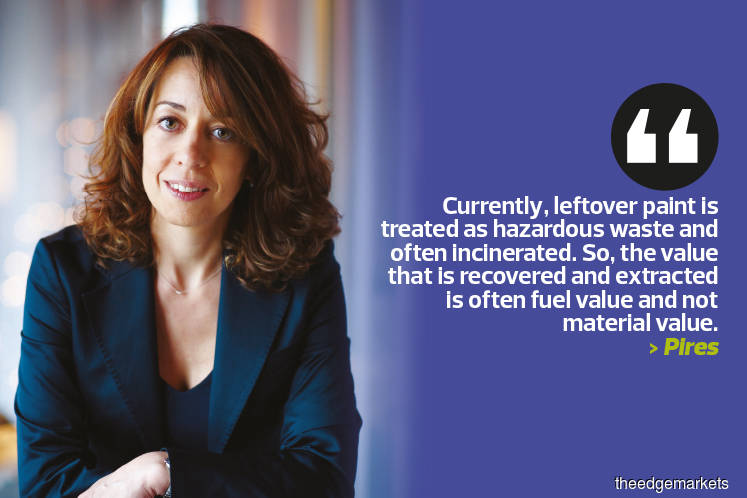 The ever-decreasing availability of raw ingredients for paint has pushed many major paint brands to adopt more stringent sustainability measures and participate in the circular economy.
According to a 2019 article by the American Coatings Association, China's crackdown on pollution has impacted the paint and coating industry on many levels. Environmental inspection and city-wide closings of Chinese manufacturers have tightened the supply of key raw materials. As a result, it was not uncommon to see raw material prices doubling within a few days. This happened numerous times in 2018 alone.
In March last year, a chemical plant explosion in Jiangsu, China, not only led to 80 deaths but also restricted the supply of raw ingredients for paint, coatings and printing inks further. Following the incident, the Chinese government decided to shut down the entire Xiangshui Chemical Industry Park, fueling an aura of uncertainty around the future availability of raw materials for paint.
"As resource scarcity increases, the need to reduce, reuse and recycle materials is a necessity. Actively participating in the circular economy makes us more competitive and sustainable. Circularity is not new for AkzoNobel and we have a culture of reducing waste and reducing variable costs while optimising resource productivity in our operations and supply chain," says Sonia Pires, director of health, safety, environment and security at AkzoNobel.
To avoid the loss of raw materials, the company installed solvent recovery units at a number of its production sites. By recycling the wash water, along with the raw materials present in it, the non-volatile materials recovered from the solvent recovery units are used to produce other ranges of paint.
AkzoNobel also runs the Resource Productivity programme, which focuses on optimising resource and process efficiency while improving its environmental footprint by reducing waste generation, energy consumption and volatile organic compound emissions. These emissions are gas produced by drying paint, which poses several health risks and damage to the environment. Through these initiatives, the company has managed to reduce its overall waste output by 40% since 2011.
According to Pires, communities around the world are doing their part in the circular economy by recycling and reusing paint. "One of the best practices is the Community Repaint programme in the UK. Since 1992, paint leftovers have been reused in local community projects. In the US, there are programmes like PaintCare, which recycles post-consumer paint," she says.
"Most companies have begun to reduce waste from their manufacturing sites. Figures released by the British Coatings Federation in 2015 showed record recycling levels as the amount of total waste was recorded at 65% compared with just 17% in 1996."
Pires says AkzoNobel has been remanufacturing post-consumer paint for more than 25 years in the UK. It also started similar initiatives in the Benelux countries (Belgium, the Netherlands and Luxembourg) a few years ago. "The benefits of circularity are financial and environmental, both to AkzoNobel and our customers who, through using our products with sustainability benefits, are empowered to achieve their own sustainability objectives as well.
"Environmental requirements are becoming more stringent in all regions around the world, so it is important to anticipate and adapt to changes in regulations. From a financial standpoint, raw materials are expensive and disposal or emission costs are high, so environmental inefficiency is costly and affects competitiveness."
The Environmental Protection Agency estimates that 10% of the house paint purchased in the US each year — about 250 million litres — is ultimately discarded. If not disposed of correctly, a single gallon (3.8 litres) of paint has the potential to pollute up to 250,000 gallons of water.
Pires says collecting and remanufacturing these leftover paints can leave a huge positive impact on the environment. "Looking at the total paint volume produced, 5% to 10% is a large amount. Currently, this volume is treated as hazardous waste and often incinerated. So, the value that is recovered and extracted is often fuel value and not material value."
AkzoNobel's Dulux Trade Evolve Matt is made from paint waste. Leftover paint that has not been used is reclaimed and re-engineered to meet industry standards, resulting in a final product that contains 35% recycled paint.
Through years of investments, the company has also managed to reduce the carbon footprint required to manufacture each litre of Evolve paint by more than 10%, compared with the standard vinyl matt paint. However, Pires emphasises that the key to success of any paint remanufacturing process is scale.
"The collection of old paint, cleaning and processing of new paint can only be economically viable at a large scale. At the scale we are remanufacturing paint right now, paint made from post-consumer paint is not a highly profitable business yet," she says.
"Recycling is not just about being energy efficient but also takes into consideration the overall cost of production. Post-consumer materials are collected by third parties and recycled. We also reuse our unused paint. This requires easy transport access to manufacturing sites, easily identifiable paint categories and paint packaging that is easily opened and cleaned."
Partnership with The Ocean Cleanup
AkzoNobel formed a partnership with The Ocean Cleanup in 2017 and has become its official coatings partner. The non-profit organisation develops passive clean-up technology that catches plastic waste drifts along the currents.
AkzoNobel's existing marine coatings are widely used across the shipping industry. But the materials used in The Ocean Cleanup's systems are very different from the submerged part of normal vessels, where marine coatings are usually applied. Hence, the technical teams of both parties work closely to develop coating solutions for the ocean cleaning systems, which are still in the prototype phase.
"The 'Interceptor' is The Ocean Cleanup's answer to plastic waste in rivers. It is the first scalable solution that prevents plastic from entering the world's oceans through rivers. It is 100% solar-powered, extracts plastic autonomously and is capable of operating in the majority of the world's most polluting rivers."
The device is currently being tested in the Great Pacific Garbage Patch. With a fleet of Interceptors, it is estimated that The Ocean Cleanup is able to remove 50% of the Garbage Patch every five years.
Four Interceptors have been built to date and two systems are already operational in Indonesia and Malaysia. In Malaysia, the active Interceptor is currently clearing debris in the Klang River, which is one of the 50 most polluted rivers in the world.
A proper marine coating protects materials from salt or freshwater as well as biofouling — the accumulation of algae, microorganisms and barnacles — which is known to increase hydrodynamic drag that results in a higher fuel penalty for ships, and can lead to greater mechanical strains and stresses on the structure due to the excessive weight.
In its current state, the Interceptor uses AkzoNobel's marine anti-corrosive products such as Intershield 300 and Interzone 954, which are resistant to the harsh conditions the equipment is exposed to.
"AkzoNobel is the world's leading biocide-free coatings developer and manufacturer, so The Ocean Cleanup is a natural partner for the company to support. Its systems are innovative, which has enabled our technical team to explore and do its R&D to come up with the most suitable coatings technology for its purposes," says Pires.
AkzoNobel is interested in exploring the possibility of using alternate sources for raw materials as well as extending the functionality of the materials in paint and coatings after their use. "We are looking for new raw, bio-based materials, we use more recycled paint and we have started a collaboration with a start-up to obtain circular calcium carbonate. All these options have a smaller ecological footprint [than the status quo]," says Pires.
"There are certainly more possibilities to use secondary raw materials [to manufacture paint]. However, it requires sufficient constant flow of raw materials, at a constant quality and for a prolonged period of time, allowing R&D efforts to develop new formulations.
"Constant innovation is required to drive circularity in a changing business landscape. We believe that through our initiatives, we will be at the forefront of innovation, leading the charge on paint sustainability and implementing creative solutions."