This article first appeared in City & Country, The Edge Malaysia Weekly, on March 9, 2020 - March 15, 2020.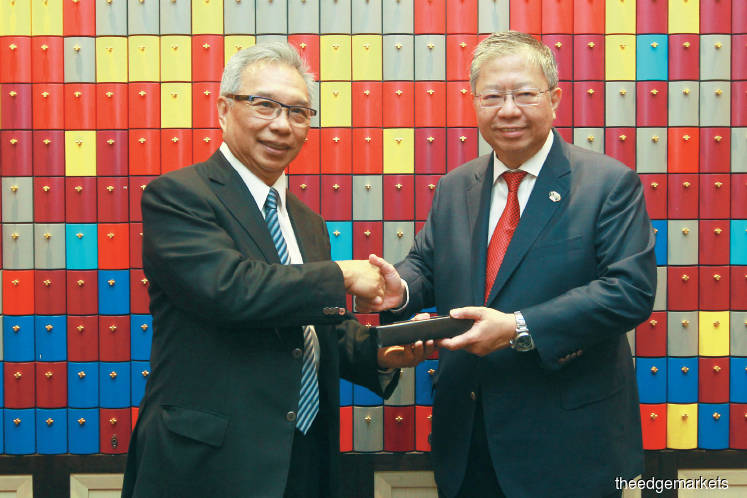 Fiabci Malaysia president Michael Geh (right) presenting a token of appreciation to Budiarsa
Photo by Patrick Goh/The Edge
A cancelled flight and a long drive in rush hour traffic did not dampen Budiarsa Sastrawinata's mood. The managing director of Ciputra Group, one of Indonesia's largest property developers, was all smiles when we met him shortly after his arrival at the hotel.
Budiarsa is president director of PT Ciputra Residence, a subsidiary of Ciputra Group, which is responsible for numerous new town developments in Indonesia, including CitraGarden City in Jakarta. He is also CEO of the group's international township developments.
Budiarsa was in Kuala Lumpur in his capacity as president of Fiabci Indonesia for a visit to ­Fiabci  Malaysia's leadership. The Malaysian chapter of the organisation hosted a dinner to welcome the Indonesian delegation.
While the property market in Indonesia has slowed down in the past few years, owing to the global and national macroeconomic environment, Budiarsa believes it will turn around soon.
"It is picking up again gradually and judging by the figures [Ciputra] has reached, the impact has not been great, so we are quite happy. This year, everyone expects the market to be better because the demand for real estate in Indonesia is still very strong. There is still a big backlog of affordable housing.
"The market and consumer behaviour change rapidly. The new millennial generation has a completely different perception about property compared with the older generation, which is a new challenge for us. It makes the market very liquid. We should not simply give in to new ideas, but we must remain flexible. They say now is the era of breakthroughs and changes," says Budiarsa.
Ciputra was established in 1981 and now has a presence in 43 cities across Indonesia. It has also expanded overseas to China, Vietnam and Cambodia. Aside from residential, the group's portfolio includes shopping malls, office towers, hospitals, golf courses and warehouses.
Ciputra is expecting to see a 10% growth in sales this financial year, says Budiarsa. Its strategies include maintaining a healthy land bank, which is currently sufficient for more than 15 years of development; sustaining a broad geographical footprint; maintaining prudent capital management (it had a net gearing of 0.33 times as at September 2019); continuing to leverage the Ciputra brand; creating innovative products; and increasing the portion of recurring income.
"We will continue to replenish our land bank in existing projects while searching for new strategic locations. Having a presence in 43 cities allows for the diversification of products and target markets while minimising concentration risk. We will also continue our joint-operation schemes with landowners," says Budiarsa.
Ciputra's core business of large-scale developments also gives the group an advantage.
"In large-scale developments, you have to have products for all market segments. When one segment is weak, we can focus on another. The biggest challenge is always land acquisition, especially for lower-cost developments. So we have to build in the suburbs, which will then incur extra expenses for the customers. We are building transit-oriented developments. This will help [alleviate] the problem," notes Budiarsa.
Moving forward
Ciputra started several new developments in 2019. They include the 18ha CitraGarden Puri in West Jakarta for middle and upper middle-income buyers, the 12ha Citraland Driyorejo in Gresik, East Java, and 114ha of the 1,000ha Citra Sentul Raya in greater Jakarta. The latter two developments are targeted at the middle and lower-middle-income group.
"We will continue to build our mega projects, which were started years ago and will continue to expand. We will also look for new development opportunities both in Indonesia and overseas," says Budiarsa.
Among the mega projects are the 1,200ha Citra Maja Raya launched in 2014 (267 hectares developed), the 1,700ha Citra Land Surabaya launched in 1993 (837 hectares developed), and 444ha Citra Garden City launched in 1984 (364 hectares developed). Also in development are the 300ha Ciputra Hanoi International City in Vietnam and 313ha Grand Shenyang International City in China.
The group started doing business outside Indonesia more than two decades ago.
"The reason we are engaged in international business is because we seek to diversify our risks and activity as well as to become a transnational enterprise. We have gained a lot of international experience. To put significant investments into a foreign country, we need long-lasting and comprehensive government support. I do business only in countries where I can feel the strong support of local authorities. The officials may change, but when the government's course remains unchanged, we can get many benefits.
"For example, our development in Hanoi, which we started almost 20 years ago, has seen three prime ministers and five governors [in power]. However, we have a great relationship with the government at all levels, so the changes do not affect our business at all. Therefore, in my opinion, this is one of the most important conditions for attracting and executing investment projects from abroad," says Budiarsa.
As for the impending shift of the Indonesian capital to East Kalimantan, Budiarsa does not foresee it having an adverse impact on the group or economy.
"The intent was never to move the economy. The capital city and other major cities can grow in parallel because the country is still developing. As of now, we do not have any direct project development in the area of the new capital. Interestingly, more foreign investors have submitted their bid of interest in helping Indonesia build the new infrastructure within the new capital. Bids have come from China, Japan, South Korea and Germany, while local contractors are still in wait-and-see mode as the central government is still working on the master plan.
"Five years from now, thousands of civil servants will have to relocate from Jakarta to Kalimantan, and then there will be high demand for office space and residential as well as other supporting facilities. Many former government buildings will be vacant. They will either be put up for sale or converted for other commercial use, which could generate revenue for the government to be added to its relocation budget. We will see many former government offices and facilities converted into apartments, malls, hotels or mixed use buildings," observes Budiarsa.